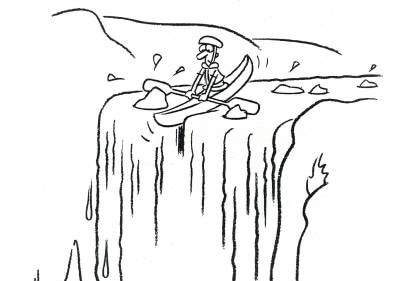 I had a rough week last week. No no, scratch that. I had a perfectly awful week last week. To be even more descriptive, last week was the perfect storm of Murphy's Law and Keystone Cop management. Murphy's Law, you remember, says that, "If anything can go wrong, it will go wrong." The Keystone Cop approach to management means that Murphy was an optimist.
Briefly summarizing the incident; several hours into my work day, my truck developed a substantial antifreeze leak. I alerted the dispatcher, who promptly ignored the problem and kept sending me on loads (perfectly in keeping with an established attitude that is undaunted by reality and unmoved by contradictory facts). The truck overheated on the highway resulting in very costly repairs, lost freight revenue, and a glorious night spent parked on a pile of dirt with no facilities available. The crowning glory was that after the truck was dead, I kept getting these incessant phone calls from the same dispatcher who refused my request for maintenance wanting to know when I was going to deliver various loads. I believe this is what they call doubling down on stupid.
The more I thought about it after finally arriving home, the angrier I became so that finally, in a prize-winning eruption of frustration at the colossal idiocy of it all, I wrote a scathing account on my website, complete with the observation that:
Common sense, which is to say the petrified and ossified mental gyrations that keep the hamster wheel moving without engaging any of the consequential thought processes that lead to exceptionalism, is exactly as my friend said. It's just as common as the vulgarians who inhabit late night television; or the loud-mouth at the end of the bar; or the mid-level functionary who, with blinders affixed, trudges on dogmatically toward disaster. Good sense, on the other hand, reminds us that, in the words of an old scientific paper on earthquakes, "If You Build Your House on a Crack in the Earth, It's Your Own Fault." Which, I suppose, is why it's called Good Sense. And why it's so rare.
It was a perspective I first heard from my long-time friend and mentor, Bob Lee. Common sense, he maintained, is the problem. Any half-witted meathead can have common sense after all, and a great many of them frequently do. That's why it's common. What we need instead, Bob would say, is good sense.
As my temper has subsided, however, I've had time to reflect cooly on the matter and have reached some conclusions that aren't so much different from yesterday's tirade as they are an outgrowth of it. In fact, my conclusions now run sort of parallel to Bob's admonishment about common sense. Then again, as physiologist Martin Fischer reminded us, "A conclusion is the place where you got tired thinking."
Nevertheless, I suspect that the drab "common sense," that my dispatcher so monotonously utilizes is really nothing more than an exercise in playing the safe game. It's easier to tell the driver to shut up with complicating realities than it is to look upper management in the eye and say that we have a truck that needs immediate attention because broken trucks can't deliver any freight. Then again, it's harder to explain why we now have a truck that is totally out of commission and why our repair costs are now much higher than they would have been had we addressed the issue when the driver requested.
This extends far beyond trucking, of course:
It was infinitely easier for Mr. Chamberlain to obtain a signature and a promise from Adolph Hitler to restrain his territorial ambitions than to aggressively shut down his military reconstruction early on. Then again, it's harder to explain why millions of lives were lost in a world war and a genocidal holocaust in light of the fact that, as Winston Churchill observed, there was a never a war so easy to prevent.
It was easier to sign meaningless pieces of paper with North Korea and pretend not to notice as they obtained nuclear weapons and increased their stockpile. Then again, it's harder to rein in a lunatic with nuclear weapons and explain to the American people why the danger is so much greater now than it would have been had we stiffened our spine back in 1994.
It's easier to pretend that the Constitution is a living, breathing document and win the approving smiles of progressive opinion, than to stand fast on the foundation that certain facets of a person's life are off-limits to the federal government. Then again, it will be difficult to explain to future generations how and why we let their freedom slip through our fingers.
It is easier to go along with the bureaucratic inertia and the inexorable expansion of the public sector to pass a 2,230 page, $1.3 trillion omnibus bill thereby avoiding a government shut down and terribly unpleasant press coverage than it is to explain fiscal reality. Then again, when the federal government finally runs out of "other people's money," to use Lady Thatcher's formulation, it will be harder to explain to our grandchildren and their children why they must suffer for our pitiful and stupid excesses.
It's easier to pretend that Social Security will remain solvent indefinitely or tinker at the margins than to explain that the system, as currently structured and funded is unsustainable. Then again, it will be much harder sometime around the year 2033, when funds for Disability Insurance and Old Age Security Insurance are predicted to be totally depleted, to explain why the catastrophe was not prevented long ago.
It's easier to give in to teacher's unions, left wing cranks and starry-eyed student platitudes than to stand one's ground and against the intellectual atrophy and sclerotic administration that is destroying American education. Then again, it will be more difficult to explain to Johnny why he has a such a difficult time competing for high paying work in a global economy — chiefly because Johnny can't understand what the hell you're saying in the first place.
And of course it's easier to genuflect to the gods of diversity who dictate that every government agency, every hospital, every police department, every organization, business, school, sector and bureau relentlessly pursue diversity of pigmentation, ethnicity, and sexual orientation than to prefer colorblind excellence over a trendy pursuit of Noah's Ark. Then again, as the remaining safe havens of excellent products and services become lost in a rising tide of mediocrity, who will care?