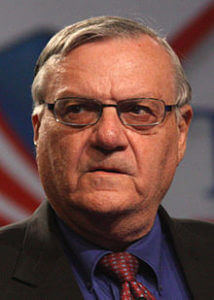 Joe Arpaio was my sheriff for 23 years. His predecessors were ineffective and mildly corrupt, so Maricopa County voters embraced the tough-talking, no-nonsense lawman. And he started out pretty well. Sure, there was the shticky pink underwear, tent city, and constant media stunts, but it finally seemed like a dedicated sheriff was at the helm.
But power tends to corrupt. Arpaio started focusing more on media appearances than law enforcement. Scandals started popping up. The headline-grabbing antics got more bizarre. And a man who seemed to many like a conservative stalwart devolved into anything but. I wrote about the ex-sheriff for Monday's USA Today. Here's a preview:
During one three-year period, his Maricopa County Sheriff's Office didn't properly investigate more than 400 alleged sex crimes, many of them involving child molestation.

In all, the department improperly cleared as many as 75% of cases without arrest or investigation, a fact outlined in a scathing report by the conservative Goldwater Institute.

When local journalists delved into Arpaio's dealings, he had them arrested, a move that ultimately cost taxpayers $3.75 million. We paid $3.5 million more after the sheriff wrongfully arrested a county supervisor who had been critical of him.

About the same time, Arpaio sought charges against another supervisor, a county board member, the school superintendent, four Superior Court Judges and several county employees. All of these were cleared by the courts and also resulted in hefty taxpayer-funded settlements for his targets.

As a U.S. District Court judge presided over a civil contempt hearing, Arpaio's attorney hired a private detective to investigate the judge's wife.

On the pretext of going after an alleged cache of illegal weapons, a Maricopa SWAT team burned down an upscale suburban Phoenix home and killed the occupants' 10-month-old dog. There were no illegal arms, so they arrested the resident on traffic citations.

Arpaio's staff concocted an imaginary assassination attempt on the sheriff, presumably for news coverage. Taxpayers had to pay the framed defendant $1.1 million after he was found not guilty.

The sheriff's department misspent $100 million on the sheriff's pet projects, and wasted up to $200 million in taxpayer money on lawsuits. Yet he still found money to send a deputy to Hawaii to look for President Obama's birth certificate.
I would have included more examples, but for the strict word limit. Still, this should give conservatives around the nation a better idea of Arpaio's actual record, instead of the character they see in the media.
I was similarly harsh on the local NBC affiliate's public affairs show this morning:
The purpose of my article and interview was to correct the record on who Arpaio actually is. He was an authoritarian who routinely used his office to punish legal citizens, repeatedly violate constitutional restrictions, and mock the very concept of limited government.
Perhaps even worse, illegal immigration and the crime rate in Maricopa County remained commensurate with all the surrounding counties. His image as "America's Toughest Sheriff" did nothing to better protect our borders or stop criminals from plying their trade.
Sheriff Joe was never a conservative; he just played one on TV.