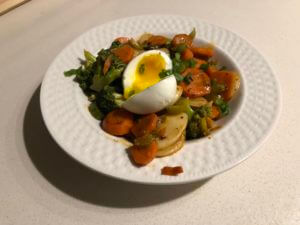 First, let me say officially and on the record — I love Blue Apron. I had their "Soy-Glazed Korean Rice Cakes" earlier this week (see photo). If America's food-stamp recipients were getting actual Blue Apron meals, their lives would immediately improve. But here's what the Trump administration is actually proposing:
Think of it as Blue Apron for food stamp recipients.

That's how Budget Director Mick Mulvaney described the Trump administration's proposal to replace nearly half of poor Americans' monthly cash benefits with a box of food. It would affect households that receive at least $90 a month in food stamps, or roughly 38 million people.

Here's how it would work:

Instead of receiving all their food stamp funds, households would get a box of food that the government describes as nutritious and 100% grown and produced in the U.S. The so-called USDA America's Harvest Box would contain items such as shelf-stable milk, juice, grains, cereals, pasta, peanut butter, beans, canned meat, poultry or fish, and canned fruits and vegetables. The box would be valued at about half of the SNAP recipient's monthly benefit. The remainder of their benefits would be given to them on electronic benefit cards, as before.
There are a lot of unanswered questions about logistics and cost, but here's the question we asked in today's podcast: Is this a good idea?
Well, I know who thinks it's a bad idea: the people who don't want to stand in a liquor store parking lot with a box of food trying to sell cans of beans and bags of rice for cash. Selling EBT benefits for cash is easy. Heck, you can do it on Facebook! If you're a shopper in the inner suburbs of Boston, you've almost certainly had someone approach you with the offer of $100 in groceries for $50 in cash (using their EBT card). So converting half the EBT transaction into barter rather than fungible currency is not going to be popular among a certain segment of the population.
It's easy to assume, therefore, that liberals will oppose this policy. (Actually, since it's a policy initiative from the Trump White House we already know every liberal will oppose it.) But why should they? After all, one of the core premises of modern liberalism is that people are too stupid/evil/both to be allowed to make their own decisions. Liberals love high taxes on sugary sodas. Why? Because they're "bad for you." They love restricting fast food restaurants, keeping them out of low-income neighborhoods, for the same reason. The phrase "food desert" was invented by liberals to describe "places where people won't buy the food we've decided they're supposed to eat!"
This policy would give the government the power to make these food decisions for food-stamp families. No more worries about whether they eat their veggies — the government is going to make them. Or at least, send the veggies and hide the yummy snacks.
And this is precisely why I don't like the idea. I don't want to give the government this power. It's none of Uncle Sam's damn business what we eat.
I know — if you let the taxpayers pay for the food, then the taxpayers get to pick the menu. Legit point. And I'll go along, as soon as you apply that policy to Social Security checks, too. But as long as my grandmother can spend her Social Security on pork ribs and Oreos, why shouldn't her fellow handout recipients be able to do the same. (And no — Social Security is not "her money." Her money ran out the first two years. It's a welfare program just like any other.)
I don't like giving government power. I also don't like using the government to give away free stuff, including food stamps. I can't stop the latter. Maybe we can prevent the former.