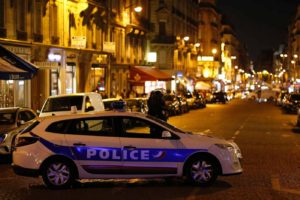 I'm sure you've heard that last night, a terrorist opened fire on the police on the Champs-Elysées, killing a police officer and wounding three more. The security forces quickly shot him dead. The Champs-Elysées was evacuated, though it's back to normal now. It seems there's still a suspect at large, though news of this is only breaking now and sketchy. (Update: It's being reported that police have detained three of the terrorist's family members, but I haven't seen confirmation of this.) The attacker was as usual known to police; he'd been arrested in February on suspicion of plotting to kill officers but released for of lack of evidence.
Although terrorism always takes you a bit by surprise, I've never been less surprised by a terrorist attack in any city I've ever lived in. We all knew full well this was highly likely to happen before the election on Sunday. It's been the subject of much grim speculation here and black humor. An attack was just recently thwarted in Marseilles. I'd be equally unsurprised if there's another one before Sunday.
ISIS claimed credit for it unusually quickly. As Rukmini Callimachi wrote on Twitter, "They claimed this attack in circa 2.5 hours. As far as attacks in West, this may be a record. Only 1 that comes close is Brussels airport. As far as attacks in West, this may be a record. Only 1 that comes close is Brussels airport. Despite popular perception, ISIS does *not* claim everything & they typically take up to 12 hrs." I'd guess they claimed it quickly to be sure their name would be in the news for as many hours as possible before the election. 
ISIS, it's fairly clear, wants Marine Le Pen to win; at least, this is what French intelligence officials believe, and it makes sense in the context of what ISIS says about its view of the world. The timing of the attack (obviously) wasn't random. They've made their strategy very clear and they explain it patiently and repeatedly: They're seeking to eliminate what they call the grey zone. They almost certainly believe Le Pen will make life miserable for ordinary Muslims and so prove to those Muslims who live in this grey zone that they have no future in France. This, ISIS hopes in turn, will inspire them to join the Caliphate's (diminishing) ranks, sparking civil war on French soil, which they hope to broaden to Europe at large.
Their hope is misplaced. In the first place, the French know very well that this is their strategy — it's the subject of endless discussion here — and know this is why they attacked when they did. So I expect that for every voter who decides to vote for Le Pen as a result, another who might have considered it, perhaps for unrelated reasons, will now refuse out of determination not to give ISIS the satisfaction or allow them to direct events.
Polling stops today, per electoral law, so we won't have any clue from that how this is apt to affect the outcome. My instinct is that it won't. No French voter could have been be surprised by this, nor could it have changed their minds about the gravity of the threat. No one is suddenly going to realize that terrorism is a problem for France; either they knew that already or nothing will persuade them. I don't see why this attack should change the priority voters assign to the issue, or how it would change their appraisal of the candidates' plans for addressing the problem, or how it would affect their view of the candidates' respective abilities to do so. I assume it will reinforce people in what they believe already.
The main risk for the candidates, it seems to me, is that if they put their foot it in it today — if they say or do something stupid; if they appear unpresidential; if they strike the wrong note — they can't recover, because after midnight tonight, campaigning is banned. Fillon already stupidly repeated a rumor that there had been other attacks in Paris, after which he cancelled campaigning "out of respect for the victims." I presume he calculated he had more to lose by continuing to speak than by saying nothing. Interestingly, Le Pen likewise cancelled a campaign event. Perhaps she thinks her views on the matter are well known, and that she too has more to lose by aggressively restating them — aggravating those who see her as ISIS's candidate — than by holding her tongue.
So I expect what we'll hear today are expressions of sympathy for the victims, resolutions never to give in to terrorism, and — among those still campaigning — a rapid return to other key campaign points. The risk of saying the wrong thing exceeds any possible gain that could be accrued from deviating from the script. Besides, they only have the rest of today to make their case about any of the other issues that distinguish them. They haven't time to waste.
Still, there's another actor here to keep in mind. Three of the four candidates are pro-Putin. I'm sure the advance to the next round of any one of those three (and one certainly will advance) would be to Putin's satisfaction. But best for him would be for two of his preferred candidates to advance. The only candidate whose success on Sunday would displease him is Macron. Putin and his troll farms don't care about laws against campaigning after midnight tonight, and they certainly don't care about laws against polling. So I would expect that whatever Macron says or does today, the trolls will be out in force from here on in to crush him, and they may even be working off polling data to which the rest of us aren't party.
I'm trying to think as Putin would and wondering how the Kremlin is most apt to try to exploit this. The EUObserver has a brief guide to their efforts thus far. The themes that seem to work best for them are "in the French identity, anti-Islam, and anti-globalisation areas, as well as in the areas of 'confusion' and 'conspiratorial/anti-system' sources shared in the alternative segment." (The usual, in other words.) 
So if I were Putin, what information would I release this weekend, what rumors could I start, that might so change the way Macron's supporters think of him as to cause them to vote instead for Fillon, Le Pen, or Mélenchon? Which way would I try to push them — and how — and why?
Frankly, it's going so well for the Kremlin as it is that perhaps they, too, will decide that they now have more to lose by saying anything then they might gain from just keeping it shut. I wonder if they might think that way. 
Or maybe not. How would you play this if you were a Chekist?