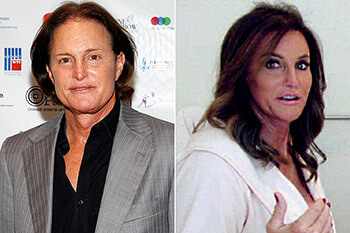 Bruce Jenner's decision to transform himself into Caitlyn means the end of the Republican Party. So implies the Washington Post in an article tut-tutting social conservatives who don't think an old guy dressing as a lady is the single most heroic moment in human history.
Robert Costa, who seems desperate to run from his past as a National Review reporter, speaks of the recent Vanity Fair cover as a GOP apocalypse:
In the four days since Bruce Jenner came out as a woman named Caitlyn, many Americans have celebrated her transformation as a courageous and even heroic act.

But among the social conservatives who are a powerful force within the Republican Party, there is a far darker view. To them, the widespread acceptance of Jenner's evolution from an Olympic gold medalist whose masculinity was enshrined on a Wheaties box to a shapely woman posing suggestively on the cover of Vanity Fair was a reminder that they are losing the culture wars.

Across social media, blogs and talk radio this week, conservatives painted an apocalyptic view of America. They said they felt frustrated and increasingly isolated by the country's sudden recognition and even embrace of transgender people. They see it as immoral and foreign. They drew comparisons to two grimly futuristic novels, George Orwell's "1984" and Aldous Huxley's "Brave New World."
It's hardly news that many cultural conservatives disagree with some trends in modern culture. They think college hook-up culture will lead to unhappiness, believe binge drinking is unhealthy, and are annoyed that you can't watch a football game without shielding your kids' eyes every commercial break. (Or is that just me?)
On the political front, many conservatives have sought to protect the millennia-old definition of marriage and the centuries-old religious freedom not to participate in activities contradictory to their beliefs. Those last two debates continue in the political arena and will ultimately produce changes to our laws and our government. But Jenner's transformation has little to no impact on either.
Costa worries (for the Republicans' own good, of course) that GOP presidential candidates can't appeal to both SoCons and moderates on the greatest issue of our day: The fact that a cable reality star likes to look pretty.
The GOP's struggle with the issue was evident by the fact that — although President Obama, Hillary Rodham Clinton and other Democrats uniformly praised Jenner's bravery — no top-tier Republican candidate had anything to say about her this week. Even Sen. Rand Paul (R-Ky.), who has made a point of reaching out to people who are normally resistant to his party, declined to comment…

The Jenner episode is the latest national touchstone that has proved treacherous for the GOP, a party especially wary of being seen as intolerant or insensitive going into a big, national election.
"Treacherous?" Immigration policy is worthy of that description, not some magazine cover. Why is it newsworthy if a candidate doesn't mention Jenner? I doubt they said anything about the latest Taylor Swift video, the sequel to Magic Mike, or the weather in Tallahassee either. That's because these stories have nothing to do with being President of the United States.
Of course Democratic candidates felt the need to applaud themselves on how hip and with-it they are, unlike those L7 squares in flyover country. Journalists did the same, falling over themselves to praise Jenner's Courage™ and Bravery™ in letting Annie Leibovitz take his photo to promote a new reality show. (They'll also feign offense that I used "his" in the previous sentence.)
What Democrats and the media (but I repeat myself) don't get is that every cultural story is not a political one. No conservative politicos are outlawing reassignment surgery or banning trans Americans from public office. There is no effort to toss Jenner in jail or force E! to drop their latest reality show (unlike similar leftist demands about "Duck Dynasty" and the Duggars' program).
Serious presidential candidates don't feel the need to write press releases about every blip on the pop culture radar. They would rather focus on those issues they can affect, such as taxes, health care policy, and national defense.
Nevertheless, it's only a matter of time until reporters demand GOP candidates take a position on l'Affaire Jenner. My recommendation is to ignore them completely. However, if pressed, just say this:
"The Declaration of Independence talks of the pursuit of happiness. Caitlyn Jenner and every other American can pursue theirs in the way they see fit. Now, if you don't mind, I'll get back to talking about ISIS."