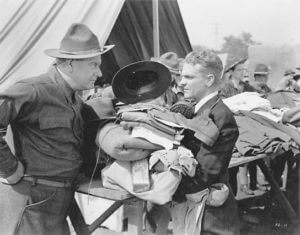 Over the past few months, I have become painfully aware that my writing skills have begun to atrophy. Other priorities have taken precedence, but truth be told, I just haven't been in the mood. In those fleeting moments when I considered possible topics that might serve to regenerate that interest, I found nothing sufficiently inspiring or motivating. Still, I was reminded of a quote the other day, purportedly coined by author Jack London: "You can't wait for inspiration. You have to go after it with a club." So, here I am, reaching for a club that feels comfortable in my hand, familiar and weighted just right.
Allow me to preface this by first saying that I am no expert on the golden era of American cinema. What I am, however, is a fan of James Cagney. In my collection, of the roughly 67 films that credit Cagney in any significant way, I own or otherwise have copies of all but about three of them. I have been collecting these movies for almost 25 years now, and I count them among the most cherished of my movie library. Be it his portrayal of the classic anti-hero (Tom Powers, Cody Jarrett) or his role as the essential George M. Cohan, Cagney's on-screen presence has never failed to hold my attention. Indeed, for the sharp of eye, you'll notice that my Ricochet avatar is none other than James Cagney as Captain Morton, taken on the set of Mr. Roberts. But of all his roles throughout his career, my favorite to this day is his big-talking Jerry Plunkett in The Fighting 69th.
Cagney's Plunkett is a punk with a tough-guy act and cowardly soul who ultimately redeems himself through a final act of valor on a WWI battlefield. Among the cast are such stalwarts as Pat O'Brien (as Father Francis Patrick Duffy), Alan Hale (the father of the actor many of us watched on Gilligan's Island), Frank McHugh (the eternal sidekick and comic relief), and Dennis Morgan (Christmas in Connecticut) as Lt. Ames. The movie as a whole pays tribute to the 69th Infantry Regiment, and in particular to Father Duffy. (Duffy Square, the northern tip of Times Square, is named after him). The poet Joyce Kilmer, a sergeant in the 69th, died on the battlefield in 1918. The movie includes a spoken excerpt of his poem "Rouge Bouquet," written to commemorate the loss of 21 soldiers of the 69th. So while the film is a fictionalized account that centers around Cagney's character, many of the periphery events are factual and worthy of research.
I was first introduced to this movie in a high school history class. I'm not sure why it captured me and birthed a fascination with Cagney. In any case, I even went so far to buy a piece of movie memorabilia from this film, an authenticated still photo of the scene where Cagney and Hale first face off as Cagney receives his uniform.
Perhaps what I appreciate most is represented by the redemptive storyline played out by Cagney and O'Brien. Cagney's Plunkett is a malcontent who has major problems with authority, and who despite his bravado makes a disastrous error, resulting in the deaths of several of his comrades. Later, while on a recon mission, Plunkett panics and tries to run away, crying out and giving away their position to the enemy. After a court martial and a subsequent order of execution, a major battle ensues that gives him a final chance for faith, courage and redemption, all of which he takes. Predictable? Of course it is, but it doesn't lessen my enjoyment of the story in the least. O'Brien's Father Duffy shines like a beacon in the dark, and clearly is (or should be) the central figure in the story. Indeed, I wish modern cinema had more such characters, accentuating virtue rather than vice. The scripture he quotes and the prayers he utters all throughout the movie, although delivered in typical 1940s stiffness, nevertheless ring authentic and true. Duffy goes after Plunkett as he would the lost sheep, leaving the other 99 for the sake of the one gone so far astray. And while I confess I am a sucker for a good redemption story, I own it. As cynical as I often feel about our current socio-political climate, I continue to believe that nobody is beyond hope, despite all appearance, circumstance, and evidence to the contrary.
The film ends with O'Brien reciting a prayer, as faces of the fallen march by. The words are powerful and speak to an ideal that may be worn, but yet I pray is not entirely lost. They are a fitting end to both the movie and this post:
Oh Heavenly Father,
Here I beseech you the prayer of this America's lost generation.
They loved life too, O Lord,
It was as sweet to them as to the living of today.
They accepted privation, wounds, and death,
That an ideal might live.
Don't let it be forgotten, Father.
Amid turmoil and angry passions,
When all worthwhile things seem swept away,
Let the tired eyes of a troubled world rise up,
And see the shining citadel of which these young lives
Form the imperishable stones, America.
A citadel of peace. Peace forevermore.
This I beg of you,
Through Christ our Lord, Amen.