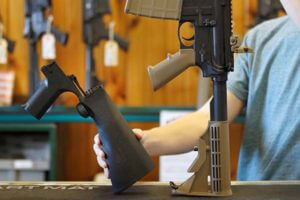 The dam broke on Thursday and now everybody and their brother is now in favor of a ban on bump stocks. Word went out to politicos in DC that it was "safe" to support such a ban, and now everyone loves it.
And why shouldn't they be? Banning bump stocks is politically palatable and easy. After all, everyone agrees that they're to blame for what happened in Las Vegas. If it weren't for bump stocks, there would've been no massacre.
Except that's nonsense and we all know it.
That guy in Las Vegas was bent on killing people. If he couldn't use bump stocks, he would've found another way. Another device perhaps or some kind of jury rig with chicken wire. Look around, there's probably something out there.
If a man wants to kill somebody, he'll find a way. If there are no guns, he'll use knives. If there are no knives, he'll use baseball bats. If there are no baseball bats, he'll use hammers. If there are no hammers, he'll use a board with a nail in it. And if there are no boards, he'll use a tree branch.
Whatever his motivations were, this guy wanted to kill people. One way or another, he was gonna do it. If a man wants to kill people and doesn't care if he lives or dies, it's very hard to stop him.
I'll be genuinely surprised if Congress doesn't quickly pass, and the President doesn't immediately sign, a ban on bump stocks. The problem will be fixed. The nation will rejoice. Then will ensue an orgy of self-congratulation. And the doctors of DC will have to treat an epidemic of orthopedic injuries caused by lawmakers patting themselves on the back.
Except they won't have solved anything. Bump stocks are a novelty. They're used for entertainment purposes. Nobody had heard of them until this week because they're not used in crimes. They just allow guys standing in fields to waste a whole bunch of ammo.
A bump stock ban is like peeing yourself while wearing a dark suit: it feels good for a little while, but nobody really notices. It doesn't fix anything. Because there just isn't an easy, elegant solution to the problem of spree shootings. If there were, we would've done it already.
That's why its so appealing to everyone in Washington. It looks like they're doing something urgent and immediate and important. It is, in the end, and act of cowardice. It is the easy way out.
It would take bravery to stand up to this tide. To say that the worst time to make new laws is in the immediate aftermath of a tragedy. To say that mass shootings are terrible but sometimes terrible things happen in a free society. To say that there's a limit to what you can accomplish with legislation in a free society. To say that this solution is anything but. To say that banning things, be they bump stocks, or guns, or liquor, or opiates, or, yes, even bump stocks, isn't the answer. To say that in order to keep our society free, we need to resist the urge to create a new law to try to solve every problem.
What a ban will accomplish, what it has already accomplished merely by talking about it, is to move a ton of bump stocks. They're selling like crazy right now. Prices are skyrocketing and people are still buying. Because even if they don't like it or use it, people don't want their freedom taken away.