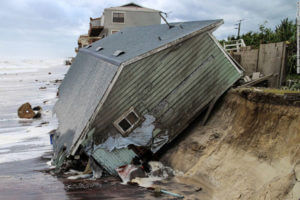 Every time a big natural disaster strikes, progressive economists predict an economic boom. Between Harvey and Irma, the LA Times, CNBC, and Goldman Sachs expected a bump in the GDP once the recovery efforts got rolling.
Perhaps the best known fan of mass destruction is NY Times columnist Paul Krugman. While he has yet to weigh in on the storms of the past few weeks, I'm sure it's coming. After all, he found economic growth in Fukushima…
I guess we have to talk about the economic impact of the Fukushima nightmare … Japan will clearly have to spend hundreds of billions on damage control and recovery, even as revenue falls thanks to the direct economic impact … And yes, this does mean that the nuclear catastrophe could end up being expansionary, if not for Japan then at least for the world as a whole.
He found economic growth in 9-11:
Ghastly as it may seem to say this, the terror attack — like the original day of infamy, which brought an end to the Great Depression — could even do some economic good … Now, all of a sudden, we need some new office buildings … Second, the attack opens the door to some sensible recession-fighting measures … Now it seems that we will indeed get a quick burst of public spending, however tragic the reasons.
He even found economic growth in an alien invasion:
If you actually look at what took us out of the Great Depression, it was Europe's entry into World War II and the U.S. buildup that began in advance. So if we could get something that could cause the government to say, "Oh, never mind those budget things; let's just spend and do a bunch of stuff." So my fake threat from space aliens is the other route. I've been proposing that.
How famed economists can keep falling for the broken window fallacy is beyond me, so I gave them a remedial lesson in Monday's USA Today:
A long time ago, a French guy named Frédéric Bastiat shattered this kind of nonsense, calling it "the broken window fallacy." In his essay "That Which Is Seen, and That Which Is Not Seen," Bastiat showed that destruction never boosts the economy.

He imagined a boy broke a window. (Something I excelled at as a kid — sorry, north Phoenix.) Now his dad needs to pay to replace it. Amateur economists in the neighborhood tell the dad that's a tough break, but note how great it is for the local glassmaker. Why, he would go out of business if annoying kids (such as yours truly) never put a baseball through a window.

In fact, the economic growth would be even better if they sent me around to smash the windows of every house on my street.

True, the glaziers would make a few extra bucks whenever I moved into a neighborhood. That's the economic impact that is seen.

But the impact that isn't seen is the fact my long-suffering dad can't spend that money on a new guitar, a dinner out, or counseling for his petty vandal of a son.

Moreover, replacing something that has already been purchased is a maintenance cost, not a purchase of truly new goods, and maintenance doesn't stimulate production.

This idea can be broadened to all sorts of government activity. It doesn't grow the economy to start a war, level a neighborhood for a giant arena, or tear up a rundown street to build a light rail.
If the government wants to actually grow the economy, they should end the unnatural disasters they inflict on Americans every single day through red tape, regulations, and taxes.