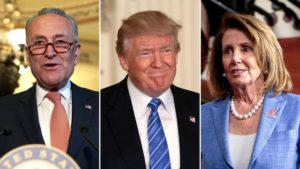 Senate Minority Leader Chuck Schumer and House Minority Leader Nancy Pelosi had dinner at the White House Wednesday night. Upon its conclusion, they announced that they have reached an agreement with the President to "enshrine the protections of DACA into law." What isn't included in the agreement? The wall:
We had a very productive meeting at the White House with the President. The discussion focused on DACA. We agreed to enshrine the protections of DACA into law quickly, and to work out a package of border security, excluding the wall, that's acceptable to both sides.
Update: The White House responds.
While DACA and border security were both discussed, excluding the wall was certainly not agreed to.

— Sarah Sanders (@PressSec) September 14, 2017
Update II: POTUS responds.
No deal was made last night on DACA. Massive border security would have to be agreed to in exchange for consent. Would be subject to vote.

— Donald J. Trump (@realDonaldTrump) September 14, 2017
Does anybody really want to throw out good, educated and accomplished young people who have jobs, some serving in the military? Really!…..

— Donald J. Trump (@realDonaldTrump) September 14, 2017
…They have been in our country for many years through no fault of their own – brought in by parents at young age. Plus BIG border security

— Donald J. Trump (@realDonaldTrump) September 14, 2017