A van plowed into a crowd on London Bridge, followed by knife attacks, according to reports out of the UK. Police also say armed officers are responding in nearby the Borough Market area. Early reports have noted significant gunfire.
"The prime minister is in contact with officials and is being regularly updated on the incident at London Bridge," read a statement by Downing Street. President Trump has also been notified and is following developments.
The BBC is offering live updates here. Sky News updates are here, and also are being broadcast in the States by Fox News.
Updates:
Officers are now responding to an incident in the #Vauxhall area. 3/3

— Metropolitan Police (@metpoliceuk) June 3, 2017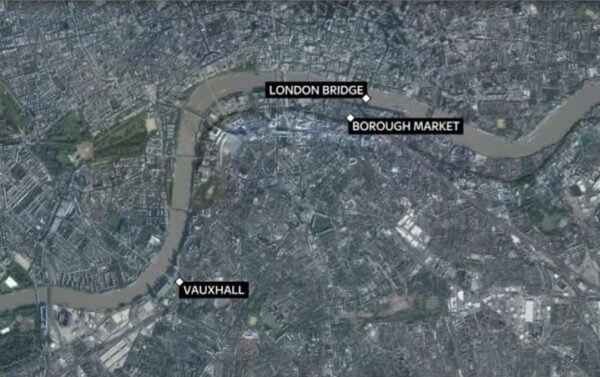 The incident at #Vauxhall is a stabbing and is not connect to the incidents at #LondonBridge & #BoroughMarket

— Metropolitan Police (@metpoliceuk) June 3, 2017
Statement from Metropolitan Police Assistant Commissioner Mark Rowley at 10:58 pm ET (3:58 am BST):
"Since late yesterday evening [Saturday, 3 June], the Metropolitan Police Service has been responding to incidents in the London Bridge and Borough Market areas of south London. We are treating this as a terrorist incident and a full investigation is already underway, led by the Met's Counter Terrorism Command.
"You will understand that our knowledge of the incident is still growing but what we understand at the present time is:
At 22:08hrs yesterday evening we began to receive reports that a vehicle had struck pedestrians on London Bridge.
The vehicle continued to drive from London Bridge to Borough Market.
The suspects then left the vehicle and a number of people were stabbed, including an on-duty British Transport Police officer who was responding to the incident at London Bridge. He received serious but not life-threatening injuries. His family has been informed.
Armed officers responded very quickly and bravely, confronting three male suspects who were shot and killed in Borough Market. The suspects had been confronted and shot by the police within eight minutes of the first call. The suspects were wearing what looked like explosive vests but these were later established to be hoaxes.
"The ongoing operation is led by the Met, working closely with British Transport Police, City of London Police, the London Ambulance Service and the London Fire Brigade.
"At this stage, we believe that six people have died in addition to the three attackers shot dead by police. And at least 20 casualties have been taken to six hospitals across London.