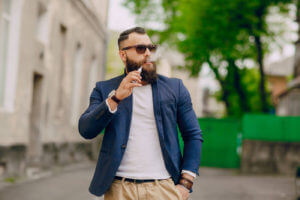 This is the last in a three-part series on e-cigarettes. Part I is available here. Part II is available here.
E-cigarettes or vapor products aren't specifically mentioned in the Tobacco Control Act. The FDA had no expressed mandate to do anything. But that isn't stopping them from trying. If the FDA actions are not significantly changed by the administration, the Congress, and potentially the courts, FDA regulations will certainly do more to harm public health than benefit it. The nexus used by the FDA to sweep vapor products into its regulatory regime was that nicotine in the products was "tobacco derived." Most, or all of it, is, just like the nicotine used in gums and patches. Frankly it's cheaper to acquire nicotine from tobacco than it is to acquire it from other plants (it's in tomatoes, eggplant, and other nightshades) or to create it in a lab. But, as regulatory agencies often do, the FDA has indicated that they will broadly exercise authority to regulate devices (that contain no nicotine and are not tobacco-derived) or zero nicotine liquids.
Most significantly, the FDA deeming rule related to these products creates an effective ban on tens (if not hundreds) of thousands of existing products. The Tobacco Control Act and subsequent FDA regulations allowed all cigarette products sold before 2007 to remain on the market so long as they complied with existing rules. Rather than allow existing vapor products to remain on the market upon publication of the deeming rule, the FDA immediately banned any new products from entering the market and will require all existing products to complete a prohibitively expensive and largely arbitrary application process, with no clear guidance from the FDA and little or no likelihood of approval.
Prior to the FDA announcing their intention to publish a rule, the vapor market was growing and highly competitive. Innovation to meet consumer demand for better and safer products was rapid. Thousands of new companies were competing to provide millions of consumers (and 40 million smokers who were potential consumers) with the more effective and appealing products they were demanding. FDA regulation put an end to innovation immediately. No new products are allowed to enter the market currently. And, if the Congress, the administration, and/or the Courts do nothing to fix things, the products, tens of thousands of companies, and their employees will disappear. Vapers and smokers will be forced to make their own products, buy from black markets – and many will return to smoking.
Is there a better model than the FDA regulatory regime in the US? Absolutely. As indicated above, British health officials shared some of same initial concerns of US regulators and anti-tobacco activists. But in Great Britain, government and public health officials decided to investigate the concerns and base their decisions on what they discovered. One of the oldest and most esteemed medical societies in the world, the Royal College of Physicians, completed an extensive review of all the available science and determined that vapor products are 95 percent safer than combustible cigarettes. The Royal College findings reinforced a report from Public Health England several months prior.
The difference between the approach in Great Britain versus that in the US is that in the British government and public health officials are focused on fighting preventable lung cancer, COPD, heart disease, and stroke caused by smoking. They've decided to follow the science and are encouraging organizations and physicians, based on science, to encourage smokers who won't or can't quit to switch to much safer vapor products. While they are focused on educating smokers with truthful and valid information that may save their lives, the US government and tobacco control zealots are fighting a war on nicotine, which surveys demonstrate is discouraging smokers from switching or in some cases even sending vapers back to deadly combustibles.
In the UK, health officials are learning from vapers and partnering with vapor businesses to help smokers move away from cigarettes. When a health official can't answer a patient's questions about what devices may work best for him or her, they may call the vape shop down the street and send the patient down to find something that might work best for him or her. They are serious about fighting smoking-related disease. Unlike their American counterparts, the serious effort to reduce harm and save lives in Britain is causing them to take extreme measures – they do things like tell the truth to smokers.
Somewhere along the way, the mission in the American effort to inform about the health risks of smoking got co-opted. The mission morphed from fighting a public health war against preventable disease to fighting a war against nicotine, against big tobacco companies, and against smokers themselves. There are estimated to be about 10 million vapers in the US now, most of whom have used the products to quit smoking or to cut down consumption of cigarettes. Public health officials need to remember why they entered the field in the first place – presumably to serve the public. Well 10 million US vapers are the public they pledged to serve. Maybe instead of considering vapers the enemy, they should congratulate them on their successes over smoking, consider them a resource and learn from them.
It was the Royal College of Physicians that preceded the US Surgeon General by two years in warning about the health dangers associated with smoking. Let's hope that history repeats itself and the US can once again follow the science and the Royal College in recognizing that vapor products hold the potential to deliver the greatest impact to public health in our lifetimes. President Trump has talked a good game about fighting excessive, job-killing regulations. He's taken meaningful action in that direction, wiping out last-minute regulations approved in the waning days of the Obama administration. If the President wants to save American jobs and improve the nation's health, he, HHS Secretary Price, and FDA Commissioner Gottlieb need to quickly rein in an FDA that, thus far in regard to vapor products, has worked to destroy American innovation, American businesses, and jobs – and ultimately to keep Americans smoking and dying.
This is the last in a three-part series on e-cigarettes. Part I is available here. Part II is available here.