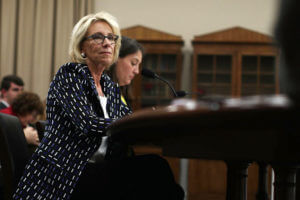 It's about time. Betsy DeVos, Secretary of the Department of Education, is pushing back on the shameful 2011 "Dear Colleague" letter that was sent to college campuses to intimidate them into misusing Title IX.
The principal objective of Title IX was to avoid the use of federal money to support sex discrimination in education programs and to provide individual citizens effective protection against those practices. In the case of sexual abuse on college campuses, particularly accusations of rape, the regulation has been poorly applied to possible victims and the accused alike. Secretary DeVos's actions have been both praised and condemned.
The exploitation of this regulation was especially egregious during the Obama administration. The infamous "Dear Colleague" letter was designed to intimidate the colleges into compromising the adjudication of sexual assault cases:
Although federal guidance doesn't carry the weight of law, the 2011 Dear Colleague letter was treated as legally binding, and schools were threatened with a loss of funding if they did not adhere to the administration's demands. Former assistant secretary for civil rights at the Education Department Catharine Lhamon said as much at a summit in 2014, insisting the guidance wasn't "an empty threat" and that she had already threatened schools with a loss of funding for non-compliance.
The letter also forced schools to adopt the lower standard of "preponderance of evidence"; this standard only required administrators to be 51 percent sure that a sexual assault had taken place. It replaced the "clear and convincing standard" which requires a party to prove that it is substantially more likely than not that it is true.
To further intimidate the universities, the Obama administration released a list of schools that were "under investigation" for their handling of sexual assault complaints. So much for innocent until proven guilty.
The Obama administrations actions raise a number of cultural issues that shouldn't be lost in this discussion. For a long time, there were those who felt that women who reported being raped must have enticed the attackers by their dress and behavior. Of course, the women were blamed for these attacks. Some people also believed that women would not contrive these stories because they couldn't be seeking this kind of public attention. We now know that drawing these conclusions are questionable, if not disproven. First, no matter how provocatively a woman dresses, sexual attacks are simply not acceptable. We also are learning that there are many reasons why women falsely accuse men of raping them (drunkenness, regret about their own behavior, and revenge, to name a few).
Regarding the behavior of the purported attackers, assumptions have historically also been made. Those include, but are not limited to, the male sexual drive, a sense of entitlement, and drunkenness as well. Since we have no way of knowing the psychological state of any young man or his possible motives, and drunkenness may have been a factor for both parties, assumptions only muddy the waters.
The problem with the men and women involved is that suppositions have been elevated to probabilities, even to the likelihood of being factual. These are the reasons a whole new approach must be taken to investigate and adjudicate these situations. That assessment should also include determining whether the colleges should be handling these cases at all, or if they should be turned over to law enforcement.
Betsy DeVos, with the help of Candice E. Jackson, the top civil rights official at the Department of Education, is working to rectify the situation. They are meeting with assaulted students, the accused and their families, advocates of both sides and administration officials to determine how best to address the issue of sexual misconduct.
My hope is that a balanced and fair approach can be designed for these circumstances, and that men and women, the accusers and potential attackers can be dealt with in a respectable and reasonable manner.
What are your thoughts? How do you think these situations should be handled?