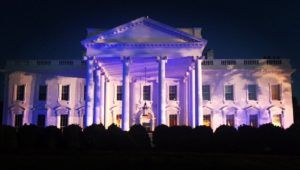 I know. Hard to imagine that Donald J. Trump provided me with actual healing … but he did.
Police Week 2017 is, in many respects, just like Police Week 2016. Lots (and lots) of cops in uniform, lots of grieving widows and orphans, parents and cousins and co-workers and friends, gathering at the Memorial at Judiciary Square, making rubbings of their lost loved ones' names engraved on the wall and covering the surfaces with lots of flowers, notes, kids' drawings carefully captioned (DAD I AM OK I MISS YOU) and photographs and patches. Lots of guys marching around in kilts, their bagpipes wailing, drums thudding.
There were the usual ceremonies: The candlelight vigil followed by the Memorial Service, held on the lawn in front of the Capital on May 15, same as on every May 15 since 1982. The names of all the fallen are read, state by state, from Alabama to Wyoming. As usual (and may it remain so) the readers go straight from Louisiana to Maryland. No Maine names were added to the wall this year, thank God.
Police Week 2017 has something else in common with Police Week 2016. Both turned out to be political firsts.
In 2016, for the first time in the 36-year history of the event, neither the President of the United States, nor the Vice President bothered to show up to speak for and comfort those who mourned. The substitute speaker was a deputy attorney general, providing us with what was no doubt a carefully calibrated demonstration of the precise level of interest in the welfare of police officers and their families that the Obama administration considered it politic to display.
This year, for the first time in the 36 year history of the event, both the President of the United States and the Vice President came and spoke, accompanied by the Attorney General.
Here is some of what Attorney General Jeff Sessions had to say about police officers who died in the line of duty (he spoke at the Candlelight Vigil on May 13):
So tonight, we mourn their loss; we remember their stories; and we celebrate the gift of ordered liberty that they helped to secure. …to all those serving here I have a simple message for each of you: We have your back and you have our thanks.

I believe it is one of the highest callings of my job to call attention to your successes and encourage our fellow citizens to support you in your difficult and dangerous work. And as long as I am the Attorney General of the United States, the Department of Justice will have the back of all honest and honorable law enforcement officers.
Some of my Rico-Friends may recall that, during the election, I decided that I would henceforth be a two-issue voter: I care about the well-being of police officers, and I care about the well-being of black Americans (overlapping groups, may I remind you). Well, just as he did during the campaign, Trump managed to hit both of my civic buttons in his speech at the National Law Enforcement Officers Memorial Service [excerpts]:
Because you do not hear nearly enough, I want you to know that patriotic Americans of all backgrounds truly support and love our police. (Applause.)

And a very sad thing is that many of today's politicians don't want to say that, don't want to talk about that because it's not politically correct or they think it might hurt them with the voters. I will say it and I will talk about it proudly. (Applause.) I will make it the personal priority of my administration to ensure that our police are finally treated fairly, with honor and respect that they deserve. (Applause.)

To all Americans watching this event today, next time you see a cop on the beat, take a moment to say two wonderful words, which they so readily deserve: Thank you. Thank you. (Applause.)

When policing is reduced, it's often the poorest and most vulnerable Americans who are the first to suffer. We have all seen the tragic rise in violence and crimes in many of our disadvantaged communities. We've seen the unbearable horror of the shortcomings in Baltimore and Chicago that have cut short so many lives and so many beautiful, beautiful dreams.

We cannot stand for such violence. We cannot tolerate such pain. We cannot, under any circumstances, any longer turn a blind eye to this suffering that's going on any longer. And we won't. (Applause.)
Yes, his speech was repetitive. Yes, he punctuated it with his usual odd verbal tics ("believe me" and "big league"). But it was a nice speech, folksy and sincere, and the assembled cops breathed a long, collective sigh of relief. It was as if our collective skin, scraped raw by these past few years, had finally been offered healing balm.
And then, when night fell, the White House was lit up in blue.