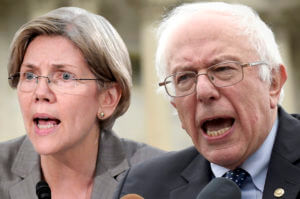 First, the good news: Rep. Steve Scalise has been released from the intensive care unit. MedStar Washington Hospital Center stated that "Scalise's continued good progress allowed him to be transferred out" and that he "remains in fair condition as he continues an extended period of healing and rehabilitation."
Scalise was sent to the ICU by a crazed Bernie Sanders volunteer with a long history of angry social media posts against congressional Republicans and President Trump. A list of several GOP lawmakers was found on his body after Capitol Police took him down. His goal was to overturn the results of free and fair elections with the barrel of a gun.
Obviously, rhetoric didn't pull the trigger on that Alexandria baseball practice last week, and we can't hold liberal politicians and celebrities directly accountable for the actions of a violent, unbalanced man. Free speech in politics often tends toward the hyperbolic yet it is, and should remain, fully protected under the First Amendment. But after the shooting, many Democrats paused their efforts to undermine that right and called instead for civility on a voluntary basis.
To be honest, I'm surprised it (sort of) lasted a week.
I've read the Republican "health care" bill. This is blood money. They're paying for tax cuts with American lives. pic.twitter.com/298DLguNiM

— Elizabeth Warren (@SenWarren) June 22, 2017
Let us be clear and this is not trying to be overly dramatic: Thousands of people will die if the Republican health care bill becomes law.

— Bernie Sanders (@BernieSanders) June 23, 2017
Deleted tweet pic.twitter.com/SYk72vxKea

— Cuffy (@CuffyMeh) June 23, 2017
Forget death panels. If Republicans pass this bill, they're the death party. https://t.co/jCStfOaBjy

— Hillary Clinton (@HillaryClinton) June 23, 2017
DC Democrats aren't the only ones insisting that Republicans are murderers.
Nebraska Democratic Party official Phil Montag was fired after audio surfaced in which he said of Scalise, "His whole job is to get people, convince Republicans to [expletive] kick people off [expletive] health care." Montag added, "I'm glad he got shot. I wish he was [expletive] dead."
Celebrities, too, were quick to join the pile on. In a rambling speech at UK's Glastonbury Festival, Johnny Depp brought up Trump and asked, "When was the last time an actor assassinated a President?" As the crowd cheered its approval, he continued. "I want to qualify, I am not an actor. I lie for a living. However, it has been a while and maybe it is time," Depp said.
Democrats want it both ways and, considering the media's left-wing views, they usually get it. But it's impossible for voters to believe their "love trumps hate" slogans when hate is nearly all they offer.