Water is heavy. This was a lesson I learned in my freshman year in college, back more years than I care to remember. It was something I learned in class, but the lesson was underscored by my first-ever roommate, Seth. It is not his real name – for reasons obvious as this story progresses.
I was accepted to the University of Michigan's College of Engineering. How far back? Back a few years after the Great Aerospace Bust left engineering graduates unable to find a job more challenging than pumping gasoline upon graduation. Not just baccalaureate degree holders, but rather those with masters and doctorates. In some ways folks looked on engineering grads the same way we view those with worthless studies degrees today.
My Home for Five Years "Back Then"
Many viewed engineering as a lost cause. I recognized opportunity. Even with the ignorance provided by a high school education I knew engineering would bounce back, and bet my future that by the time I graduated from college industry would be screaming for engineers. Despite advice from well-meaning high-school guidance counselors I skipped the liberal arts (then still rigorous), opting for engineering. This was particularly painful to my guidance counselor because I had the SAT scores to get into Michigan's vaunted School of Literature, Science, and the Arts.
There were other high school classmates who wanted to go to LS&A who could not get in because of their SAT scores. LS&A demanded a composite score of 1250 (back in the day of two part SATs). Due to slack demand the Engineering College admitted those with an SAT of 1000 or higher. Several classmates lacking SAT scores to get into LS&A applied to Michigan's Engineering College figuring they could transfer to LS&A later. This included Seth.
Seth and I (and my high school classmates) were townies. We had grown up in Ann Arbor. Many (including Seth) had chosen Michigan as a home-town school. I had not. I wanted to go to school away from my home town, but I was serious about engineering. Michigan – killing my dream of leaving town – had the state's best engineering college. It was the only one offering the degree program which most interested me: naval architecture and marine engineering.
I was determined not to live at home. I had the wherewithal to afford a room near campus since I had snagged a job as a part-time computer operator. The dorms were full. I was not eager to live in a dorm anyway. But to take an apartment I needed a roommate. Seth needed a roommate too, so we paired up and rented a room in a run-down former one-family house six blocks from the two main engineering buildings.
Neither Seth nor I were cool kids in high school. I wasn't cool because I didn't care about high school status. I was your classic nerd. I was into wargaming and D&D (during the years D&D was being born), overweight, and clumsy. Seth was your typical square peg in a round hole. His dad was an exterminator. (How uncool is that?) Seth was part of the audio-visual group who handled the AV equipment. They were cool kids, but Seth was a hanger-on, their court jester.
Regardless, we were both Engineering students. We paid our bills and kept the place clean (by teenage male standards). We were both outsiders. Despite separate interests, we shared two interests common to most males in their late teens: booze and babes. (The drinking age in Michigan was then 18.) Unfortunately for Seth, I proved better with both. I was not trying to beat him at anything. I did not even realize there was a competition, a big reason he could not beat me. I was not playing the game. But Seth wanted to prove – to himself at least – he could top me in both.
He never topped at drinking because I out-massed him by 50% and picked my shots, literally. For him it was about volume. For me it was about quality and control. I could outdrink him because I was bigger, but was not interested in becoming blind drunk. I would have a few shots, and then space my drinking the rest of the night. Seth drank until blitzed.
Seth looked for ways he could drink more without it affecting him. The day of the Michigan-Ohio State game he was too hung over to go. Back then, in the days of the Woody Hayes-Bo Schembechler rivalry you had to be really sick to miss that. He had eaten a stick of butter before his night of drinking to "coat his stomach." I am still not sure whether the butter, the booze or the combination decked him.
What really drove him nuts were girls – my success and his failure. This was back in that period after the pill and before AIDS. Most males in their late teens were into scoring – having sex as much as they could with as many girls as they could nail. I suspect (especially based on my own experiences) there was a lot more bragging than bagging going on. It was lot easiers to lie than to get laid, especially for the out crowd.
Not that it particularly mattered to me. By the middle of my freshman year I had found the love of my life, the incomparable Quilter, whom I later married and who has been my spouse for nearly forty years. She was still in high school, but we spent many weekend evenings together. Most was in group settings (she was also a wargamer, the kid sister of another high school gamer friend), but we went to movies, parties, and one-on-one dinners together. (Mike Pence is right. That is all I am saying.)
This was not the type of casual relationship sought by many male college freshmen of that day and certainly not an expression of the Playboy Philosophy then so popular among my contemporaries. Yet to Seth at that time it must have seemed I had climbed the mountain of ultimate studliness while he was left at the foothills. I did not help by refusing to discuss my intimate relationships on the grounds "a gentleman never tells." (Really. A gentleman never tells. Especially if nothing is.) Reality was almost certainly more innocent than his imaginings.
Seth decided his solution to attracting girls lay in technology. He had a van – an old Dodge A100 panel van. Possibly it was a discard from his dad's extermination business. If so, there were no markings. It was just an aging, rusty, mustard-color van. Seth was going to transform it into a sex-mobile by putting a bed in back.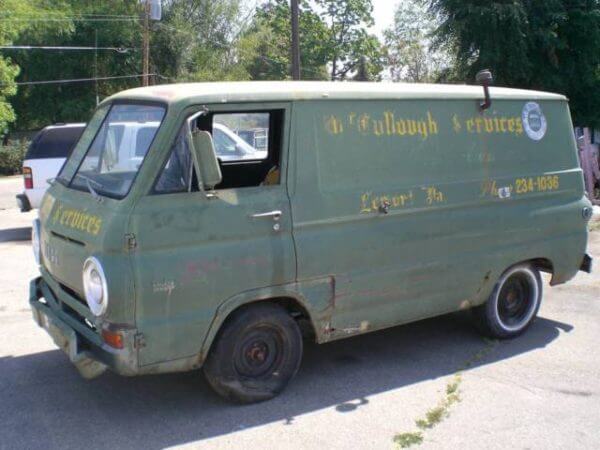 Ladies, Your Ride Is Here
Despite the handicap of not being the love stud he thought I was I instinctively saw a flaw. Why would any woman (at least one not higher than a kite on weed or chemicals) be in the least attracted to the idea of making love on a crummy mattress in the back of a rusty old van? Seth had an answer to that objection. It would not be a standard mattress. No. His love machine would deploy a waterbed.
This was the dawn of the waterbed. Waterbeds were the ultimate in cool. According to fevered teen male imaginings of the era, sex in a waterbed was the superlative high. What could be more irresistible to girls?
Women reading this might offer an answer, even (or especially) those in their first years in college, but to Seth the logic was unassailable. Girls would fall into bed for him.
My Engin-sense tingled at that. I was majoring in naval architecture and had already taken the intro course. One thing they drummed into our freshman skulls was water is heavy. Really heavy. A standard waterbed size then was seven feet long, five feet wide, and eighteen inches deep. At least that was the size mattress Seth was installing.
Coincidentally a long ton of water (the standard unit of measure in shipbuilding) was 35 cubic feet for salt water. It is 36 cubic feet for fresh water, but the difference is almost negligible. I pulled out my trusty TI calculator (brand new that year). Even with fresh water, Seth's waterbed, fully filled would weigh nearly 1-1/2 tons: 3300 pounds. I pointed out his van was rated for a cargo capacity of 1500 pounds – 3300 pounds was over two times that limit.
He would not let me pour cold water on his dream. He came up with a solution – first fill the waterbed with small Styrofoam balls and then add water. Styrofoam was much less dense than water. He figured he could get the weight down to 1000 pounds that way. I was more skeptical. I thought it would be more like 1800 pounds, but he was not listening to me.
As it turned out, we were both wrong. The Styrofoam absorbed water. The gross weight of a Styrofoam ball and water-filled waterbed exceeded both our estimates. For all I know the gross weight exceeded 3300 pounds. Regardless, the first attempt ended badly.
He filled the waterbed at his parents' place out in the country west of town (mainly because I refused paying a massive water bill and his parent had a well). I was not there, but a witness who was reported the aft end of the van sagged ominously by the time Seth capped the waterbed. Mission accomplished, the two of them hopped into the front seats to head for Delhi Park, the local make-out place.
Of course, the shocks failed. They did not even get out of the dirt driveway before the rear end bottomed out.
Seth was nothing if not determined. He fixed up his van. Added heavy duty shocks. Substituted hollow plastic balls (think small ping-pong balls) for Styrofoam. This time he decided on a test drive before taking it to Delhi Park. He drove it from his parents' house to our apartment and invited me to check it out. I remember sitting on the bed. It made an interesting clattering sound, not my conception of the music of love. By now it was spring. We had leased the place through the end of May.
What Seth (and other high school classmates who tried getting into LS&A through Engineering) did not realize was the Engineering College had not lowered classroom standards – just the entrance gateway. Like engineers everywhere they were focused on results. Keep up with the coursework and they were happy, regardless of your SAT. If not, too bad – again regardless of SAT. And Engineering, like math, was hard. Between the focus on drinking and chasing babes Seth failed to keep his grades up. He was not coming back to Michigan. I was and moved on to a new roommate.
But Seth still had his magnificent sex-mobile. I heard the coda from friends. It was another lesson about water – this time about momentum and free-surface effects.
Delhi Park was on the Huron River. It really was a pleasant place to spend a weekend back then. It also had a reputation as a make-out spot.
To get there you took Huron River Drive, a very pretty and very winding two-lane road paralleling Huron River. The speed limit was 55 mph and Seth was at the limit when he reached a sharp curve. Except when he turned the water, impelled by momentum, continued on a straight line. Into the river. Taking the van for company.
It skidded back-end first into the Huron River. Nobody was hurt, but the after end of the van was in the river, with the front on the bank. The rear tires were axle deep into the river bottom. It took two truck wreckers to pull the thing out.
And that was the end of Seth's magnificent sex-mobile.