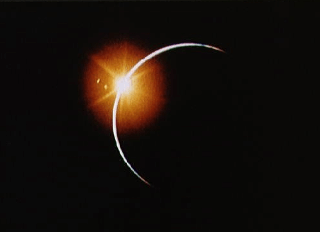 On Monday, Aug. 21, I will be attending a concert of sorts. While sitting at a vineyard in Wyoming, I will be drinking wine, wearing goofy glasses, and watching a show rapt in what I am sure will be utter amazement. And while I can't speak for anyone else who might attend, I can tell you in all seriousness that I personally have been waiting for this particular performance for 45 years.
At some time between this 21st-century age of digital data on demand and the 18th-century age of Diderot embarking on his ridiculously ambitious project, a seven-year-old me could often be found perusing any volume of my family's collection of encyclopedias. And while I loved the children's articles on optical illusions and kite-making, and the color plates of the flags of the world, what drew my interest the most was a 50-year table of future total solar eclipses.
That table vexed me. I returned to it time and again in disbelief that I would have to wait forever, or at least until 2017, for a total solar eclipse to occur in the United States — and by that time, I would be old. Adding to my frustration of such a long wait was the knowledge that the little Connecticut town in which I lived was nowhere remotely close to where the totality of that eclipse would occur. It seemed all but hopeless.
As time passed, technology sprinted, and those volumes became obsolete, and I followed the orbit of my life. Along it I found other interests, and that encyclopedic table became a forgotten obsession of childhood — or so it would seem.
On the morning of June 8, 2004, I woke my family before sunrise. We drove to Roxbury Airport — a point near our town that has both the highest elevation and an unobstructed view. To my surprise, it turned out that I was not the only one with the idea of heading there. When we arrived at that antiquated airport, now a farmer's field, it was filled with members of the Astronomical Society of New Haven and their solar-filtered telescopes. We were all there for the same reason: to view an event that had last occurred in 1882: the Venus Transit.
As the sun rose, our spirits fell a bit. It appeared that New England weather, a constant bane to amateur astronomers, was again not co-operating: a cover of clouds had moved in to obscure the Sun and the Transit.
Then, suddenly, the clouds broke — and an incredibly rare confluence of time, angle, haze, and elevation intersected in just the right way. We all stood there — I, my wife and son, and seasoned astronomers from the ASNH — dumbstruck as we were able to view with naked eye a rising Sun bearing a shadow of Venus as it made its 122 year awaited transit across the Sun's disk.
That morning at Roxbury Airport rekindled my childhood fascination with astronomy. I joined the ASNH. I and my son spent many hours behind the giant telescopes that Yale University had entrusted to their care. In 2012, I was with the ASNH again to view the second Venus Transit — the last one until December 2117.
But despite my re-found interest in astronomy, I had honestly forgotten about my long-awaited solar eclipse of 2017. Yet today, I and my family live in Wyoming – a short two-hour drive to Table Mountain Vineyards and the path of totality. There were many things that led us to Wyoming, not the least of which was the descent of Connecticut into an absolute, raving, socialist fever dream — the criteria I used when choosing Wyoming were political and economic.
But still, I must confess, I do find it awe-inspiring how objects and events have a way of aligning.