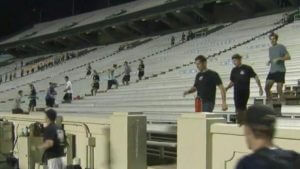 This morning during my morning run I noticed the lights in the university stadium were on. At 6:30 AM ROTC cadets and local first responders were running the steps of the stadium in remembrance of those who did run on that fateful day, and did not make it back down.
About four years ago, the University ROTC units organized this silent tribute and invited their fellow students, and local citizens along with the emergency services to join them. I was unaware of this 'new' tradition. Army, Air Force, Marine and Navy noncom's and officers presided over their cadets and midshipmen who were joined by members of the local police and fire departments. Most of the oldest ROTC candidates running today were five years old on 9/11/01.
One firefighter ran in full gear. Try it. 2,076 steps up in fire boots, heavy coat, pants, and helmet. Pretty awesome. 2,996 lost their lives on 9/11. 2,076 were in the World Trade Center. A few years ago, a university varsity basketball player opted to do what he always wanted to do, he graduated and became a fireman. I thought about that choice as I watched the police, ambulance, and firemen run.
Antifa and the victimhood were not present. I did not notice that any faculty (except ROTC faculty) were present. More than a few from the general student body were present. You can tell who they are because they were running in civies. These sleepy, but reverential souls decided running in the quiet inside a big stadium was preferrable to their beds. College students surprise us in amazing ways, especially on Monday mornings!
All you could hear was deep breathing and steps. This sound was good news. An inspiration! Deep respect for those who fell. This was better than any football, lacrosse or soccer game ever played in this stadium. And, there was room for about 40,000 more fans and participants. I will be there next year!
ADDENDUM ADDED LATER: I learned an hour ago the head of the university and a few of her staff were present and ran the stairs. Excellent demonstration of leadership. Here is a photo she Tweeted.