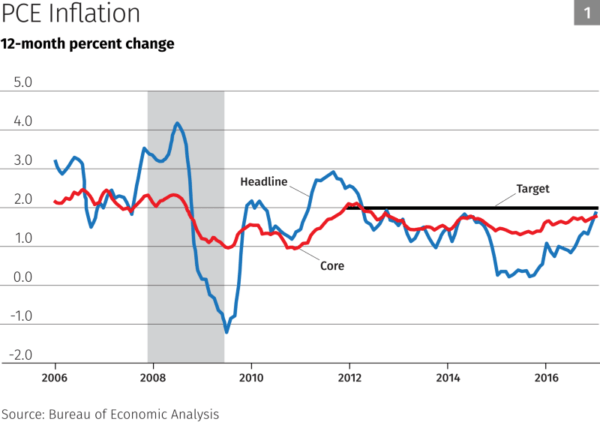 I will admit a current bias against monetary tightening and the idea that the US economy is at full employment (though maybe such a state is only a long nine iron away). And although I am not a "high pressure economy" person, I would take any rate hikes very, very gradually. And if a voting member of the FOMC, I probably would have stayed the course at this week's Fed meeting. Much like Minneapolis Fed President Neel Kashkari, who explains his dissent — with plenty of chart goodness — in a Medium blog post.
Among his key points: First, prices still seem pretty stable. ("Twelve-month core inflation is at 1.7 percent, and while it seems to be moving up somewhat, it is doing so slowly, if at all.")
Second, measures of inflation expectations are mixed at worst. ("Surveys measures of long-term inflation expectations are flat or trending down … [while the markets' inflation forecasts are still at the low end of their historical range.")
Third, labor costs also don't seem to be warning of building inflationary pressures getting ready to surge. ("The growth rate of hourly earnings has increased somewhat in the past year, but fell slightly since the last FOMC meeting, and it is still low relative to the precrisis period.")
Fourth, the job market is stronger and might be able to get somewhat stronger still. (The U-6 measure is still almost 1 percentage point above its precrisis leve … [and one] of the big surprises over the past 18 months is how strong the job market has been; yet the unemployment rate has remained fairly flat near 5 percent.")
Five, markets maybe correct, but the economy seems unlikely to then crash as a result. ("At the moment, although stock prices, housing prices and especially some commercial real estate prices appear somewhat elevated, they do not appear to pose an immediate financial stability risk.")
Now there is a bit more to Kashkari's reasoning, plus to his credit he also grapples with the counter case. All in all, I find it a plausible argument, though let me add that none of this means we also shouldn't undertake the reforms needed to boost productivity and the economy's growth potential.