I know, I know. You have never heard of him. Bear with me. You see, I think of Bob Strassler as something of a hero. Bob majored in history at Harvard. He took one course in ancient Greek history with a retired modern history don from Oxford who knew something of the field, then went off to Harvard Business School before joining his father's turn-around business.
So what, you say. Well, he made a bundle in that business and retired in 1983, at the ripe old age of 46. Six years later, out of boredom, he returned to the lass with whom he had flirted as an undergraduate: ancient Greek history – and that is where it all began.
Strassler found Thucydides hard to follow – and so, in his spare time (which was plentiful), he set out to do something about. It took him seven years to finish the job, and in 1996 the Free Press published a book that twelve other presses (including six prestigious university presses) had turned their noses up at. Entitled The Landmark Thucydides, it included adding 114 maps (located on or near the page where the pertinent event was described); explanatory footnotes keyed to the maps; marginal notes; headers indicating the date, the location, and the events being described; an introduction by Victor Davis Hanson; a highly detailed index; and eleven appendices on technical questions arising within the text, written by Hanson and other classical scholars armed with the requisite expertise.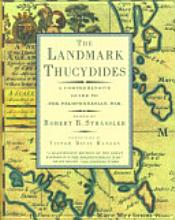 It sold like hotcakes – more than 30,000 copies in hardback and an additional 40,000 in paperback – and there is no reason to suppose that it will ever go out of print. The reason is simple. It made an acknowledged great work accessible to everyman. As I wrote in a review of its sequel, "No one in his right mind, teaching a course in Greek history, would employ any other edition. No casual reader would be well-advised to look elsewhere. The maps alone are worth ten times the cost of the book. With their help, the narrative becomes intelligible to the non-expert reader for the first time. Put simply, Strassler's maps are to the study of Thucydides what wheels are to luggage. Once they are added and one sees the result, one is aghast that no one had the wit to see to their addition at an earlier time."
You would think that Strassler's success – though he bore all of the production costs himself, he did well with the book – would inspire imitation. Classicists are an impecunious lot, and they lust for lucre. The number of ancient texts crying out for similar treatment is numerous; and one could easily imagine enterprising editors at Oxford University Press, at Cambridge or Harvard, jumping at the opportunity he had opened up. But years passed. No one stepped forward, and so he decided to do the job himself. In 2007 Pantheon books brought out for Strassler The Landmark Herodotus, constructed on precisely the same model: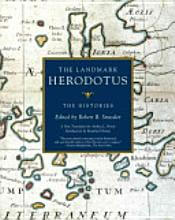 Then, in 2009, the same press published The Landmark Xenophon's Hellenika: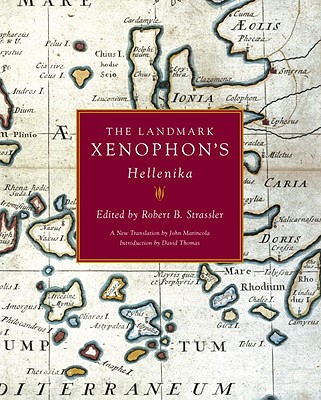 And now, hot off the presses, we have The Landmark Arrian:
For those of you uninitiated into the esoterica of ancient history, what that means is that one can follow the campaigns of Alexander the Great with great precision. And in two more years, if all goes well, Pantheon will bring out The Landmark Polybius so that you can trace the rise of Rome and its long struggle with Carthage.
It all goes to show that those of us who teach never know what effect we are going to have on students.