When the sun rises tomorrow, July 24th, it will mark 40 years to the day that Army Spc. Randy Dalton was killed in action. It will also be the day that Randy will finally make it home to the St. Louis area, to be laid to rest next to his parents. Randy's father, Fred Dalton, had purchased the extra burial plot in the belief that, though he wouldn't live to see it, one day his son would come home.
Randy was a gunner aboard a helicopter during a recon mission in Cambodia, five miles north of the South Vietnamese border on that awful day. His chopper took ground fire as it came over some trees, and crashed. A rescue team was dispatched to the scene and found Dalton and another man, SFC Greg Antuanano, still strapped in their seats. Pulling both men from the wreckage, the medic determined that Antuanano was dead, but Randy, though seriously injured, was clinging to life. A desperate but futile effort ensued to stop the bleeding and stabilize Randy. He died in the medics hands. 
As the team attempted to load the bodies onto the rescue chopper, they were ordered to evacuate immediately as enemy forces were closing in.  Recovery efforts were abandoned, and Randy's body lay next to the wreckage even as the rescue team took enemy fire while leaving the scene. The following day, the rescue team returned, but the bodies and equipment were gone. Randy had been just two weeks from completing his tour of duty in Vietnam.
This is why so many veterans and active duty members wear metal bracelets in memory of those who have yet to come home.  Some have the names of individual service members, while others have phrases such as, "Until They All Come Home," or "Bring 'Em Home Or Send Us Back." No one, but NO ONE should be left behind.
Thankfully, efforts to bring the remains of Spc. Dalton continued over the years. Several months ago, members of the Dalton family were asked to provide DNA samples to the US Army Central Identification Laboratory. Then, on March 19th, Daltons oldest sister was briefed in person that the Army had positively identified her brother's remains. Karen Dalton Kloster was only 13 when she last saw her brother. "I remember worshiping him. I idolized my big brother," she said.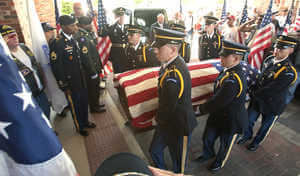 Yesterday, Randy's remains arrived in St. Louis. The Patriot Guard escorted his body along a route lined with American flags. An honor guard carried his flag-draped casket to the funeral home in Glen Carbon. Tomorrow, at 1PM Central, he will be laid to rest, surrounded by family and accompanied by a volley of shots fired in his honor and the sound of Taps. Though we can't be there, perhaps you might join me at 1PM tomorrow in a moment of silence to honor the ultimate sacrifice by one of America's sons, and the determination of a nation to bring him home.  
And they who for their country die shall fill an honored grave, for glory lights the soldier's tomb, and beauty weeps the brave.  ~Joseph Drake