Catholic health-care providers in particular have long said they'd have to go out of business without the conscience protections that Pelosi says amount to letting hospitals "say to a woman, 'I'm sorry you could die' if you don't get an abortion." Those who dispute that characterization "may not like the language,'' she said, "but the truth is what I said. I'm a devout Catholic and I honor my faith and love it . . . but they have this conscience thing'' that she insists put women at physical risk, although Catholic providers strongly disagree.
This is worse than those people that fake military honors they've never received. Maybe Congress should pass a bill to prevent this kind of talk as well.  And can somebody please tell Nancy where she can find an Anglican Church to go to?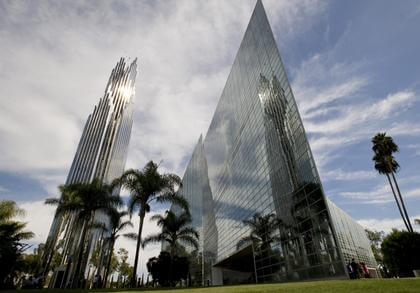 In cheerier news: We just bought ourselves an official Cathedral for Orange County  off Robert Schuller: You're better off reading about it in USA Today because the L.A. Times gave it a hideous negative Spin "Congregants Devastated By Church Sale." Talk about Debbie Downer.  What about the Catholics? Maybe they're happy? O.C. has never had a proper Cathedral for it's Bishop.