In a piece that he published this past Monday in The Washington Examiner, Michael Barone (who went to high school with Mitt Romney) related a conversation which he had with an individual who had worked at Bain Capital alongside the Presidential contender. When Barone asked what Romney was really like, his interlocutor responded, ""Which four or five of the Romneys do you mean?" Romney, as Barone explains, had a knack for adapting "his approach and manner to each company's particular culture."
In the business world, this makes sense. To be successful when you shift from one corporate environment to another, as turn-around artists frequently do, you need to be a chameleon of sorts. You cannot afford to have a steadfast manner, much less firm principles. Your task is management, and you have to be willing to do whatever it takes to get the job done.
The same skills can be useful in politics. When Bill Clinton and Al Gore were running for office in Arkansas and Tennessee, they were anti-abortion. When they sought to position themselves as possible candidates for the Presidential nomination of the Democratic Party, their thinking "evolved." The more successful of the two was the one with the fewest compunctions about jettisoning one set of principles and allies for another when opportunity knocked.
Mitt Romney resembles Clinton and Gore in this particular. When he ran for the Senate in 1994, as this video makes crystal clear, he presented himself to the electorate in Massachusetts as an out-and-out liberal – a supporter of abortion rights, gay rights, and affirmative action eager to distance himself as far as possible from Ronald Reagan and George W. H. Bush. In August, 1994, he told an interviewer from the gay newspaper Bay Windows:
There's something to be said for having a Republican who supports civil rights in this broader context, including sexual orientation. When Ted Kennedy speaks on gay rights, he's seen as an extremist. When Mitt Romney speaks on gay rights he's seen as a centrist and a moderate.

It's a little like if Eugene McCarthy was arguing in favor of recognizing China, people would have called him a nut. But when Richard Nixon does it, it becomes reasonable. When Ted says it, it's extreme; when I say it, it's mainstream.
Romney left everyone with the impression at the time that he favored same-sex unions indistinguishable from marriages but wanted to reserve the m-word for unions between women and men.
When critics point to the posture he adopted in the 1994 Senate race, Romney responds that he changed his position on the crucial issues and argues that he should not be held responsible today for mistakes that he made seventeen years ago. When, in this video, staged in 2007 with an eye to the 2008 Presidential race, Romney directs our attention to his putatively conservative record as Governor in Massachusetts, he glosses over his gubernatorial campaign in 2002 and his first two and a half years in office in an attempt to leave its viewers with the impression that he had long ago abandoned the positions he espoused in 1994. In fact, however, as The Washington Post recently reported, when running for the Governorship in 2002, he presented himself to the advocates of abortion precisely as he had in 1994. He was, he intimated, the Republican who, if he made it to the national stage, would turn the Republican Party around on the issue. "You need someone like me in Washington," he told them. To the gay activists and the environmental lobby, he made similar assurances – and for most of his term in office he was as good as his word, defending abortion as a woman's right, pushing cap-and-trade, and, in 2004, developing the Massachusetts Climate Protection Plan.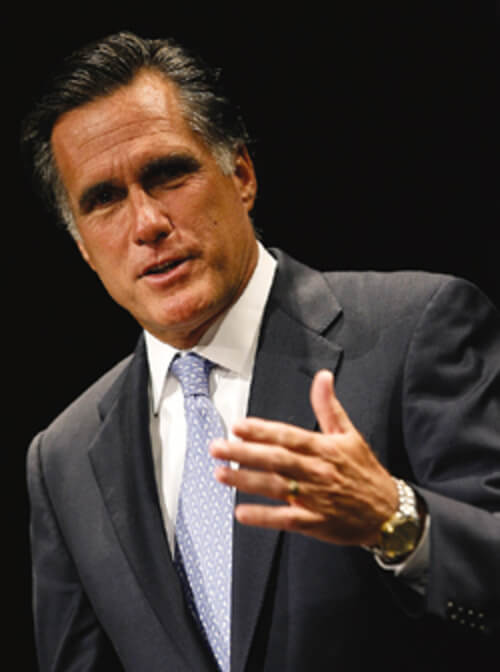 It was not until the late spring of 2005 – when it became clear that he had little chance of being re-elected as Governor and he started planning a Presidential run, instead – that Romney began changing his posture, and then according to a recent report in The Wall Street Journal, he did so on a host of issues, lining up with the National Rifle Association, which he had hitherto kept at arm's length; announcing that he was pro-life; and backing off from his commitment to the radical environmental agenda.embodied in the Massachusetts Climate Protection Plan he had for the most part authored himself. It is possible that Mitt Romney had a real change of heart at this time, but, given what we know of his flexibility at Bain Capital, the comment offered The Wall Street Journal by Rob Garrity, a Republican environmentalist and Romney supporter who served in his gubernatorial administration, seems more plausible: "You have to understand, Mitt Romney is very pragmatic, and I think what happened was the issue became, 'How do I win the presidency of United States?'" For an aspiring prince, Machiavelli tells us in Il principe, flexibility is the supreme political virtue.
There are, of course, stands that Romney espoused as Governor that he still holds to. Like Michael Bloomberg, another businessman who ran for executive office in a Democratic stronghold on the Republican line, Romney is a budget-balancer. He worked hard at that in Massachusetts. He promises to do so again if elected President of the United States – and on this promise, I believe, we can rely. If he were elected, Bloomberg would do the same. Neither of these men is a utopian progressive on the model of Barack Obama. Neither is inclined to suppose that radical will is sufficient. They are managerial progressives. They pride themselves on their competence, and they despise fiscal irresponsibility – for they recognize that expenditures cannot indefinitely be sustained without sufficient revenues.
Apart from fiscal responsibility, there is only one other policy of any real salience that Romney embraced in his early years as Governor and that he still supports, and that is Romneycare. Managerial progressives have little truck with first principles. George W. H. Bush was speaking contemptuously when he referred to "the vision thing." In this particular, they tend to be tone-deaf. The elder Bush had no notion of the damage that he was doing to himself when he agreed to a tax hike, and Romney simply cannot understand the visceral dislike that conservatives have for the individual mandate.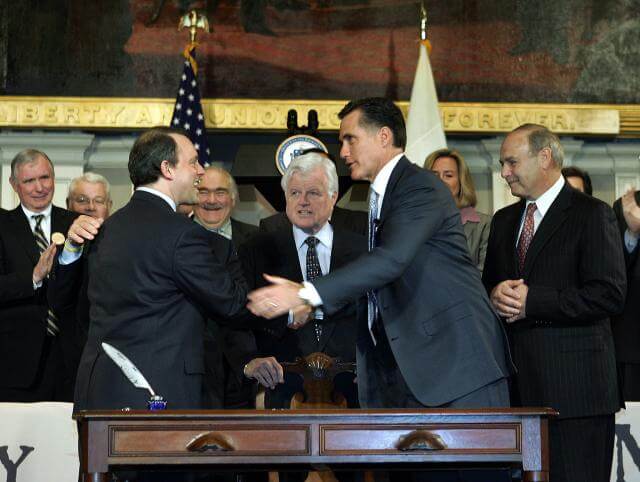 There is a problem, he was told. There are people who do not have health insurance, and some of those with pre-existing conditions cannot find affordable insurance. Moreover, those who work for themselves and are not part of the large pools of employees who work at large firms have to pay exorbitant rates. He knew of two proposals for solving the problem. One proposal called, in effect, for the extension of Medicare and Medicaid to the whole populace; the other, developed by the Heritage Foundation, operated on the premise that those already insured be left with their current arrangement and that everyone else be forced to join a pool sponsored by the government and buy insurance through that pool. Progressives are utilitarians. They have little use for or understanding of individual rights – and so Romney could not conceive why anyone would object to everyone being forced by the government of Massachusetts to buy health insurance. It never crossed his mind that there is something tyrannical in the government's interference in the minutiae of our lives. Without the individual mandate, he recognized, without forcing all of the uninsured into a pool so that those without pre-existing conditions could pay for the healthcare of those with pre-existing conditions, the problem that, he had been told, was pressing could not be solved. When utilitarians have to choose between solving putative problems and respecting the rights of individuals to run their own lives, they always choose to solve the putative problems. Because progressivism is a hammer, we are thought of us nails.
In the spring of 2006, when he signed the bill providing for Romneycare, Romney expected that it would be his signature achievement and that his accomplishment in this particular would be his selling point in 2007 and 2008 when he sought the Republican nomination, and in an op-ed in The Wall Street Journal he touted it as a model for other states. By February, 2007, he was holding Romneycare up as "a model for the nation," and in the hardback version of his campaign book No Apology, which came out in March, 2010, Romney wrote, "From now on, no one in Massachusetts has to worry about losing his or her health insurance if there is a job change or a loss in income; everyone is insured and pays only what he or she can afford….We can accomplish the same thing for everyone in the country…." In the paperback version, which was released in February, 2011, that last sentence was dropped. If Romney was all along opposed to the establishment of a national health insurance system on the model of Romneycare, as he now claims, he was remarkably inept in his choice of language.
In a sense, however, all of this is a red herring. For, as he made clear back in October during the Las Vegas debates and again this week in his interview with Bret Baier, Romney sees absolutely nothing wrong with the individual mandate and he is inordinately proud of Romneycare. This ought to give all conservatives pause – for it says a great deal about his attitude regarding individual rights and his willingness to use the power of the government to run our lives. He may or may not be sincere when he now argues that the individual mandate introduced by the federal government is unconstitutional, but this does not matter a great deal. In other spheres, where the federal government has wide discretion, he will not be restrained by any political principles from using it to run our lives if he thinks that there is a problem in need of a solution.
What this means in practice is that Romney is no more a conservative than Michael Bloomberg is. He has virtues. He is managerial and not a utopian progressive.  If elected, he will for a time be mindful of the commitments he has made. He will fight for the repeal of Obamacare, for, If he does not do so, he will be toast, and he knows it. He will also work hard to put our fiscal house in order, for he really does believe in managerial competence, but I would not rule out tax increases. After all, he agrees with Barack Obama that those who take in more than $200,000 a year should pay more than they do now. If there are any openings on the Supreme Court in his first couple of years in office, Romney will probably nominate conservatives. But, after the midterm elections in 2014, all bets are off. Managerial progressives see elections as problems to be solved. They re-tailor their positions to the tastes of the electorate they expect to face (at least, as they understand that electorate).
Even more to the point, Romney is not going to make the conservative argument – and that matters enormously. When Lincoln said, "Public sentiment is everything. With public sentiment, nothing can fail; without it nothing can succeed," he spoke the truth. In my lifetime, there has never been a moment when the American public was more open to the conservative argument than it is now. Barack Obama, his "stimulus" bill, Obamacare, and Dodd-Frank have given liberalism a very bad name. This could be the turning of the tide. It could be the moment in which we begin to pare away at the administrative entitlements state. But that can only happen if we win the argument over its legitimacy. And if we do not make that argument, we certainly cannot win it. Nothing that Romney has said in any of his speeches to date or in any of the debates suggests that he believes that there is anything fundamentally wrong with the administrative entitlements state. It needs a bit of tweaking here and there. Expenditures and revenues must be brought into balance. But it is in principle sound. That is what he believes. That is the position he will espouse.
I cannot see how any conservative can support Mitt Romney. I can see how conservatives might vote for him – certainly, if he is the only alternative to Barack Obama, and also if there is no other plausible Republican candidate, as Ramesh Ponnuru argues on National Review Online. But if we do vote for him, we should not lie to ourselves about what we are doing, and we should keep the heat on him if he is elected.
I should perhaps add that I do not regard Mitt Romney as a shoo-in. He is not an especially accomplished politician. He is a man who won one election. When he ran for Senate, he lost. When he considered running for re-election as Governor, he chose not to do so because he knew that he would lose. When he ran for the Republican nomination in 2008, he lost. If you watch his debate with Ted Kennedy and his interview with Bret Baier and consider the manner in which he misrepresented Romneycare in the Las Vegas debates, you can see why he lost. His responses, when he is not mouthing boilerplate that he has memorized, seem contrived. He is evasive and sometimes petulant. One can see him calculating with regard to what would best play with the general public, and what he says and does is often inept. He often looks like what he is: a man with no political principles who is pandering, and he is actually pretty bad at pandering. He is not quick in discerning which way the wind is blowing. He spent the last four years preparing for the 2011/12 campaign, and he blundered and blundered badly in the manner in which he positioned himself for the race. It is perfectly possible that Barack Obama will make mincemeat of him in a televised debate. Ted Kennedy did.