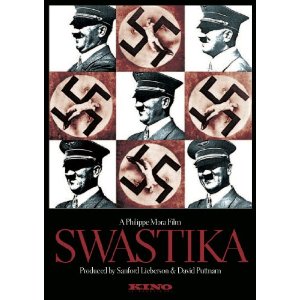 "If Hitler is dehumanized and shown only as a devil, any future Hitler may not be recognized, simply because he is a human being."
Thus state the opening credits of the 1973 film Swastika, newly released onto DVD this week. The film consists of a montage of home videos of Hitler and his friends at his Bavarian mountain retreat shot predominantly by Eva Braun in 16mm color. Nazi propaganda films and violent newsreel footage of the Nazi rise to power are interspersed throughout the film to highlight the gross irony of the substance of the home videos. For example, "one notably noxious moment in which a fawning Hitler sits an adorable little girl on his lap is juxtaposed with a Nazi soldier kicking a pregnant woman," writes the Wall Street Journal's Joe Morgenstern in his review of the film.
When Swastika, produced by David Puttnam (of Chariots of Fire, Midnight Express, and Killing Fields renown) and directed by Philippe Mora, premiered at the 1973 Cannes film festival, "all hell broke loose" according to Mora. Fights erupted, and one audience member even threw a chair at the screen. The portrayal of Hitler and his cronies as human beings was found extremely offensive and intolerable. Subsequently, the film was banned in Germany for 37 years.
Joe Morgenstern explains the heart of the controversy:
That appearance of humanity—not just on the part of the Führer, but of Goebbels, Martin Bormann, Hermann Göring, Heinrich Himmler and lesser monsters appearing briefly—is at the root of the controversy. And it's a fascinating question. Is our understanding of history served well or ill by the spectacle of Hitler playing with dogs, making nice with bright-faced children, chatting up his secretaries, posing stiffly in various uniforms, deploring Göring's shooting of a boar ("What kind of courage is that? He should go into the forest with a spear"), admiring a visitor's Bolex movie camera ("Ah, color film," he says, "the future belongs to color film"), or talking amiably with guests about "Gone With the Wind"?
It seems as though Hollywood's fascination with Hitler and Nazi Germany is here for the long haul, and so long as it is, the world is not in peril of forgetting Hitler's legacy of evil. But as time goes on, are we not increasingly in danger of forgetting that Adolf Hitler and all of history's wicked men were human beings with human faces and their own unique set of human charms? The question that remains for me, I think, is whether this amnesia would necessarily be such a bad thing.
(h/t Emily Esfahani Smith at Acculturated)