(Note: The following is a piece I wrote last year for Memorial Day. While an unplanned hospital stay has prevented me from composing a fresh article this year, the sentiments expressed below are, in some measure, timeless. The sacrifice of the fallen, and their families, is impossible to put into words. Expressions of gratitude to those who today serve fall flat against the reality of what these remarkable people do on our behalf.)
In movements that embody the term "military precision," it's the number of steps that members of the Old Guard take behind the Tomb of the Unknowns at Arlington. At the end of the black mat, the sentinel faces east, pausing for 21 seconds before facing north for another 21 seconds. Executing a perfect "shoulder-arms" movement, the sentinel moves his weapon to the shoulder furthest from the Tomb thereby placing himself between the Tomb and any threat. Another 21 steps to the opposite end of the mat and the process repeats itself. Why the number 21? The 21-gun salute is the highest military honor that can be bestowed, hence the number's preeminence in a ceremony that honors those who gave not only their lives for their country, but their very identity. No loved ones greeted their return home, no hometown processions took them to their rest. Today they lie in honor, in the company of heroes, guarded by impeccable soldiers who stand watch regardless of the weather or hour. Odds are, however, that it isn't where the Tomb's occupants wanted to wind up.
For many who serve at the pointy end of freedom's sword, their work is not accompanied by the sharp click of heels marching in precise cadence, but rather by the chaotic and violent concussion of battle. Their uniforms aren't characterized by perfectly placed medals and spotless white gloves, but by layers of dirt and the salt-white residue of sweat. The warrior hears his orders not as crisp commands echoing off silent walls, but rather as one voice among a cacophony of voices and sounds. The predictability of a military ceremony is replaced by confusion and split second decisions where a single step can be the last. The sentinel who places himself between the Tomb and any potential threat is also the warrior who without a moment's hesitation gives his life for his brothers in arms. The goal of the warrior is simple. Accomplish the mission, eradicate the threat, and bring your comrades home like good airline tray tables, …in the upright position. But there are times when it doesn't quite work out as planned.
Artie Hodapp was known as a "spitfire," and "the life of the party," by his comrades. Charlie Cremer, a boyhood friend, said, "He was a hearty laugher and would find humor in almost anything." His sister Francis remembered Artie as mischievously warning her co-workers at the bank that she had, "sticky fingers." A member of the reserves, Artie was deployed to Korea in 1950. In April of 1951, he was assigned to the 5th Regimental Combat Team, 24th Infantry Division, on the front lines fighting China's "Spring Offensive" effort to take Seoul. In the midst of heavy fighting, Artie was taken prisoner on April 21, 1951. Subsisting on a diet of pasty cattle feed, many of the American POWs fell victim to dysentery and something their comrades called "give-up-itis." Artie literally starved to death on a dirt floor in an overcrowded 10-by-12 hut. We know that he died on July 3, 1951, because another POW scratched Artie's name and the date of death on his own combat boot as secret documentation. Through DNA matching that continues to the present, Artie's remains were identified in a box of American remains that North Korea turned over some 20 years ago. Last week, in his home of Freeport, Il, Artie Hodapp was laid to rest with full military honors. His sister, now 88 years old, attended. Mr. Clyde Fruth, another Korean War POW was on hand for the funeral. Choking back his own tears, Fruth said, "All the guys over there, they all say that if they die, they don't want to be left over there." The term "home," takes on a new meaning when one is far away and survival is far from certain.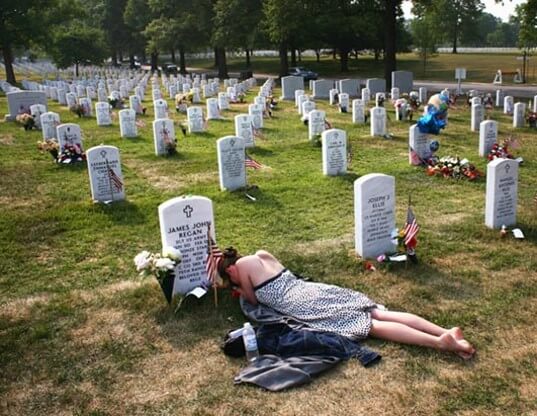 When my own orders come to deploy years ago, my friend Bob Lee reminded me, "You have to go, but you don't have to come home." And not all of us did. For those who made it back home, there are memories of friends lost, nagging questions of why we made it back while they didn't, and the determination to honor their memory by reminding our countrymen of the sacrifices made on their behalf. Because you see, their stories are personal. To those who knew them, Memorial Day is not just a moment of silence before a picnic. These were good people who laughed and lived and filled the room with their presence. Those voices are forever silent, their place at the family table forever empty. Their daughters will not have daddy walking them down the aisle on their wedding day. Their parents have the unbelievably painful duty of burying them. I remember during one alert, while donning my gear as quickly as possible, rather spontaneously kneeling at the foot of my bunk and simply praying that if things went badly they would at least find enough pieces of me to send home for the family to bury. "Home," is always the goal no matter what. This is why, when taps is sounded, followed by the jarring crack of rifles firing a 21-gun salute, so many veterans can scarcely fight back the tears. Because so many good men and women, husbands, daughters, brothers, and friends aren't with us anymore. We miss them. We mourn their passing, keep alive their memories, and swear to look after their loved ones and honor their sacrifice. For those they left behind, it's deeply and painfully personal.
That's why the Old Guard devotes so many hours to perfecting their uniform and their duties. It's why 21 perfectly executed steps matter. It's a matter of gratitude and honor. It's why men who spend most of the time in a wheel chair struggle to rise and salute when the American Flag passes in parades. It's personal. It's why one of the more coveted duties among the active duty force is a job on the Honor Guard, where they show the gratitude of a nation through the precision of military ceremony. To those family members who have lost one of their own in service to our country, I salute you. Your pain is impossible to fathom, your remarkable strength an inspiration to us all. And to our brothers and sisters in arms who have passed on, know that you are sorely missed, and loved. Here's to you. Godspeed, and thanks.
(Note: The following video provides realistic testimony of freedom's cost.)