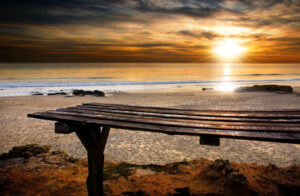 Twenty-five years ago, I was invited by a rabbi whom I'd interviewed for a book I was writing, to give a talk to a group of student rabbis and cantors. The students were attending a college in L.A. for their training, and I was invited to speak to them because I was a Jew who had essentially left my religion behind and became a Zen Buddhist. The rabbi who invited me thought I could shed some light on the reasons Jews were abandoning Judaism.
At the end of my talk (where I basically told my own story), we opened the floor for questions. Most people were kind and curious and, of course, disappointed that I wasn't actively engaged in Judaism. I thought I'd made my own situation clear by explaining that I'd never connected with my heritage in a deep way and found that Zen fulfilled many of my hopes for a spiritual life.
At one point, a young man made the following statement: "It sounds to me as if you are a self-hating Jew." He said it calmly with no rancor. I was very surprised at his comment, and responded equally as calmly and said that I thought his observation was incorrect, since I hadn't left Judaism in anger, but because I hadn't connected with it in a deep and meaningful way. I blamed no one for that outcome.
The next comment that surprised me was from one of the teachers, a rabbi, who said, "If you and I sat down to visit over a cup of coffee, you'd come back." This time I was surprised at what I perceived as his arrogance and condescension. I just smiled and asked if there were any other questions from the group. In spite of the group's overall receptivity, I had clearly hit a nerve with my reflections.
* * * * *
Fast forward 25 years. I was invited by a neighbor/friend who belongs to a local Hadassah chapter (Jewish woman's group) to give a similar talk: she asked me to speak about my spiritual journey. Although I'm a public speaker, I'd never been asked to provide an overall view of my spiritual history, particularly since I'd returned to Judaism. I was touched that she asked me, and she also invited me to bring my book for sale. (@iwe and I also have a second book that has just been published; he'll be telling you more about it soon.) The talk is this afternoon and I will let you know about the experience later.
* * * * *
The talk went well. Several people commented about how much they enjoyed and appreciated it. Afterward, I stayed to sell books and chat some more. And then a woman came up with her tragic story.
She said she didn't believe in G-d. Her daughter died at a very young age, and G-d let her die, since G-d controls everything. In that moment, I just wanted to hug her and said how sorry I was. But I felt compelled to tell her quietly that G-d doesn't control everything. Her rabbi had told her that He did. And what about the Holocaust, she asked. I asked her if she'd ever heard of "tzimtzum." She hadn't. I explained my understanding of tzimtzum was that G-d had pulled back his limitlessness from the world, so that he could create, so that we could have free will, and so natural phenomena (as painful as they may be) could take their course. G-d rarely intervenes. I could see her wrestling with my comments, so I let it go. I did add that if she ever wanted to talk about the idea that G-d doesn't control everything, I hoped she'd call me.
My heart is still aching for her.
Published in Religion & Philosophy