Pictures can capture a Presidency. There's the miserable circumstance that was captured as LBJ was sworn in, a happy Reagan on horseback, Nixon with two hands up making vees, and W serving Thanksgiving dinner to troops abroad. The right frozen moment gives you an idea of the man. Remember mom jeans?
I've settled into the idea that the Trump Presidency was best captured on August 21, 2017. He looked, unprotected, at an eclipse. You aren't supposed to do that. Not according to experts.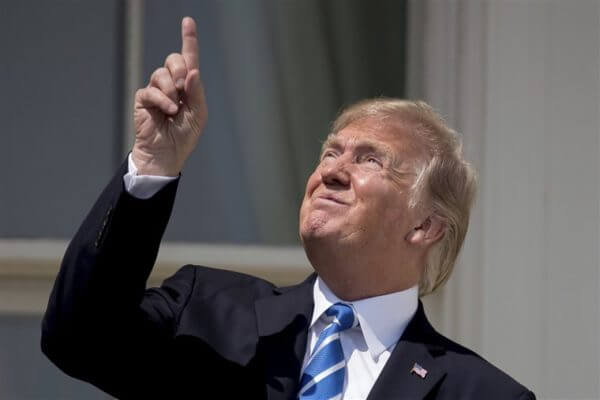 From Chris Cillizza: "There's literally only one rule with eclipses: Don't look at the sun during them. Which brings me to the President of the United States." Literally one?
Trump was mocked a bit online, but he's still not blind.
I think this goes to the heart of the recently mocked video of Don Lemon and guests laughing that Trump's voters are rubes video. It's not that they are rubes. Not at all.
There are people who heed warnings. There are people who don't. But most of us heed warnings and temper them with experience.
We have had thousands of years of eclipses before we had optometrists. You're telling me that nobody looked? In the age before television and writing with no warnings about the possible damage from looking right at a covered up star we are to believe that everybody didn't watch with rapt attention and still took down mammoths a week or so later?
There are those that are told, and those that test. The lesson from Chesterson's Fence is not to never tear down a fence. It's to know why you do so.
If anyone takes this post as license to stare into the sun or an eclipse I'm going to kick you right in the moderator forbidden zone, but a glance?
That's Trump. He's the guy that was told not to do something and thought the minders were too careful. He was right. They aren't the most thoughtful lot. Stay between the lines and all is well, do what you're told, but deviate and face hysteria. Too many on the Left are just waiting to be told what to think.
Published in General