Yes. They lie. Their lies, coming from allegedly left and right (social conservative) positions, are swathed in "good intentions" and focus on "the children." Yet, any citizen, any member of Congress, any judge, Article II or Article III, and any president who has merely been alert to their environment as they walked past, at least, a hotel bar, knows the basic claim is a flat-out lie. Why? See for yourself: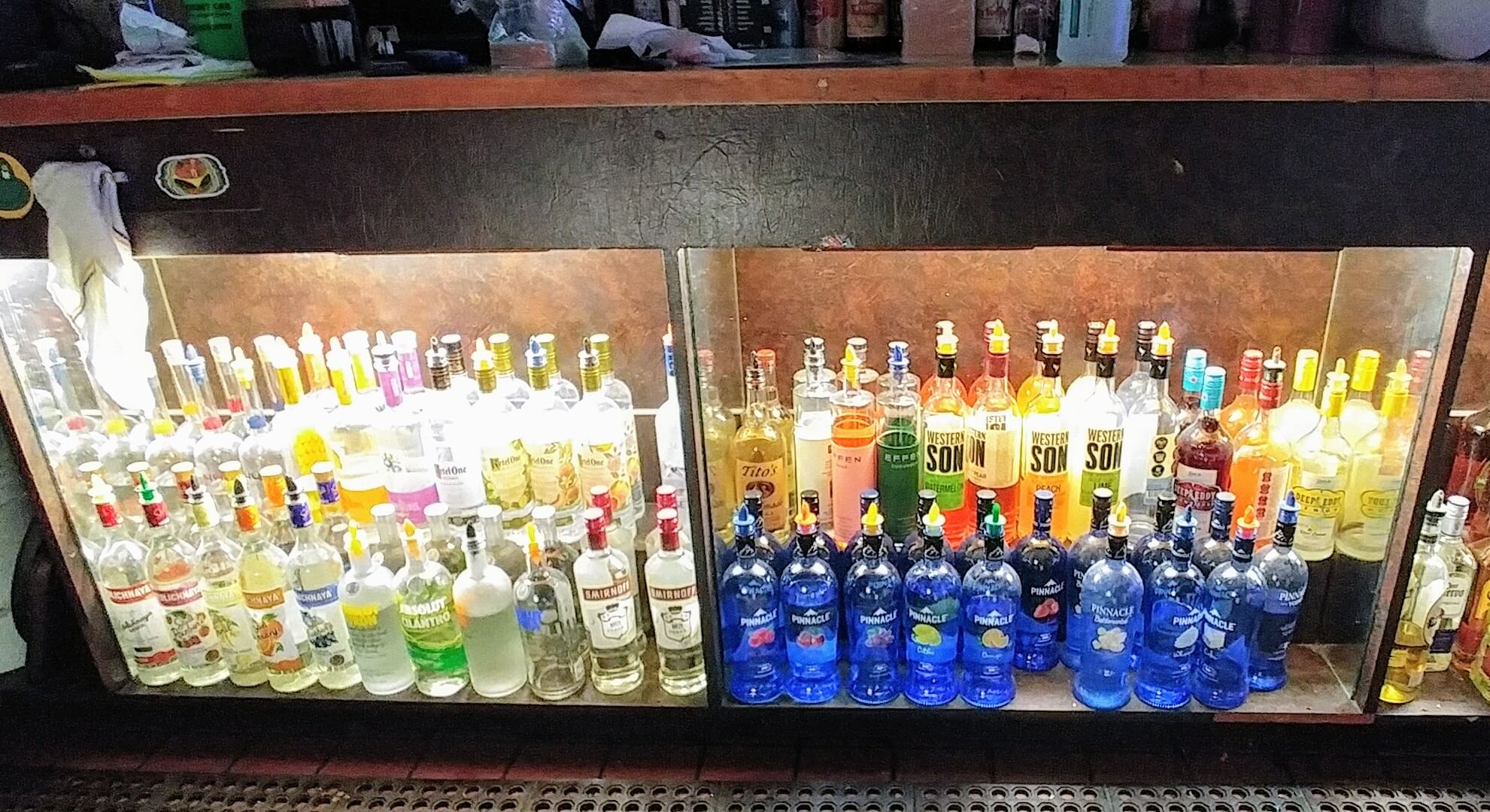 Every single bottle is an infused, flavored vodka. This is no upscale bar. It is a dive bar, visually so and described as such in Yelp and Google. There are whipped cream, cotton candy, fruity, and even herbal/ botanical vodkas in this scruffy working-class bar. This is the current normal.
The big lie is that vape/ e-cigarette nicotine systems and all "flavored" tobacco products are "targeting children." Lie. Lie. Lie. The truth, which everyone knows at some level, is that American adults' palette has shifted to sweet and flavored drinks. That holds true from coffee to booze in every form. You know this. You see it every day.
My local veteran's organization canteen (bar) made this perfectly clear to me today. The largest local "craft" brewery had bottled a seasonal run of coffee porter. It wasn't selling so well, so it went on special… Meanwhile, the bar manager added a second peanut butter flavored whiskey to the liquor line-up. Yes, peanut butter. The first, Skrewball, is aggressively peanut-y. You would hardly know there was whiskey underneath the nut flavor. The new addition, Rams Point, strikes a more moderate position, letting whiskey drinkers venture into a specialty entry that can go into cocktails without being overpowering.
Naturally, I saw the possibility of a "shot and a chaser" here: coffee porter (beer) with peanut butter flavored whiskey. Yes, it works for this dude who is on the north side of double nickels. Indeed, I immediately informed the bar manager that he needed to bring in a chocolate porter. Because everyone knows that peanut butter and chocolate go together. Notice that this is not "kids" focused booze. The legal age is 21, as it has been for most of my adult life.
No booze merchant, no brewer or distiller, is being hassled or restricted on the wild variety of customer-driven flavors they offer. Vodka, rum, even whiskey are all frantically competing for the American adult sweet-tooth. Yes, there are traditional vodkas, gins, rums, and whiskeys. They sell, but do not offer market and sales growth in this era. Give the customer what they want, or someone else will.
So, pipe, cigar, vape, and even cigarette (at the margin) customers, who are full-grown adults, demand flavors beyond the subtleties of the leaves, just as grains' and grapes' variations are not enough, just as coffee beans are nowhere near enough for most suburban moms. We all know this.* You know this. So, why comply with the lie?
Since all booze and all nicotine is now restricted to 21 and over, each and every attack on nicotine products, if it has any "age" component," necessarily is an attack on alcohol, and indirectly on caffeine. You did realize that caffeine changes neurochemistry, right?
Sadly, President Trump made no promises in 2016 on this issue area. Sadly, Congress critters on both sides of the aisle love the next shake-down and the next incremental assault on the Constitution and the underlying Declaration of Independence they faithlessly "uphold." The only real chance for halting the next administrative state assault is for a bloc of voters, in states critical to electoral college math, becoming loud in the next two or three months, driving President Trump to re-calibrate the executive branch's position and to press legislators to defy Coffin Mitch McConnell and Big Cigarettes.
___
* You cannot even get your teeth cleaned without being offered multiple flavors of fluoride treatment.
Published in Domestic Policy