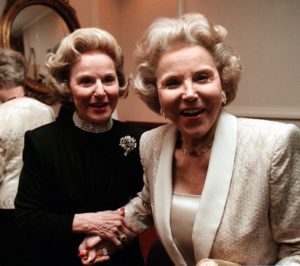 What were the odds that twin sisters, Jews raised in Sioux City, IA, would achieve international fame as givers of advice?
I can't calculate those odds, but Esther Pauline Friedman Lederer came to be known as Ann Landers, and Pauline Esther Friedman Phillips followed quickly in her footsteps to become Abigail van Buren (Dear Abby). They were born on July 4, 1918 to Russian Jewish immigrants, Abraham and Rebecca Friedman:
They moved to Sioux City, Iowa, in 1910, giving birth to Helen and then Dorothy soon after. Like many Russian Jewish immigrants of that time, the family slowly earned enough money to leave the poorer sections of the city, first by peddling chickens from a pushcart and then, by 1911, by amassing enough earnings to buy into a grocery store. When Pauline was born, her parents owned a small house. Her father became part owner of a movie and vaudeville theater when she was in her early teens. Active in the Jewish community of Sioux City, Abraham Friedman's civic stature grew as he acquired other theaters and diversified his business interests.
In 1938 the twin sisters had a double wedding in Sioux City.
Given that I have tried to cure myself of giving advice, I envy these two women who were actually paid to give theirs. Does it get any better than that?
Eventually, the sisters were hired within three months of each other as advice columnists. Esther, known as "Eppie," won a contest to replace the writer of the original "Ask Ann Landers" column for the Chicago Sun-Times in 1955. Her sister Pauline, nicknamed "Popo," assisted her sister in writing her column. But she found her own path:
When the Phillipses moved to Hillsborough, California, from Eau Claire, Wisconsin, in 1955, Pauline contacted an editor with the San Francisco Chronicle to express her displeasure with their newly established Molly Mayfield lovelorn column. She offered the Chronicle a radical departure from the paper's previous features. Her column was to be humorous, helpful, and filled with one-liners. The paper hired her and she rapidly became a success, adopting the name Abigail Van Buren. Pauline contracted for the rights to the names Abigail Van Buren and Dear Abby, a move that gave her great control over her column and a large share of its profits.
Both sisters experienced their share of controversy. Esther wrote a column where she told readers that they shouldn't throw rice at weddings, because birds might eat it and explode. Apparently milled rice isn't harmful to birds. (Who knew?!) Newspapers occasionally threatened not to print her columns which they considered controversial. And even though the sisters tried to avoid acrimony, they found themselves competing for publication in newspapers. Life magazine published an article about their dispute in 1958. They had a public reconciliation on their 25th wedding anniversaries, but it's unclear whether they laid the dispute to rest.
Still, these women changed the face of the advice column, and were widely popular:
"In 1990 alone, advice columnist "Dear Abby" and her staff received over 55,000 letters from men and women of all ages, classes, nationalities, sexual orientations, and religions. Both spoke openly about anti-Semitism, sexism and racism."
When Esther died in 2002, she chose not to have anyone continue the Ann Landers column. Pauline (Abby) was assisted by her daughter, Jeanne, in her later years, and Jeanne took over writing the column. Her mother passed away in 2013.
Both Esther and Pauline contributed greatly to the cultural discourse in this country and worldwide. Now if I could just find someone to pay me for my own advice…
Published in Group Writing