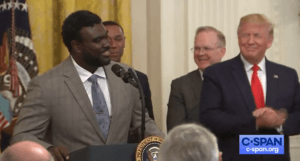 So you want to be elected? Do you really? How's about acting like it? If you must, fake it 'til you make it. Here are a few suggestions, for free:
Show up.
Listen actively and respectfully.
Act on what you hear.
Free is much less than Karl "The Architect" Rove charged, but we all know how his advice worked out, leaving President George W. Bush in the hands of Speaker Pelosi and Senate Majority Leader Reid. Take a look at the latest State of the Union address, consider the many actions, words, and images that formed the basis of a string of accomplishments, and you might find a path to maximizing your chances in future elections, near and far.
Karl Rove's advice was grounded in the loser belief that Republicans could only delay the tide of history. Under this view, the best Republican strategy is to do detailed analysis of each district and demographic, carefully activating just enough registered Republicans to win just enough to take and hold power at the presidential level. Mitt Romney spoke out loud what the Republican establishment believed and still believe, that demographics and the irresistible trend of social welfare programs were naturally changing the electorate into one that would vote for the party of entitlements. None of them really subscribed even to Ronald Reagan's views, views that had broken Democrats' grip on demographic groups characterized for a time as "Reagan Democrats."
To be fair, even Reagan bought a big part to this gloomy forecast, as he never contended for African American votes. Go back to Justice Clarence Thomas's autobiography, My Grandfather's Son. He describes his disappointment in the Reagan administration squandering an opportunity. President Reagan appointed Thomas the eighth Chairman of the Equal Employment Opportunity Commission. Thomas quickly expressed his desire to work in community outreach, seeking the support of African Americans for Republican policies and candidates. He was met with silence. When he pushed the issue hard enough, a senior Republican Party official finally answered verbally, completely dismissing African-Americans as a group whose votes were not worth Republicans' effort.
It took Donald J. Trump to upset that apple cart. He had stewed for decades over the disgrace of our biggest cities having both great success and lasting squalor. It was a scandal to him. So he decided to take action when he was elected. Here is what he did:
President Trump showed up. We all understand that candidate Trump targeted sections of the country that were disrespected and ignored by both major parties for years, and that these sections were largely white, skewing working-class. Yet, our standard filters may blind us to his pre-election bid for African-American support. That was a speech and a written set of promises.
"What do you have to lose?" was not going to be a big winner for a first-time candidate running as a Republican. Yet, he had actually reached out. His post-election activities included a high-profile meeting with two serious black men, Jim Brown and Ray Lewis. Jim Brown walked away from football on top, one of the all-time greats, then dedicated his life to mostly quiet service to poor inner-city communities, seeking to break the cycle of violence and poverty. President Trump met with Kim Kardashian West, a celebrity married to a massively successful black celebrity, Kanye West, about prison reform.
President Trump listened actively and respectfully. He heard Jim Brown and Ray Lewis. He listened to Kim Kardashian's plea for the release of a black woman from a very long prison term.
President Trump acted on what he heard. He acted to revitalize inner-city communities, to improve education and training, to push employment opportunities. He took the high visibility meeting with Kim Kardashian to drive long-stalled prison reform legislation and to change sentencing policy. President Trump spent a significant portion of the status report section of the State of the Union address laying out promises already kept. Let's start with the president's special guests, from the White House website: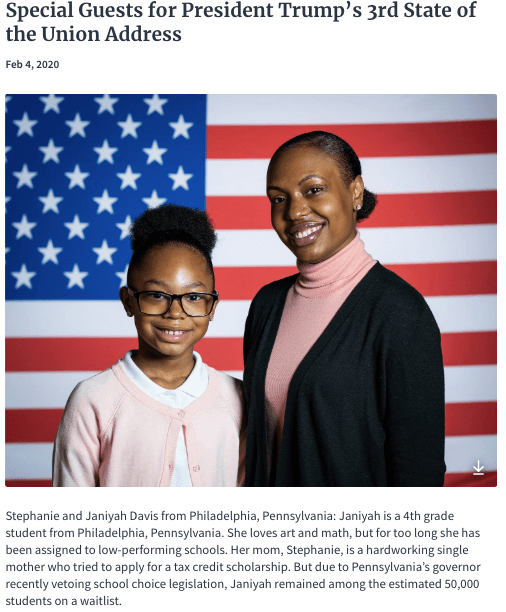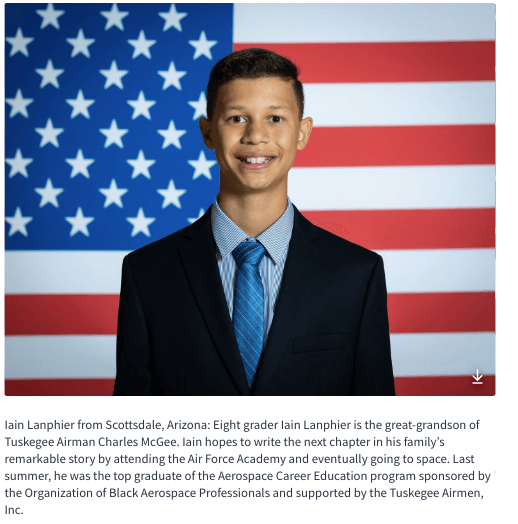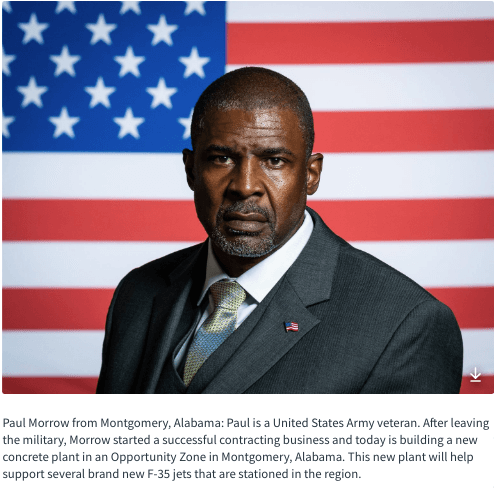 Now, review what the president said, both in reporting current status and in laying out future policy. Consider the relevant excerpts from the State of the Union Address [emphasis and comments added]:
The unemployment rate for African Americans, Hispanic Americans, and Asian Americans has reached the lowest levels in history. (Applause.) African American youth unemployment has reached an all-time low. (Applause.) African American poverty has declined to the lowest rate ever recorded. (Applause.)

The unemployment rate for women reached the lowest level in almost 70 years. And, last year, women filled 72 percent of all new jobs added. (Applause.)

The veterans unemployment rate dropped to a record low. [African Americans, serve at much higher than their population percentage, especially black women.] (Applause.) The unemployment rate for disabled Americans has reached an all-time low. (Applause.)

Workers without a high school diploma have achieved the lowest unemployment rate recorded in U.S. history. [Blacks fit this category disproportionately.] (Applause.) A record number of young Americans are now employed. (Applause.)

Under the last administration, more than 10 million people were added to the food stamp rolls. Under my administration, 7 million Americans have come off food stamps, and 10 million people have been lifted off of welfare. (Applause.)

In eight years under the last administration, over 300,000 working-age people dropped out of the workforce. In just three years of my administration, 3.5 million people — working-age people — have joined the workforce. (Applause.)

Since my election, the net worth of the bottom half of wage earners has increased by 47 percent — three times faster than the increase for the top 1 percent. (Applause.) After decades of flat and falling incomes, wages are rising fast — and, wonderfully, they are rising fastest for low-income workers, who have seen a 16 percent pay increase since my election. (Applause.) This is a blue-collar boom. [This reinforces the black employment news.](Applause.)

…Jobs and investments are pouring into 9,000 previously neglected neighborhoods thanks to Opportunity Zones, a plan spearheaded by Senator Tim Scott as part of our great Republican tax cuts. (Applause.) In other words, wealthy people and companies are pouring money into poor neighborhoods or areas that haven't seen investment in many decades, creating jobs, energy, and excitement. [See decades of Trump remarks on this problem.] (Applause.) This is the first time that these deserving communities have seen anything like this. It's all working.

Opportunity Zones are helping Americans like Army veteran Tony Rankins from Cincinnati, Ohio. After struggling with drug addiction, Tony lost his job, his house, and his family. He was homeless. But then Tony found a construction company that invests in Opportunity Zones. He is now a top tradesman, drug-free, reunited with his family, and he is here tonight. Tony, keep up the great work. Tony. (Applause.) Thank you, Tony.

Our roaring economy has, for the first time ever, given many former prisoners the ability to get a great job and a fresh start. This second chance at life is made possible because we passed landmark criminal justice reform into law. Everybody said that criminal justice reform couldn't be done, but I got it done, and the people in this room got it done. (Applause.)

…In the Gallery tonight, we have a young gentleman. And what he wants so badly — 13 years old — Iain Lanphier. He's an eighth grader from Arizona. Iain, please stand up.

Iain has always dreamed of going to space. He was the first in his class and among the youngest at an aviation academy. He aspires to go to the Air Force Academy, and then he has his eye on the Space Force. As Iain says, "Most people look up at space. I want to look down on the world." (Laughter and applause.)

But sitting behind Iain tonight is his greatest hero of them all. Charles McGee was born in Cleveland, Ohio, one century ago. Charles is one of the last surviving Tuskegee Airmen — the first black fighter pilots — and he also happens to be Iain's great-grandfather. (Applause.) Incredible story.

After more than 130 combat missions in World War Two, he came back home to a country still struggling for civil rights and went on to serve America in Korea and Vietnam. On December 7th, Charles celebrated his 100th birthday. (Applause.) A few weeks ago, I signed a bill promoting Charles McGee to Brigadier General. And earlier today, I pinned the stars on his shoulders in the Oval Office. General McGee, our nation salutes you. Thank you, sir. (Applause.)

From the pilgrims to the Founders, from the soldiers at Valley Forge to the marchers at Selma, and from President Lincoln to the Reverend Martin Luther King, Americans have always rejected limits on our children's future.

…The next step forward in building an inclusive society is making sure that every young American gets a great education and the opportunity to achieve the American Dream. Yet, for too long, countless American children have been trapped in failing government schools. To rescue these students, 18 states have created school choice in the form of Opportunity Scholarships. The programs are so popular that tens of thousands of students remain on a waiting list.

One of those students is Janiyah Davis, a fourth grader from Philadelphia. Janiyah. (Applause.) Janiyah's mom, Stephanie, is a single parent. She would do anything to give her daughter a better future. But last year, that future was put further out of reach when Pennsylvania's governor vetoed legislation to expand school choice to 50,000 children.

Janiyah and Stephanie are in the Gallery. Stephanie, thank you so much for being here with your beautiful daughter. Thank you very much. (Applause.)

But, Janiyah, I have some good news for you, because I am pleased to inform you that your long wait is over. I can proudly announce tonight that an Opportunity Scholarship has become available, it's going to you, and you will soon be heading to the school of your choice. (Applause.)

Now I call on Congress to give one million American children the same opportunity Janiyah has just received. Pass the Education Freedom Scholarships and Opportunities Act — because no parent should be forced to send their child to a failing government school. (Applause.)

Every young person should have a safe and secure environment in which to learn and to grow. For this reason, our magnificent First Lady has launched the BE BEST initiative to advance a safe, healthy, supportive, and drug-free life for the next generation — online, in school, and in our communities. Thank you, Melania, for your extraordinary love and profound care for America's children. Thank you very much. (Applause.)

…My budget also contains an exciting vision for our nation's high schools. Tonight, I ask Congress to support our students and back my plan to offer vocational and technical education in every single high school in America. (Applause.)

To expand equal opportunity, I am also proud that we achieved record and permanent funding for our nation's historically black colleges and universities. (Applause.)
By showing up, listening, and acting, President Trump has become the first Republican president since at least World War II to actively contend for the votes of African Americans. This will not result in a majority of black voters turning to Republicans, yet it may well move the needle enough to change electoral politics, stripping Democrats of certainty and forcing Republicans, including political operatives, to get serious about campaigning beyond their comfort zone. The same holds true for other groups who turned out to vote for President Trump, when they had not voted Republican since Reagan, if ever.
It all starts with universally applicable basics:
Show up.
Listen actively and respectfully.
Act on what you hear.
Published in Group Writing