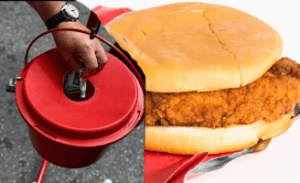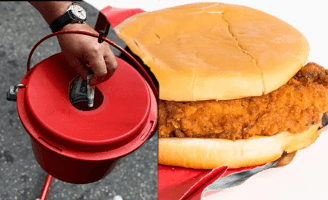 If food has a sell-by date, perhaps news, as opposed to history, has a tell-by date. I am just getting around to this topic, reflecting on a story that was very much under the radar this past month, after initially being served up with lots of sizzle before Thanksgiving. Yes, this would be Chick-fil-A versus the Salvation Army.
You will recall that Chick-fil-A very prominently disassociated itself from the Salvation Army, smearing the Salvation Army as bigoted. This smear by a professedly Christian family-owned business was especially dangerous to the continued viability in the public square of any bible-believing Christian organization or individual. Such action demanded a response from organizations like the American Family Association, yet we heard nothing all through the Advent and Christmas season, the prime time for Salvation Army fundraising.
AFA, like Chick-fil-A, is a family-controlled entity in its second generation. Where Chick-fil-A was founded by S. Truett Cathy, AFA and American Family Radio were founded by Donald Wildmon. Today, the two founders' sons lead their respective organizations: Dan T. Cathy at Chick-fil-A and Tim Wildmon at AFA.
So, we would rightly expect that Tim Wildmon would follow Christian doctrine and reach out personally to correct a brother in Christ, Dan T. Cathy. Apparently, he did so, and apparently the Chick-fil-A CEO responded almost immediately. What? Who knew?
On January 8, Todd Starnes wrote a piece on Townhall.com effectively breaking the news following a posting the day before on the AFA website. I read both posts with interest and then puzzlement at the underlying document. A key detail was entirely omitted from both the AFA and Townhall pieces.
Here is how the January 7 AFA piece, "Chick-fil-A responds to AFA Letter," by their president, Tim Wildmon starts:
Dan Cathy, Chick-fil-A chairman and CEO, responded to my personal letter and the more than 116,000 people who signed AFA's petition asking the company for clarification after Chick-fil-A stunned much of the evangelical community by changing its corporate giving.

In November, Chick-fil-A announced that it would not be donating money to the Salvation Army and Fellowship of Christian Athletes. Homosexual activist organizations had hammered away at the two Christian non-profit groups because their doctrinal statements supported a biblical view of human sexuality and marriage. In turn, Chick-fil-A was accused of supporting "hate" because of the corporate giving.

In my personal letter to Mr. Cathy, I asked him two questions: (1) Will Chick-fil-A publicly state that it does not believe the Salvation Army and FCA are hate groups because of the ministries' beliefs about sexuality, marriage, and family? (2) Will you publicly state that Chick-fil-A will not hesitate to fund these two ministries again, should the opportunity arise in the future?

Mr. Cathy's written response included this statement: "We inadvertently discredited several outstanding organizations that have effectively served communities for years."
Here is Todd Starnes' take: "Chick-fil-A has a change of heart."
Late last year Chick-fil-A ruffled feathers across the fruited plain when they announced they would no longer provide charitable donations to the Fellowship of Christian Athletes and Salvation Army.

Both organizations had faced years of withering attacks from sex and gender revolutionaries who were angered because the two renowned Christian ministries affirmed the biblical definition of marriage.

So when Chick-fil-A made their decision public, many Christians accused the company of backing down to a bunch of militant LGBTQ bullies. And in response many of Chick-fil-A's staunchest supporters flew the coop.

…And the other day — American Family Association president Tim Wildmon received a response — from Chick-fil-A chairman and CEO Dan Cathy.
So, both of these outfits are claiming that Chick-fil-A had only just responded very recently. They linked the letter sent by Dan T. Cathy to Tim Wildmon. So, they gave us the source document. Let's all take a look, shall we? See the problem? Let me isolate the first part that should prompt questions: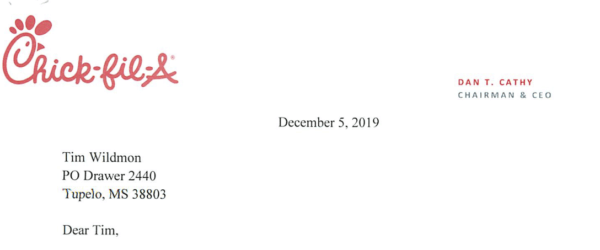 December 5, 2019. Now, is that a phony date, slapped on a letter that was not actually delivered until the first week of January? If so, wouldn't that make the rest of the letter subject to very close scrutiny? On the other hand, was the letter correctly dated and sent on or about that date to Tim Wildmon? I know it was the Christmas rush, but a first-class letter surely was not taking a month for domestic delivery. I doubt it took more than three days. One would think that Todd Starnes would be a little curious here. Nope. Not a word.
And the lack of curiosity does not end at the letter heading. Let's look at the meat of the matter, the key paragraph that is supposedly responsive to the undisclosed AFA letter, on which we can take Tim Wildmon's word, for purposes of our inquiry.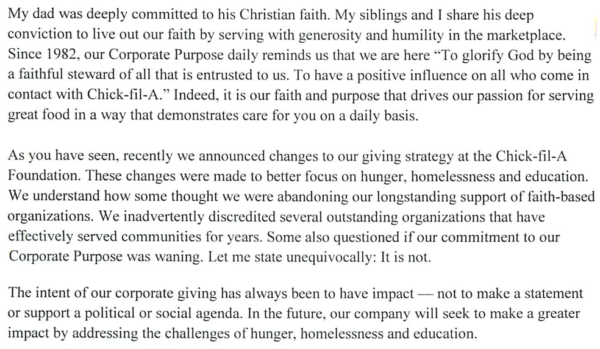 So, we get:
We're all good Christian folk here (so please keep coming to our restaurants for your church group outings and bible studies).
We get that you are upset but it was all a big misunderstanding. We really have not changed.
Nevertheless, we are not going to give to any organization that LGBT activists don't like. We'll abandon the most effective organizations, like Salvation Army, while claiming to want "a greater impact by addressing the challenges of hunger, homelessness and education."
Notice, the Salvation Army and Fellowship of Christian Athletes are not mentioned. The Cathy family representative will not follow his father's courage and integrity by naming the organizations his COO smeared, or allowed to be smeared, by name in the interview that started all the ruckus. But this does not bother AFA's leader, who took what he got and declared victory.
There may be any number of reasons for this decision. Todd Starnes and Townhall, though, should surely be minimally curious and note the obvious. Yet neither the obvious date issue nor the obvious dodge by both organizations' leaders drew a single line of reporting or analysis.
This stuff just isn't that hard.
---
[Update — 7 February 2020]: My search of the AFA website did not turn up a post between the November and January posts. Searching the Internet turned up two relevant documents. First, there is an AFA posting dated December 10, 2019. This post includes a link to the letter sent by Tim Wildmon to Dan Cathy. The post's title says it all: "CFA's Dan Cathy gives AFA Silent Treatment."
On Monday, December 2, I overnighted a letter to Chick-fil-A CEO Dan Cathy. In the letter, I asked him to clarify statements made by the leadership of Chick-fil-A and the Chick-fil-A Foundation. You can read the letter here.

[…]

Mr. Cathy has not responded to my letter. This is disappointing.
This makes things worse, not better. The Chick-fil-A letter is dated December 5, 2019, two days after the AFA letter would have been delivered. So, did it get lost in the mail? Was it held in the Chick-fil-A headquarters. Is the date false? Why did AFA not address this discrepancy, one that would seem to contradict Wildmon's post on December 10?
Why is this not addressed in the professional reporting?
Published in Journalism