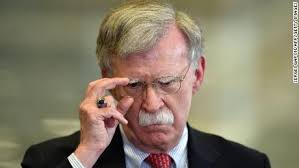 Jay Sekulow, legal counsel for President Trump, has dismissed John Bolton's possible appearance as a witness as "inadmissible." Sekulow said, "To have a removal of a president based on a policy dispute? That's not what the framers intended," Sekulow continued.
Whether prohibited by Executive Privilege or by the fact that the House already failed in being aware of this potential testimony and choosing not to fight to obtain it before finalizing their articles of impeachment sent to the Senate, the counsel for the President is correct that this 11th-hour, Hail-Mary, Blasey-Ford fiasco is not admissible for any number of reasons.
This has prompted many GOP Senators, and former Fox News colleagues, to plead with Big John to put an end to this speculation and this delay to the Senate's work in ending this impeachment madness.
"John, you've kind of thrown the country into a ditch here." — Sen. Lindsey Graham

"Now that what has unfolded with the manuscript [of Bolton's book] being leaked — by the way, exquisite timing, maybe suspicious timing — the Wall Street Journal has called for John to just come forward…. I think that would actually be a smart thing. I'd encourage John to do that." — Sen. Ron Johnson

"You have something to say, John? Come here!" — Sean Hannity
It is way past time to end this charade. This Kabuki theater impeachment play should have its last showing this week. Sayonara.
Published in General