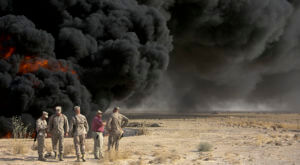 You all know I loves me some Marines. Even if you've been a civilian your entire life, once your son or daughter joins the Corps you become a member of the extended family. If every Marine is your child's brother and sister, then all of those Marines become your sons and your daughters. And when they put themselves on the line and leave their health on the battlefield it is up to us, the people that they fought for, to demand the government not abandon them once they leave the service – and this true for all the services, not just the Corps.
The guest on this week's Roth Effect podcast, Matthew Betley, is a ten-year veteran of the Marines who was exposed to open burn pits in Iraq. Simply put, the Marines were disposing of waste by burning it and it included everything from chemicals to human waste. The smoke hung over our Marines in a toxic cloud almost every day. In time Betley would be separated from the Corps and return home to battle a new foe: the Veterans Administration. Because he was a successful author and columnist, he was better equipped to battle the VA's bureaucracy than most. That's not the case for everyone.
Mealy-mouthed words such as those found on the Department's website, "At this time, research does not show evidence of long-term health problems from exposure to burn pits. VA continues to study the health of deployed Veterans," are unacceptable. They burned batteries, chemicals, arsenic, paints and more. And as CBS News reported last August:
"It is indefensible that U.S. military personnel, who are already at risk of serious injury and death when fighting the enemy, were put at further risk from the potentially harmful emissions from the use of open-air burn pits," said a report by the Special Inspector General for Afghanistan Reconstruction.

The report also said that millions of dollars were spent on incinerators to properly dispose of waste, but that many sat idle next to the active burn pits. (Emphasis mine.)

Please listen. Get angry. And demand the Veterans Administration do better.
Published in Military