A brief dip into Twitter prompted a brief bit of research, and the results seemed worth sharing in the current news or hype cycle. Now I know, why on earth would I be on Twitter when there is talk of a new virus and we all know avian flu is supposed to be quite nasty? I was there for entirely other reasons when I stumbled upon a retweet of a professional pundit thinking he was offering a hot take. Hot tweet? More like steaming hot bird droppings.
A virus gets out of control in China so that the gov't shuts down cities with millions and the usual sorts are all on social media praising China's ability to deal with this sort of thing. Remarkable that India, with a similar population, doesn't get these outbreaks.

— Erick Erickson (@EWErickson) January 27, 2020
So, he counted on a rah-rah response. Biggest democracy next door to biggest communist tyranny, compare and contrast. He was also counting on willful ignorance, promoted by selective attention and memory. As anyone paying any attention to annual flu talk, let alone periodic health panics, should know, this tweet is nonsense. The usual set of viruses concerning us arise from the unique combination of dense animal husbandry of both fowl and swine in parts of China. The viruses cycle through all three kinds of host, mutating as they go. Just from fowl ("avian flu" or "bird flu") and "swine flu," you are given two of the three sides of the disease cycle. You know why not India just from "swine," if not "fowl." Between vegetarians and those who consider pigs ritually unclean, you just don't get the right combination in India.
As to the claim India does not get outbreaks, if you nodded your head, you haven't been paying close attention. Now, to be fair, you would have to pay close attention, because the US media and our whole foreign policy and national government establishment have long prioritized China over India. This may be an after-effort of 19th Century and early 20th century geopolitics.
India was firmly under British imperial control, so not worth fighting for as a major market. On the other hand, China was at least nominally sovereign at all relevant times and our businessmen were clamoring for our government to enforce access for American businesses to sell goods into China, in the face of European imperial powers who wanted to control trade in and out of China to their own advantage. The Americans had pulled off a major industrial espionage coup against the British and had become the world leader in the high-tech process of producing cloth in bulk by powered machinery. There were an estimated 100 million Chinese at the time, all surely in need of a shirt or two. That, at base, is why we sent warships and Marines to China, and not India.
So, it is not entirely unexpected that we would get less news from India than from China. We certainly should expect less news about a lower volume travel and trade route, comparing India:US and China:US. Yet, with near-supercomputers at the tip of our fingers or thumbs, there is no excuse for opinion and news purveyors to bury inconvenient facts.
The first page of search results on "disease outbreak India" yielded a wealth of inconvenient truths. How about a bat-borne virus, that is lethal to humans?* Is India prepared for a major disease outbreak?
Earlier this year, a list was unveiled of ten diseases which could result in a future epidemic in India. Now, an index has been unveiled of countries ranked according to their preparedness in the face of a future infectious disease outbreak of epidemic or pandemic proprtions.

The Global Health Security Index – prepared by the Nuclear Threat Initiative (NTI), the Johns Hopkins University Center for Health Security, and the Economist Intelligence Unit (EIU) – ranks India 57th out of 195 countries. […]

The report comes on the heels of outbreaks of diseases such as Ebola and Zika in recent years. India is no stranger to disease outbreaks of its own: in addition to communicable conditions such as HIV, malaria, and tuberculosis circulating for years, the country has witnessed emerging diseases take a toll. A notable example is the Nipah virus, outbreaks of which occurred in Kerala both last year and this year. While this year no fatalities were reported, the potential for resurgences in future years is very real. [emphasis added]
Oh, and China outscores both India and Israel on disease response readiness, if not by much. See the graphic at the top of this post for the excerpt from the rankings chart from the 2019 Global Health Security Index. None of this is to cheerlead for the ChiComs, nor to impugn India. We all know that democracies can bury inconvenient news for a time, if only by misdirection and distraction, and elected politicians will seek to avoid blame and actions they find painful or unprofitable, if only in a career sense. Yet, a handful of countries with regular competitive elections and a basic level of expectations seem to be doing better than most. Consider this image of the world: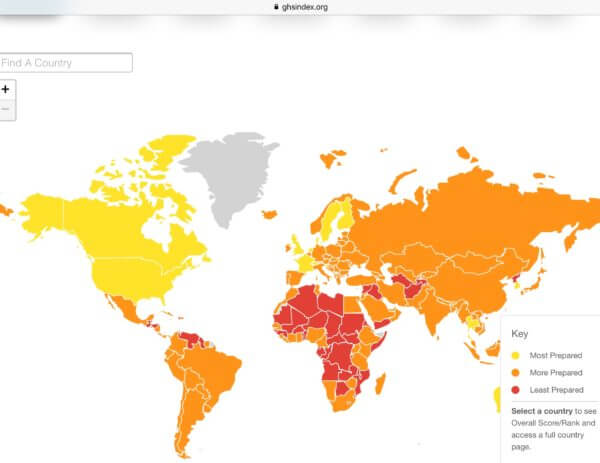 ---
* For your further reading pleasure, consider the Center for Disease Control's lovely page on bat, cat, dog, bird, and swine flu. Yes, bats!
Because the internal genes of bat flu viruses are compatible with human flu viruses, it is possible that these viruses could exchange genetic information with human flu viruses through a process called "reassortment." Reassortment occurs when two or more flu viruses infect a single host cell, which allows the viruses to swap genetic information. Reassortment can sometimes lead to the emergence of new flu viruses capable of infecting humans.

However, the conditions needed for reassortment to occur between human flu viruses and bat flu viruses remain unknown. A different animal (such as pigs, horses, dogs or seals) would need to serve as a "bridge," meaning that such an animal would need to be capable of being infected with both this new bat flu virus and human flu viruses for reassortment to occur. Since the discovery of bat flu, at least one study has been conducted to assess the possibility of reassortment events occurring between bat flu and other flu viruses (3). So far, the results of these studies continue to indicate that bat flu viruses are very unlikely to reassort with other flu viruses to create new and potentially more infectious or dangerous viruses. In their current form bat flu viruses do not appear to pose a threat to human health.
So, it would appear that the primary threat from bats to humans is still rabies, not some killer flu.
Published in General