She sat on the wooden bench, her left arm resting on the rod iron armrest, and absorbed the late afternoon sun on her face. The sun had dropped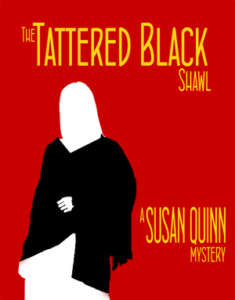 over the last half-hour, bidding her good-bye, and a cool breeze had come up, picking at her shawl. She was waiting for her last visitor; she'd named him "Ringer." He rode by on his bicycle around this time of day, pedaling his bike like crazy with a joyful smile. He was probably about ten years old, still delighting in his youthful freedom but sweet enough to greet an old woman like her. And he always made sure to ring his bike bell twice. Then they exchanged smiles. Ah, there he was, and they did their dance. Now her time here was complete.
She didn't want to leave yet, but the coolness crept into her bones, her stiff arthritic hands and her unpredictable feet. She knew her body had lingered longer than it was due, but she rejected medication and was willing to tolerate the pain, to make sure her mind was vivid and true. A few gold and red leaves tripped across her feet in the breeze, a reminder of the disappearing day. She stayed a moment longer, the sun lingering on her face. Still, she was growing colder, and she prepared herself to stand to make the journey home.
As she leaned against the armrest, she sensed an energy gently holding her, helping her to her feet. Instinctively she looked around but nothing was there. She smiled slightly, said a prayer of thanks, gathered up her shawl and started the short walk home.
* * * * *
Her basement apartment beckoned to her. As always, she grasped the handrail of the short stairway and headed down the four steps. The gentle energy she had felt earlier caressed her arms and guided her down the stairs and just as quickly disappeared. She didn't look around this time but sighed softly.
As she unlocked her front door, the darkness of her tiny living room invited her in. She reached for the switch that would light the small lamp by her favorite chair. The glow it offered was mild and inviting. She looked around the room, which she could navigate with just a few steps, and dropped her shawl on the ottoman in front of her chair. She stood and looked around at the bookshelves that surrounded the room—how their presence comforted her and filled her with joy!—and walked to the one closest to her. It had a small collection of Oz books, a series she'd read as a child. She touched the binding, the material feeling coarse against her dry palms. The stories had filled her childhood with surprises and mystery. She walked to another bookshelf that showed precious items from her past travels: a wooden elephant from Thailand, a carving from Bali, a teacup set from Japan. Those were adventurous times when she could explore freely with no physical or time limits. She felt the sweetness of the memories, rather than nostalgia. These were different times, those years had vanished in a sea of stories, and those stories would go on, with or without her.
Today was a good day. In spite of her physical pain, she felt free. Life was so precious and filled with spirit. Even with Husband gone, she rarely felt lonely.
She turned back to the kitchen. It was a good night for a cup of tea. She went to the tin of her favorite tea leaves, spooned a portion into the tea filter and clicked on the electric kettle. She leaned on the counter for balance as she waited for the kettle to click off. After pouring the hot water into her favorite mug, she waited for it to steep, and after discarding the tea leaves, walked slowly to her chair. She placed the mug on her small side table, then picked up the tattered black shawl and folded it lovingly, placing it on the edge of the ottoman. She stepped between the ottoman and her chair and gently sat down. All the pain had disappeared. She sat and snuggled into the chair, her feet resting next to the shawl laying on the ottoman and leaned her head against the headrest of her chair. She closed her eyes and sighed.
Slowly the black shawl vanished.
[My thanks to @ejhill who created the "book cover" that inspired me to write a story following my original post, and to @arahant who offered me suggestions about writing a mystery. The quality or lack thereof of this post is solely my responsibility.]
Published in General