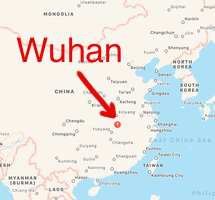 Thanks to the PowerLine crew, Ricochet members got better insight into what is and is not happening in China than we got from any other media outlet. Steven Hayward had an American in Wuhan give a field report.
If you had ears to hear, you should be both reassured and worried. You should be reassured that China is competently responding to a public health threat. You should be concerned and relieved that the Chinese government and institutions are truly competent, capable of learning from past experiences. That makes them a more dangerous regional and global competitor at the same time as we can assume they are less likely to blunder incompetently into a major war.
Haiti and Chile are polar opposites. The mostly flat island nation literally fell apart with a major earthquake. Chile, a mountainous land astride the ominously named "Ring of Fire," politely declines sincere offers from the US and Israeli urban search and rescue teams because their buildings do not just fall down and crush the occupants. Why? Because Haiti is a terminally corrupt society and Chile is deadly serious about accountability, ensuring all buildings are truly earthquake resistant. No sketchy enforcement of concrete rebar codes in Chile, unlike Haiti or even Mexico. The lack of casualties after major earthquakes is an important indicator of government competence and civic accountability.
Corona is a Mexican beer, of German derivation, not Spanish. The coronavirus ain't no Spanish flu. It appears the bug is taking people in their 40s and older, not younger healthy people. And the Chinese people are not panicking in the putative epicenter. An American post-doc interviewed on the latest PowerLine podcast tells us that residents of Wuhan calmly went shopping for fresh produce, walking past the sacks of rice you would want for a long quarantine siege. So, the people at the center of the supposed disaster have enough rice at home and just wanted the week's fresh produce on top of the staples they believed they had enough of at home.
Meanwhile, the Chinese Communist government had learned from the last public health scare or crisis. They had a 1,000-bed hospital in a box ready for immediate deployment and have already pulled the trigger on popping up this hospital. Apparently, they may also have a second contingency capability with a second 1,300-bed facility they can bring into operation in three weeks. This is in addition to Chinese authorities reportedly directing 20 existing hospitals to prioritize coronavirus cases.
This is what a "first world" response looks like. The authorities, organizations, and people who pulled this off are not people you want to mess with. You don't want to have a shooting war with this crew. On the other hand, such basic competence suggests that the risk of lethal foul-ups is much lower, that high stakes geopolitics will not end in an "oops!" followed by the biggest "kaboom" humans have ever heard. We are all, indeed, living in interesting times … in the Year of the Rat!
Published in General