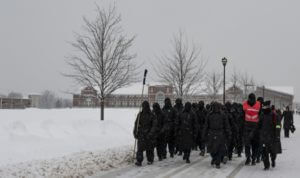 My best friend and I signed up for the Navy a couple of months before we graduated high school in north Phoenix. After inking the deal, we could choose a date within the next 12 months to begin our adventure. After going back and forth, we chose January 5 as enlistment day.
Since I was entering the Nuclear Power Program, my recruiter said I had to do bootcamp in a little slice of heaven known as Great Lakes, IL, about 40 miles north of Chicago. My buddy was training as a Fire Controlman, so he could choose Great Lakes or San Diego. It took him about four seconds to abandon our years-long alliance by choosing sunny beaches over frozen tundra.
While flying to bootcamp in the Great White North, a brand-new replacement best friend and I were confused by the midwestern terrain below. "Why is everything white?" we wondered for about two states before we realized it was something called snow. Arizona boys.
The new guy and I showed up to Great Lakes, which was freezing cold and covered in the white stuff. We both lied that we were experienced in drill team, and were thus assigned to a "ceremonial company" that performs at bootcamp graduations. It's a slightly cushier deal than a normal company; better to twirl rifles than peel potatoes.
Our first night in the barracks, our charming Company Commander (the Navy version of a Drill Instructor) announced that every morning about 20 of us would have to wake up at 4 a.m. to shovel snow. My turn came up on Day Three.
"Get up! Get out of your racks!" the CC hollered as he banged a metal trash can with a giant soup ladle. "I can't belieeeeeve you aren't dressed yet!" We finally got on our uniforms, peacoats, gloves, and wool balaclavas and headed outside where we were handed these weird flat shovels.
"Listen up, you turds! Shovel all this snow from right here to over there," CC yelled. "If I see one snowflake left, it's your ass!"
Ah, shoveling snow. I've seen this on TV. I scraped the shovel across the top of the snow-covered street, got a few flakes on the end, and tossed them onto the snowpile, only to see the wind blow them right back in the road.
Try again, same result. I'll get the hang of this, I thought and looked to the guys on either side of me. They were old pros. Every shovel-full carried about ten pounds of the frozen stuff which they'd toss off the road with ease.
After studying their technique I tried again. Looked something like this.
By now, the Company Commander had noticed my utter incompetence.
His red face pushed into mine as he spit out, "Gabriel, what's wrong with you?! The hell are you doing? Haven't you ever shoveled snow before?!"
I didn't know what to say. "I'm from Phoenix, sir!"
I guess it surprised him. He laughed hard, caught himself (it's bad for his "tough-guy" brand), then yelled at me for making him laugh. "I never want to see you out here again, Gabriel! Get the hell out of my sight!"
So, for the next two months, as my fellow shipmates were awoken daily at 4 a.m. to shovel snow, I got to sleep in.
---
This conversation is part of our Group Writing Series under the January 2020 Group Writing Theme: Winter of Our Discontent. Thanks to all who chimed in this month; it has been a series of great posts.
Interested in Group Writing topics that came before? See the handy compendium of monthly themes. Check out links in the Group Writing Group. You can also join the group to get a notification when a new monthly theme is posted.
Published in Group Writing