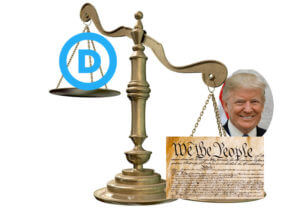 On January 24, 2020, President Trump proved once more that he is the most pro-woman and pro-life president in American history. Really, we should have expected this from a man who raised his eldest daughter to be a successful business leader, preparing her, along with his two adult sons, to eventually take over the family ventures. President Trump followed the example of President Reagan and the Presidents Bush in issuing a presidential proclamation declaring January 22 to be "National Sanctity of Life Day." That was not surprising. What is big news is that this president is the first to address the March for Life in person, and that he spoke so strongly for two important ideas: women's worth and the imago dei.
President Trump praised mothers as heroes, after a series of laudatory statements about women, starting with their status as voters, in the centennial of the 19th Amendment. He then invoked the inherent worth and dignity of every human being, because they are made in the image of God. We do not just have value based on our economic potential or because we might make some great discovery that will benefit other people. We all matter because we are image bearers, carrying in us the mark of our Creator.*
The whole transcript is available on the White House website. The relevant closing section is reproduced below.** President Trump's words are backed by substantive actions, taken within the limits of Article II of the U.S. Constitution. He cited those actions earlier in his remarks and warned about the radical position of today's Democratic Party. Starting at 12:28 and ending by 12:41 EST, the speech took only 13 minutes, a well-crafted text delivered with self-discipline and authenticity. It was not the text, nor the delivery, but the physical presence that was historic, a fact that is remarkable in itself.
In 27 years of Republican presidential administration since Roe v. Wade, 2020 is the first year any president has ever gone to the March for Life. There are all manner of groups with annual gatherings, from the American Legion to the NAACP, that regularly attract the presence of U.S. presidents. Some national groups attract more Republican or Democratic political leaders, while some get respect as non-partisan groups that matter. How is it, then, that the oldest, largest, organized gathering for a cause that is perennially paid formal respect in the Republican Party platform, would be held at arm's length?
A WTOP story on the 2020 March for Life explains past presidents' calculations:
Past presidents who opposed abortion, including Ronald Reagan and George W. Bush, steered clear of personally attending the march to avoid being too closely associated with demonstrators eager to outlaw the procedure. They sent remarks for others to deliver, spoke via telephone hookup or invited organizers to the White House — but never appeared at the march.
At the Washington Post, Marc R. Thiessen made it even clearer [links added]:
The message to pro-life conservatives was clear: They were the black sheep of the Republican coalition. Their presence was tolerated because their votes were needed. But while Republican presidential candidates couldn't win the nomination without declaring themselves pro-life, the GOP establishment not-so-secretly loathed pro-lifers. The prevailing attitude was: There they go again, making people uncomfortable by talking about abortion.

[…]

Given their lack of other options, pro-lifers accepted their second-class-citizen status in the GOP. Then along came Trump, a man who doesn't care what the Republican establishment thinks. He has embraced the pro-life movement in a way no other president has. In 2018, he became the first sitting president to address the annual Campaign for Life gala of the pro-life Susan B. Anthony List, founded in 1992.[***] And now he will make history again at the March for Life.

[…]

Pro-life Americans sense that his pro-life record is one of the reasons Democrats have been searching for a pretext to impeach him. And they know a second Trump term would mean more conservatives justices on the Supreme Court, more conservatives on the federal appeals courts and more opportunities to rescue babies from the abortionist's hand.
Millennials are increasingly against unrestricted abortion, leading the way in making the American public more pro-life. The issue is a political winner in most states. So, it is stunning that only two senators, Mike Lee (R-Utah) and James Lankford (R-Oklahoma), showed up in an election year. Senator Martha McSally would have done herself more good showing up, demonstrating she could actually take a position on a real issue, than she did with her hallway shot at a CNN hack. Doing both would have helped build a better narrative in a tough race to prove she can actually win in Arizona.
Consider this CBS headline: "Trump focuses on women's rights and mothers in March for Life speech." Mom and apple pie! The event itself has a track record of being the best behaved large gathering you could imagine. Every Republican senator running for reelection, except Senator Collins, would have done themselves some good by showing up for the march, instead of some trivial briefing on the latest virus scare, before trooping back over to suffer though another eight hours of lies by House Democrats. That they avoided these voters, these motivated citizens, even as President Trump showed up to show respect, is a sign of old, timid conventional wisdom on the Hill.
---
* See "Quote of the Day: 'What is Mankind?' from Psalm 8" by Ricochet member @manny. See also Genesis 1:26-27, Genesis 5:1-2, Genesis 9:6, James 3:9.
** Remarks by President Trump at the 47th Annual March for Life
LAW & JUSTICE
Issued on: January 24, 2020

The National Mall

Washington, D.C.

12:28 P.M. EST

[…]

This year, the March for Life is celebrating the 100th anniversary of the 19th Amendment, which forever enshrined women's rights to vote in the United States — (applause) — and given by the United States Constitution. Such a big event. (Applause.)

Today, millions of extraordinary women across America are using the power of their votes to fight for the right, and all of their rights, as given in the Declaration of Independence –- it's the right to life. To all the women here today: Your devotion and your leadership uplifts our entire nation, and we thank you for that.

The tens of thousands of Americans gathered today not only stand for life — it's really that they stand for it so proudly together, and I want to thank everybody for that.

You stand for life each and every day. You provide housing, education, jobs, and medical care to the women that you serve. You find loving families for children in need of a forever home. You host baby showers for expecting moms. You make –- you just make it your life's mission to help spread God's grace.

And to all of the moms here today: We celebrate you, and we declare that mothers are heroes. (Applause.) That's true. Your strength, devotion, and drive is what powers our nation. And, because of you, our country has been blessed with amazing souls who have changed the course of human history.

We cannot know what our citizens yet unborn will achieve, the dreams they will imagine, the masterpieces they will create, the discoveries they will make. But we know this: Every life brings love into this world. Every child brings joy to a family. Every person is worth protecting. (Applause.) And above all, we know that every human soul is divine, and every human life –- born and unborn –- is made in the holy image of Almighty God. (Applause.)

Together, we will defend this truth all across our magnificent land. We will set free the dreams of our people. And with determined hope, we look forward to all of the blessings that will come from the beauty, talent, purpose, nobility, and grace of every American child.

I want to thank you. This is a very special moment. It's so great to represent you. I love you all and –- (applause) — and I say with true passion: Thank you. God bless you. And God bless America. Thank you all. Thank you. (Applause.)
*** President Trump Delivers Remarks at the Susan B. Anthony List 11th Annual Campaign for Life Gala
.
Published in Domestic Policy