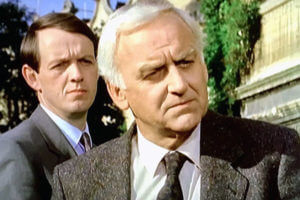 There are, it seems, about a million British detective shows on offer to American audiences (about a million to the power of ten when you add in all the other European sleuthing nationalities), from heart-pumping "Luther" to the more sedate "Ms. Marple's Mysteries." Having grown up without cable and had 90 percent of my television-viewing experiences before high school courtesy of WGBH, I have a definite familiarity with the full range of British television offerings ("Vicar of Dibley," "Keeping Up Appearances," and "Waiting for God" were all household favorites), but age prevented me from ever making the acquaintance of "Inspector Morse."
It took until halfway through high school, when I had, in a rare coup d'état, actually managed to get hold of the solitary television clicker, to see the Inspector on Netflix and my mother in no uncertain terms demanded that he disappear after half an hour. However, I was hooked. Even within the diverse range of detective dramas, Morse is a quite singular property, elaborate plotted, skillfully filmed, chock-full of more obscure references than an Umberto Eco novel, and poignant without being sappy or sentimental. A genius product of pop culture. 
The titular Inspector is himself a bit of a departure from the typical flock of Brit detectives; an aging middle-class Englishman with an Oxford education, an accent that could only have come of childhood elocution lessons, and an equal love for real ale and Wagner. John Thaw's piercing cornflower eyes and reserved expressiveness (perhaps a contradiction in terms, but entirely appropriate when one watches him balance the manners of an Englishman "of a certain age" with his innately virulent emotions) lend an odd sort of beauty to a character who is flawed both in body and soul. His eyes are most often crinkled in a decidedly contemptuous expression and, while he is as brilliant and sensitive as the brief background suggests, he is equally capable of cruelty and vanity. Along for the ride is his much more centered DS, Robbie Lewis, a cheerful Northerner with two kids, a wife, and every day worries.
Inspector Morse rarely throws a punch, or even runs for that matter, and seems to delight more in catching grammatical mistakes than criminals, but the 90-minute-long mysteries he solves are almost always expertly plotted, even if such an occurrence of murders in Oxford would make it a rival with Detroit for violent crime. The ancient city and surrounding countryside, a cast of characters from all levels of society, clues from the depths of academic obscurity, and a hastily driven Jag Mark II twine to create both watchable and moving tales. There is, in the interactions Morse and his faithful sidekick have with the secondary "goodies," the suggestion of a lifetime's worth of life; of pain, love, triumph, and failure. 
All of this may make for a good TV show, even a great one, but it doesn't quite tell why "Inspector Morse" deserves viewing, why it has a place within the western pop-culture canon that has been set out by Paul Cantor. It deserves such a spot because it is a compellingly told tale of the heights and depths of man and his nature, of the role that morality must play in a society and an individual life for it to be meaningful, and the need to preserve the cultural products of the past. Morse himself, reflecting the complexity of our world, is both the best and the worst man to defend and show all three. He devotes his life to catching criminals and riding his little corner of the world of the horror that man's baser nature perpetuates, but cannot bring himself to stop any of his own self-destructive habits. He acts as the enforcer of morality in his community and goes above and beyond to see justice done, but his own moral sense, guided by ancient more than Christian virtues, often suffers in the process. He enjoys the best cultural products of the past and tries his best to imbue his sergeant with the same love, in a culture that is moving deliberately in the other direction. 
Perhaps the best analogue to Inspector Morse, both in character and literary worth, is Philip Larkin. In a way, they almost inhabit a single personality, instinctive conservatives with a dread of the modern world, an acidic but regretful atheism, and equal measures kindness and cruelty within their instinct. Even their gradual declines, watched with horror and consternation by the friends they never quite seem to comprehend that they had and punctuated by heavy drinking and failed loves, mirror each other, ending in relatively early demises. Larkin's poems, meanwhile, express the same kind of alienation from modern society, search for meaning, and childlike joy in the achievements of days gone by as the hard-drinking detective's ninety-minute narratives. 
"Inspector Morse," in much the same way as The Whitsun Weddings or High Windows, contains a world within its thirty-three episodes. It is an intensely, almost painfully, human world, filled with the best, the worst, and all that falls in between to create a life, to create a story both intimate and universal. A world that should be watched. 
---
*I should admit, as an addendum, that there is a certain amount of nostalgia that I have about this show that makes me far from the most impartial of critics (and if that this post seems excessively strange or poorly written, that I am extremely jet-lagged).
The summer before I left for college, I mostly worked at home (partly because I have a special-needs sibling who needs frequent supervision and partly because the mechanics of orchestrating my move to the UK needed much planning, especially since the release of AP results meant that we didn't actually know where I was headed until July), and my dad's carpentry shop is, linked with my uncle's auto body shop, right next to our house.
This meant that I grew up with him dragging me to the various job sites and warehouses where he plied a good portion of his trade, but also that he is always home for lunch. Since I insisted on us having BritBox, he began watching "Inspector Morse" when he was on lunch break at home, after seeing the panel for a half-watched episode in the continue watching section, with me. He is worthless with names, so generally I'm asked "to find the show with that grumpy old bastard, I can never remember his damn name when I go to type it in."
Now, every break that I am home, we watch Inspector Grumpy Old Bastard together (my mom still vacates the room within the first minute if she is home), and he is just as invested as me, maybe even a bit more so. And maybe, just maybe, when I'm feeling a little homesick late on a Saturday night, I plug my headphones and watch an old episode under the covers.
Published in Entertainment