As we go through life, there are some items that travel with us, and we can't imagine living without them. Our history is molded into them. They've seen our struggles and our joys. In some cases, they've been stepped on, dumped on, misplaced, borrowed, or worn out. For me, my tattered black shawl is that precious item that I can't imagine being without.
I first bought this shawl 20 years ago when I was in Pokhara, Nepal, a dusty town with barely paved streets and tiny shops. I'd made up my mind that I needed a black shawl, so I was on a quest to buy one. Most garments that I saw were colorful and bright. But I needed black. I finally found this shawl. It was surprisingly well-made; now that I think about it, I don't know for sure if it was made in Nepal or China. But it was soft and warm and I packed it up with my other Pokhara purchases.
Why is this shawl so special to me? I bought it mainly to keep me warm at intensive retreats. It was especially cool at 4:30 a.m.; if it was cold enough, I put it over my head as I sat on the floor and created a warm tent of comfort. The shawl also was a light, warm blanket when I took naps during rest periods in between the meditation sessions that added up to nine hours per day. I'd stretch out on my sleeping bag, pull the shawl over the length of my body, head to toe, and curled up in a soft cloud of sleep.
So my shawl and I had challenging times together, particularly when I ended up in a power struggle with my Zen teacher. She was determined to break through my "arrogance," and I was determined to maintain my inner strength. We finally reached a point where she decided that she would need to humiliate me in front of my friends in the Zen community to set me straight. Before she could, I ended the relationship and left.
I took my shawl with me.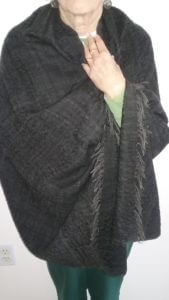 I discovered that there were many more uses for my shawl, and it has maintained its simple beauty and integrity (if you don't count the fringe, which is questionable). We hug each other on cold airplanes, in the draft of an air-conditioned restaurant, at friends' homes who think that 68 degrees in the daytime is warm enough for civilized people. I wear it on walks, at the seder table, warm my feet with it. It rests on my shoulders when I sit in my favorite chair. It's one of the few wool items I can wear anymore since I've become sensitive to wool. It even comes in handy when I've dressed warmly and someone else is cold: my hospice patient sometimes gets a chill and I put the shawl over her shoulders.
Since I first bought the tattered shawl, I've knitted a number of new ones. They are colorful, unique, soft, and attractive. But often I make an excuse to go into my closet and pull out my black tattered shawl.
You might wonder if the shawl holds memories of a difficult time in my life. In some ways it does, but I mainly choose to remember a time when I trusted my own wisdom, stood up for myself, and moved on to a better, more meaningful future.
The tattered shawl and I are still friends and I hope to have her around for a long time.
Do you have items that are just too precious to part with? Things for which you've bought or made replacements, but can't quite give up the original?
Published in General