I'm from California, where L.A. borders the O.C. and where abbreviating everything is second nature. Winter consists of setting the car's ventilation from max AC to regular and having a long-sleeved shirt on standby if you have to get up early. The big concern is the annual brush fires and whatever fresh torments the legislature is planning.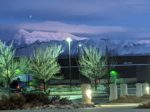 So here we are in Utah. I'm ringing in the roaring twenties in a home-knit cap and scarf, with a closet filled with flannel shirts and long pants. That quilt we got for a wedding present? Finally, something we can use and appreciate. Same with the snow shovel our realtor gave us when we closed on the house… in August. The handle was too warm to touch if left outside. Not a problem now.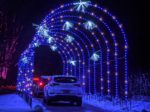 My wife is a proud Coloradan. California was a trial for her; she likes all four seasons, not endless summers. She likes mountains with snow on them. She also likes knitting. She considers her fifteen years in California a temporary situation she's glad to have survived and is back in her Happy Place.
We had white holidays: Thanksgiving, Christmas, and New Year. I confess holiday lights look good in the snow. On Thanksgiving, we took some relatives down to a drive-through outdoor light show that the first big storm of the season only enhanced. It even brought a herd of deer for added authenticity.
I thought I might, but really? I can't complain. Utah winters are generally mild. Temperatures in the twenties and thirties during the day, mostly. On the uncommon days when we drove to work in the snow, all but a couple of them ended with dry roads and clear skies. Most of the white stuff lands on the mountains, keeping things pretty but relatively commuter-safe. My wife's only complaint is that when the roads are dry, I drive as I did in CA: as an honorary pace car in the Grand Prix. Or maybe Maverick in Top Gun. It depends on how tightly she's gripping the safety rail. The snow and the road salts are rough on the car, but what made little sense to me in summer has been a winter godsend: unlimited car wash passes. The local Wiggy Wash includes a free light show with each stage in the scrub, making it a cheap date night.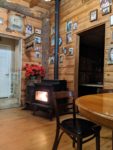 Some people love winter. My YouTube feed has been filling with folks who love camping in extreme cold, stoking wood-burning stoves in canvas tents. I'm more like my parents: stick with a sturdy cabin or fully-connected RV. I enjoy watching the snow falling when I'm indoors, dry and warm by a roaring fire. Utah has been nicely accommodating. Our current home doesn't have a fireplace. We may get one of those electric varieties, but we're likely to move in a few years. A fireplace and/or wood-burning stove are high on the wish list.
I miss the beach on occasion. I miss PCH. I miss Solvang and Catalina. California is a huge part of the life I've led, as a child and adult. There are family and friends we miss. And there are times I miss running the AC in January.
But actual winter has left me with less discontent than I feared. It's been a net plus. Just as I found ways to cool off in summer while still enjoying the summer, winter offers fire and hot cocoa and Slankets (TM) and other remedies for the chill. Not an escape, but an accommodation.
Pass the cocoa.
Published in Group Writing