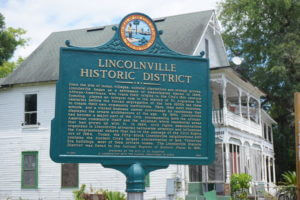 On Martin Luther King, Jr. Day, I was reminded of the trips we have made to St. Augustine, FL.
When tourists go to St. Augustine, many focus on the local fort, the Castillo de San Marcos, the candy factory, or listen to commentary about the countries that fought for control of Florida. On one of our trips, however, we located a quiet part of town, a neighborhood of discreet older homes with nicely trimmed lawns. These homes are a testament to the resilience of, and commitment to, the City of St. Augustine by the black community:
Founded in 1866 by former slaves, the district remained relatively static until the late 19th century. Segregationist practices that swept the South between 1890 and 1910 spurred the growth of black owned and operated commercial enterprises. Washington Street in the district became the heart of the black business community. In 1877 the "People's Ticket" that included black Republican D.M. Pappy, a leader in the Lincolnville community, swept city elections. By the early 20th century Lincolnville was a major subdivision of St. Augustine with a high level of political participation among its residents. In 1964 St. Augustine became a focal point for the Civil Rights Movement.
Please note how far the black community had come before the Civil Rights Movement.
As we walked through this quiet, charming neighborhood, I was struck by its contrast with the violence and controversy of the sixties. On some of the lawns of the homes, we saw small signs indicating that Martin Luther King had stayed there. I realized that the Rev. Dr. King, Jr. had been moved from house to house (safe houses) as a way to discourage anyone who might want to hurt or even kill him. There is no documentation of how many days he stayed with residents, or all of those he stayed with, although one house in which he stayed was shot at.
King was determined to shine a spotlight on the discrimination against blacks in the South:
On June 11th, 1964 King was arrested on the steps of the Monson Motel for trespassing when he and others attempted to eat at the establishment which had a whites-only policy. After King and followers refused to leave, Jimmy Brock, the manager, had them arrested and they spent a night in the old St. Johns County Jail (now the Detention Center Annex.) This made national headlines and started a buzz around the civil rights movement in the south – which is just what King wanted to accomplish.
Walking through this area of St. Augustine is a significant reminder of the racial struggles this country has experienced and how very far we have come.
Published in Culture