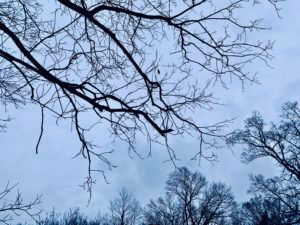 The Darkling Thrush
By Thomas Hardy
I leant upon a coppice gate
When Frost was spectre-grey,
And Winter's dregs made desolate
The weakening eye of day.
The tangled bine-stems scored the sky
Like strings of broken lyres,
And all mankind that haunted nigh
Had sought their household fires.

The land's sharp features seemed to be
The Century's corpse outleant,
His crypt the cloudy canopy,
The wind his death-lament.
The ancient pulse of germ and birth
Was shrunken hard and dry,
And every spirit upon earth
Seemed fervourless as I.

At once a voice arose among
The bleak twigs overhead
In a full-hearted evensong
Of joy illimited;
An aged thrush, frail, gaunt, and small,
In blast-beruffled plume,
Had chosen thus to fling his soul
Upon the growing gloom.

So little cause for carolings
Of such ecstatic sound
Was written on terrestrial things
Afar or nigh around,
That I could think there trembled through
His happy good-night air
Some blessed Hope, whereof he knew
And I was unaware.
Thomas Hardy published this poem on the eve of the 20th century,* after he'd had enough of writing novels. The first half of the poem is all death, isolation, and inactivity. The thrush, perhaps a common blackbird, introduces music to the scene and changes it entirely. The thoughts of the listener and author turn away from the dead landscape toward joy and hope.
I love that these few lines contain another place and time that I can experience with such immediacy without even leaving my house. The songbird inspired the poet to create something even more beautiful and lasting, which I can appreciate and ponder from the page of a book or lines on a screen. Having returned to it over and over in recent years, I can even recall some of lines to myself (if I really applied myself, I could memorize the entire work).
For more analysis of the poem, Richard Brookhiser recently wrote an essay in National Review. Like Brookhiser, I just love the language of the poem. I love that the song is "full-hearted" and not "full-throated," and the description of "blast-beruffled plume." It's a reminder to be joyful, which I often need, while at the same time acknowledging how difficult that is.
The passing of Roger Scruton has made me reflect on the role of beauty, which as he said, redeems our suffering. I recognize that possibility in the beauty of "The Darkling Thrush" since it offers all of us a way to alter our perception of even the bleakest circumstances.
Today began with a dusting of snow, then sleet, and now rain. It's a fittingly wintry day to look toward a solitary pursuit like reading to find beauty and pleasure. When we take the time to appreciate it, the best writing elevates us and our sense of being human. Especially in winter, I think that writing may perform that role even better than seeing beautiful paintings or sculptures in museums. With reading, we can revel in the beauty of language without the need to travel or compete with crowds.
Hardy describes a solitary scene, and we probably experience it best when reading alone. Still, I wanted to share it with you, in the hope that it would ease any discontent among my fellow readers.
---
*Interestingly, some sources say that this poem was published on December 29, 1900, and others that it was written on December 31, 1900. In either case, Hardy is marking the passing of the old century and looking toward the new one. It would seem then, that he would have considered 1901 to be the start of the 1900s. With the controversy over whether 2020 marks the beginning of a new decade, I wonder whether he shouldn't have written the poem in 1899. Maybe back then everyone was in agreement on when to start counting a new decade or century, or if not, they had to keep it to themselves.
Published in Group Writing