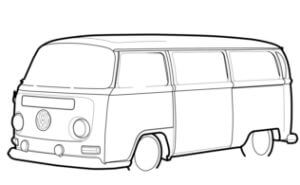 Move across the Great Plains in November and you are chancing sudden, serious winter weather. My parents did this twice in the 1970s with four young children. As we recall, the family dog was flown instead of sharing in the road trip both times. This was before hotels and motels catered to people with animals.
November 1977 found the Brown family convoying west from Fort Knox, KY, to Fort Lewis, WA. Dad had been reassigned from an Army hospital, commanded by a colonel, to an Army medical center, commanded by a one-star brigadier general. This was very good, as it meant he was moving into position to be promoted, as a clinician rather than administrator, from lieutenant colonel to colonel. What was not so good was the weather.
Our two-vehicle convoy's make-up had been driven by family size and the oil crisis. When we had driven east, we rolled in Detroit steel. Then the oil crisis hit, and it was time to consider new vehicles. Dad got himself a Mercedes 240D. "D" is for diesel, the superior fuel economy and fuel price per mile choice at the time. Mom wanted something other than a station wagon around 1975, so she got Bessie the Bus, a VW with a bus shift lever linked to the four-on-the-floor transmission by a long wire. The engine was around 65-70 bhp.
Why a VW bus and not a station wagon? Discontent. You see, the seating arrangement in a VW bus led to matriarchal contentment and sibling survival. Four children could be arranged thusly:
[Mom][___][[Kid]
[Kid][empty]
[Kid][___][Kid]
As you can see, no one is in danger of touching, as in "Mom…she's touching me!" "Am not!" No one can accidentally intrude on a sibling's space, disturbing domestic tranquility. So, the blue-check gingham curtained bus could roll along with a modicum of peace, love, and harmony.
Now we were climbing out of Cheyenne or Laramie, WY, on Interstate 80, up into the hills and high plains. I believe we were planning to make Utah, possible Boise, ID, where we had family friends. Then it started blowing and snowing hard. The lead vehicle was the Mercedes, driven by Dad. Apparently, I was riding shotgun at the time, keeping an ever-closer eye on Bessie the Bus, whose blue-and-white paint scheme was tough to track in the snow flurries. Mom and the three girls were in the entirely manual and very high profile, while relatively light, VW bus. I get the rest of the story from them.
Mom had a death grip on the steering wheel, throwing all 5'11" into keeping it on what she thought was the road. Waiting out the storm on the side of the road was no option. You would either freeze, die of carbon monoxide poisoning, or get creamed by a semi. As we crept along, Mom focused on the Mercedes' taillights.
Leeanna, the youngest of us, was the one without a filter. We passed a moving van bearing the markings of the company moving our stuff. Seeing it blown over on its side, Leeanna asked "is that our stuff?" A bit later, as things went from bad to worse, Leeanna asked: "are we going to die?" Mom is a pretty cool customer, but she couldn't hide the reality of the situation. Finally, she flashed the high beams until I saw the signal and Dad pulled over to stop.
As I opened the passenger door and stepped out to run back to the VW, a wind gust snatched the glasses off my face. Thankfully they dropped near my feet, I snatched them up, and struggled back to the VW. The message was short and clear: "we must get off at the very next town." That message was soon reinforced by a state patrol officer blocking the interstate and waving all traffic onto the Rawlins, WY, exit with flares.
Mom did her mom thing again, immediately on exit, decreeing that we would get two rooms first. Dad was all about completing the mission and wanted to refuel first. Mom was right. We got the last two motel rooms in town. Everyone behind us was put up for two days in gyms and halls. Mind you, Dad was right to want to refuel before hunkering down, as everyone and their dog and cat would be headed to the two or three gas stations in town when the storm lifted and the roads were cleared. He did so, even having to dig out of a snowbank in the process.
After the sky and road cleared, the rest of the trip was uneventful. The winter of our discontent did not end in glorious summer, but in the evergreen beauty of late 1970s western Washington, where moss grew thickly in the lane expansion joints of Interstate 5, and where we had a different glorious view of our mountain, Mount Rainier every day. Some days it even looked like Mount Doom!
Published in Group Writing