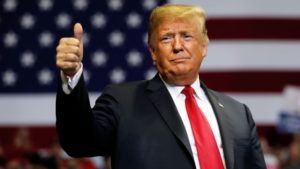 Frankly, I had assumed the outcome would be otherwise. I don't think my reaction to the 2016 election result was atypical among conservatives. I was delighted to dodge the bullet to the heart of the nation's well-being that was Hillary Clinton. But I assumed Donald Trump would have no coherent agenda other than to try not to be Obama or Hillary and that he would likely step aside in 2020 after an ineffectual if not entertaining four years. Trump did not appear to have much of a policy compass or vision.
It never occurred to me that Trump could be highly successful or even a great president. His demeanor suggested that greatness was not to be his destiny. He often seems to share the same tendencies toward venality and petty vengefulness that characterized the Johnson and Nixon presidencies but with far less skill (and regard) for inside-baseball politics than those two. I assumed the bureaucracy would eventually tie Trump down as they always do with outsiders and perceived enemies and that they would stalemate any serious attempt at policy change.
Democrats and GOP NeverTrumpers convinced themselves the results would be dire. After the election, they issued a collective bipartisan heavy sigh and struck a noble pose waiting for the imminent invitation to deliver their I-told-you-so's. Trumpian failure would inevitably unfold in an Aristotelian character-based tragedy in stark contrast to their own prescience and virtue which would leave them in a place of honor and adulation, gazing with mock sadness at the ashes of Trump's presidency.
How many times have the anti-Trump faithful worked up the mock sorrow, the heavy sighs, and deep breaths getting ready for I-told-you-so's, only to be disappointed? Mueller fizzled badly. The disastrous trade war with China morphed into an economy-boosting deal. The soaring humanitarian crisis at the border has faded as did the war with Iran. And the impeachment is a travesty. The prayed-for divine comeuppance just never arrives. Is there such a thing as Schadenfreudenus Interruptus?
It appears that without a very efficient use of expert opinion or intellectual depth, Donald Trump has repeatedly moved to sound and effective decisions on what seems like gut instinct. Can greatness emerge from that? Napoleon once said if he could choose, he would pick generals who were lucky over those who were known to be smart and competent. Did America do something like that in 2016?
Virtually every expectation (certainly mine) about the consequences of electing President Trump was wrong. The economy is spectacular. Most of the dictatorships to which Barack Obama bowed and scraped are now teetering on collapse and/or internal rebellion. The border crisis is abating to a degree no one thought possible. Only entrenched Democratic machines prevent even greater economic and social benefits for our most disadvantaged citizens from accruing faster. We have achieved energy independence. Elsewhere, Brexit and the Merkel idiocy of open borders have ended the myth of a bureaucratically managed nirvana delivered by elites.
Looking forward, what would a world be like in which the stranglehold of incompetent self-serving elites, dictators, and Marxist dinosaurs is broken everywhere and innovation, growth, and trade accelerate to bring about as yet unimagined material well-being around the globe?
Obviously, there is much unknown about the events leading up to the election and what will transpire over the following four years, but the prospect of a truly great presidency is now a distinct possibility. What then for Never-Trumpism?
The weird thing about Never-Trumpism is that it is not merely a position about candidate preference but became a kind of identity with a vested interest in Trumpian failure. For many, the reflexive condemnation of Donald Trump was not a policy difference but something personal, a way of asserting one's own aesthetic and moral superiority to Donald Trump (or some caricature of him). Americans have always developed and expressed strong aversions to candidates and incumbents but with the understanding that voting is often a choice of the lesser of two bad policy choices. But to declare that one would vote for a candidate antithetical to all of one's values just because his/her opponent is Donald Trump is unusual and kinda weird.
Twenty years from now, if Trump is remembered for ushering in a new economic golden age, the rollback of wars, the fall of oppressive regimes and substantive government reform, will elderly NeverTrumpers still be saying, "Yes but those tweets ..and he was so rude …and what he said about…" to their incredulous but wealthy grandchildren?
Published in General