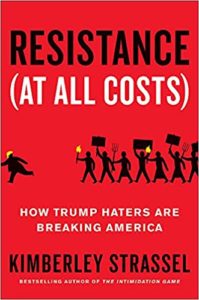 Have you noticed lately the number of journalists who are regularly using the term "the Resistance" when they refer to the members of the Left? Do you realize how they have subtly been indoctrinated to use the term resistance and they are unintentionally legitimizing the work of the Left? The word resistance has been co-opted by the Left, and it's time that we not only hold them to account, but we should consider embracing the term for the political Right.
Resistance movements describe groups that formed to resist armies that were invading and destroying legitimate countries:
A resistance movement is an organized effort by some portion of the civil population of a country to resist the legally established government or an occupying power and to disrupt civil order and stability. It may seek to achieve its objects through either the use of nonviolent resistance (sometimes called civil resistance) or the use of armed force. In many cases, as for example in Norway in the Second World War, a resistance movement may employ both violent and non-violent methods, usually operating under different organizations and acting in different phases or geographical areas within a country.
Members of a resistance movement were lauded by those populations that were suffering under the invasion of, for example, Nazi Germany. Today we continue to honor those people who risked their own lives to fight against the enemy and saved the lives of those who were victimized.
Today, we see the political Left in this country trying to legitimize their own actions by calling themselves the Resistance in reaction to the election of Donald Trump; Kimberley Strassel describes this phenomenon in her new book:
The Resistance from the start was instead about delegitimizing Trump, mobilizing the machinery of the government against him, and using any other means available to void the results of 2016. That zero-sum mentality all but guaranteed that the Resistance would immediately start taking out some of America's norms and institutions.
Almost every segment of society has been invaded by the political Left and its supporters. Universities and government including all three branches are being attacked from within and without; the administrative state in particular has been allowed to attack government officials without consequences. Our culture has suffered attacks on social media, in journalism—the list is substantial. Even religious organizations are being infiltrated by these groups.
To look at just one example of these efforts, we can look at the work of George Soros and his Open Society Foundations. The reach of his tentacles is astounding. Here are some facts:
The Soros organization funds 206 organizations in the U.S. alone.
Soros's Open Society Foundations granted $407,790,344 in gifts and commitments to higher education since the year 2000.
D.C.'s newest foreign policy think tank, funded by libertarian Charles Koch and left-wing George Soros, was co-founded by a nonprofit leader who was integral to the passage of the controversial Iran nuclear deal. Trita Parsi and the group's other four co-founders, Andrew Bacevich, Stephen Wertheim, Eli Clifton, and Suzanne DiMaggio, are all pro-Iran deal advocates, as well as harsh critics of U.S. foreign policy and of Israel.
Here is the description of this new organization:
The new Quincy Institute for Responsible Statecraft, funded with $500,000 each from the libertarian and left-wing billionaires, says it is named for President John Quincy Adams, who said that America 'goes not abroad in search of monsters to destroy.'

The new think tank was announced earlier this week in an op-ed which said the new group 'is one of the most remarkable partnerships in modern American political history' and that Koch and Soros believe 'the United States must end its 'forever war' and adopt an entirely new foreign policy.'
Of course, Soros and his ilk want to determine the nature of our foreign policy, regardless of what our president might say. I wonder if John Quincy Adams would be pleased about this supposedly patriotic effort by Soros and Koch.
There are many more billionaires who are contributing to the Leftist agenda. Most of them proudly and publicly acknowledge their Leftist label.
---
In the face of these actions that are intended to destroy and transform our country, here is what I'm proposing. First, we must take back the "Resistance" term; we must stop crediting the Left with this term and we should call them what they are: The Enemy. I encourage you to think of other names (that maintain the Ricochet CoC) that we could use.
Second, we need to adopt new language for the political Right. We are the ones fighting an illegitimate and destructive takeover of every aspect of our country. We must let everyone know that we are the Resistance and that we are the ones trying to save our country. And each of us must make the effort to back up our words.
A simple example of this type of action was taken by Senator Martha McSally yesterday:
When asked by Manu Raju on Thursday whether the upper chamber should 'consider new evidence as part of the impeachment trial,' an exasperated McSally replied, 'Manu, you're a liberal hack. I'm not talking to you.' Footage of the exchange, which occurred in the hallway of a Senate building, was aired on CNN.

To be clear, Raju's question was legitimate and he had every right to ask it. I'm glad he did. The press exists to hold lawmakers like McSally to account, confronting them with the questions they don't want to answer. That said, McSally's dig was both hilarious and deeply satisfying. More importantly, it just wasn't all that outrageous.
Of course, the Leftist media went crazy, demanding McSally apologize to Raju. I think what she did was admirable. She is following in President Trump's footsteps, fearless in her criticism and truthful as well. She and the President have set the new standard for the political battle, and I applaud her. It's time we step up, push back, and stand up for this country.
We are the Resistance!
Published in Politics