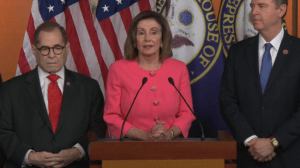 We are now formally into exactly the type of sham that the Framers argued against at the Constitutional Convention. One has only to read the clearest record of that discussion (Madison's Notes) with even the most elementary understanding to know the whole process was to prevent this type of partisan action by the House.
The Articles of Impeachment were finally released from their hostage status in the House by yet another embarrassing Pelosi moment as she announced the seven House managers for this latest installment of a three-plus-year drama. Flanked by Chairmen Nadler and Schiff, she rambled about "time" long and confusingly enough that even Jerry Nadler briefly moved out of his trance-like gaze into nothing for a second or two to foster speculation that perhaps his months-long coma had ended. Adam Schiff also let those weasel eyes drift toward the heavens a few times as if to be asking for an end to the Speaker's speaking – or perhaps a clue as to what the hell she was saying.
All of this so that Madam Speaker, who prays for the President each and every night as any good Catholic girl would, might take commemorative pens in hand to sign over the Articles to the Senate. While claiming this to be a grim and painful duty, she carefully signed the Articles one letter at a time to hand out the commemorative pens to proud accomplices. Ever the good soldier, she was able to hide the pain of the moment behind a satisfied smirk.
The list of idiotic features of these Articles could easily exhaust both my time and intellect, each having their limits. But there are a two, or three, or four maybe which spring to my narrow mind.
One is the oddity is that about four (or is it five, I don't remember if Spartacus is still in the race?) senators who are still trying to become Trump's opponent in the 2020 election, will sit on the "jury" to determine his presidential status. According to the House Democrats, if Trump's inquiry into Biden misbehavior that is so very much a part of the public record is so brazen an attempt to affect the outcome of the 2020 election, what then is to be said of his opponent (whoever he or she might be) actually leading an attempt to remove him from office?
Another strange twist to the "charges" (at least to my simple mind) is that, according to the Democrats wording, Trump's conversation with another head of state was so damnable because Trump himself was going to be running in the election and his "request" was intended to create an advantage for him. If that is the case (using the same reasoning), that same call made by a reelected Trump on January 31, 2021, would be alright. I suspect that the Framers would have wanted any "high crime" justifying the removal of a duly elected president to be much more than merely making a phone call on the wrong date.
I also find it odd that none of the "key witnesses" have actually been a witness to anything except their own self-interested opinions. That includes the latest "surprise" witness who has been shopping around for the best sentencing deal he can get on his recent conviction.
This latest "document dump" by the Democrats is just today's proof that they have no real case or evidence despite 40-something months of all-out effort by one political party and an entire (with a few exceptions) media. Don't worry more is coming, I'm sure.
So, with great damage to the Constitution and the vision passed on to us by the Founders, we will begin a trial with no crime, no first-hand witnesses, no actual evidence, and no regard for the hard-earned liberty this violated republican system was designed to protect.
At this point, the best we can hope for is a dismissal after opening arguments. That is what it deserves. By going beyond that, a stamp of approval is given this vile procedure that will ensure it happening again. Anything short of dismissal will push aside the first responsibility that the Senate has in the impeachment process, to prevent the president from serving at the pleasure of the House. But I believe that the Romney crowd will find that will not be media-friendly enough for their tastes. That opens up a whole 'nother can of idiocy which I will take up 'nother time.
Published in General