Okay, just a quick take that may be an ominous indicator of how the 2020 Presidential Election may be a rout. Feminist, celebrity TV chef, model, and abortion advocate Padma Lakshmi decided to poll her followers on Twitter (of which she has over 613,000) on the presidential race. The results, you might say are a chef's surprise (pronounced: soopreeze).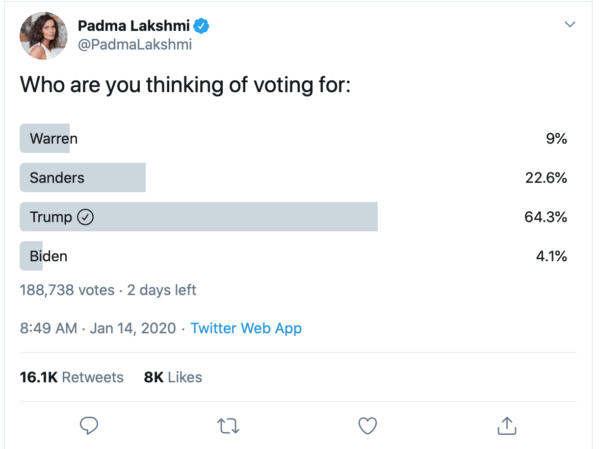 Now, even if her followers tended to be roughly 40% right-leaning and roughly 40% left-leaning with a generous pinch of independents who don't follow politics and don't vote in online polls — this may still be a harbinger of things to come. Meanwhile, on the optics front, it strains credulity that the turnouts for any of the front running Democrat socialists or Communist Sanders remotely compare to the overwhelming turnouts for Trump at his rallies.
So, just how accurate are the various presidential polls and have they been adjusted and corrected in their methodology since 2016? And will the Leftist lickspittle media still trumpet their anticipated presidential nominee up to the final hours of Election Night when Trump ends up being reelected in a most convincing manner? Stay tuned.
Published in General