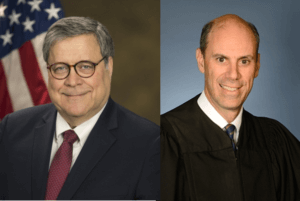 It is refreshing to have the head of federal law enforcement clearly speak uncomfortable truths that are politically indelicate. Our good friends, the Saudis, sent us a group of their best and brightest with pro-jihadist, anti-American feelings strong enough to overcome any discretion in their social media habits. At the same time, the killer acted without the clear support of the other students, and the Saudi government recalled all the questionable officers, to be dealt with in their own military justice system.
The text of AG Barr's remarks is posted on the Department of Justice website. This is where I would have left the event, yet the iPhone issue is not as AG Barr tells it. Bottom line: Barr wants an end to strong (virtually unbreakable) encryption for you and me. The only way to do what he claims he wants is to build the phone and every software system so they have "back doors" which every competent government and transnational criminal/terrorist group will swiftly acquire. This is what he meant by "data at rest" and "data in motion."
It is not clear to me that Apple can decrypt the phone memory. If they could, it would be worthless. Apparently, an Israeli firm found a software or hardware attack system that successfully broke an earlier generation iPhone, running iOS 8. 
Now, pair this recitation of the perennial FBI/DOJ line with the ugly news about the FBI Director and a newly appointed (by Chief Justice Roberts, a Bush the Second appointee) Foreign Intelligence Surveillance Court presiding judge. They are mutually in full cover-up mode. AG Barr is responsible for allowing Director Wray to spew the 15-page memo he submitted to the court. AG Barr is the man who should have objected to the appointment, by the FISA Court presiding judge, of an open and notorious Trump hater as the official reviewer of all "reforms." 
See PowerLine: "We now know: Mr. Wray Regrets:"
This past December 17 FISA Court Chief Judge Rosemary Collyer issued a four-page order taking notice of the egregious government misconduct committed in connection with the FISA warrants it approved on Carter Page. Like so many involved in the Russia hoax, Judge Collyer claimed only lately to have tumbled to the misconduct committed before her court, courtesy of the Department of Justice Inspector General report issued the previous week. I disparaged the four-page order and embedded a copy of it here. I further disparaged the order here. The whole thing reeks of Captain Renault's profession of shock to discover gambling at Rick's cafe in Casablanca as he pockets his winnings.

…I declared the FISA Court order a farce last month, but I was mistaken. Farce lacks the foul stench of this particular bit of theater.
See PowerLine: "We now know: The Kris Cross:"
David Kris served as Assistant Attorney General for the Department of Justice under President Obama and Attorney General Holder. He drew on his prestige as a former senior official in the Department of Justice to disparage Rep. Devin Nunes in his exposure of the FBI's misconduct in the Russia haox and assure anyone who would listen to him that all was in order. He is an apologist for FBI misconduct who gives the Department of Justice Inspector General report on the FBI's FISA misconduct the stupidly credulous reading that absolves the FBI of political bias in the matter.

Who better than Kris to serve as amicus curiae to the FISA court to help it assess the government's response to Judge Collyer's December 17 order. That is what new FISA court presiding judge James Baosberg did late yesterday afternoon in this order. As Jack Paar used to say, I kid you not.
See PowerLine: "We now know: FISA Court must go:"
Kris's appointment by the court is a bloody outrage. Consistent with my comment on Saturday, Rep. Nunes put it this way to Bartiromo: "The court must be trying to abolish itself." The FISA Court has to go.
You can't make this up! David Kris, a highly controversial former DOJ official, was just appointed by the FISA Court to oversee reforms to the FBI's surveillance procedures. Zero credibility. THE SWAMP! @DevinNunes @MariaBartiromo @FoxNews

— Donald J. Trump (@realDonaldTrump) January 12, 2020
President Trump should not have been the one left to amplify what Representative Nunes said on Maria Bartiromo's Sunday show. It is on Attorney General Barr to engage the new presiding FISA Court judge, District Judge James E. Boasberg,* pointing out the obvious failure to run the most routine of conflict checks, something every first-year law school student learns as part of a basic legal ethics course. Failing immediate corrective action, firing the anti-Trump partisan lawyer, AG Barr must elevate the issue publicly to Chief Justice Roberts, in the name of protecting the public integrity of both the Article III court system and our national security, threatened by the misuse of the FISA process. 
---
* How deep is the Swamp? See District Judge James E. Boasberg's official biography [emphasis added]:
Judge James E. "Jeb" Boasberg was appointed to the District Court in March 2011. Judge Boasberg is a native Washingtonian, having graduated from St. Albans School in 1981. He received a B.A., magna cum laude, in History in 1985 from Yale College, where he also played basketball. Judge Boasberg then received an M.St. in Modern European History from Oxford University in 1986 and a J.D. from Yale Law School in 1990.

Judge Boasberg next served as a law clerk to Judge Dorothy W. Nelson on the U.S. Court of Appeals for the Ninth Circuit. Following his clerkship, he was a litigation associate at Keker & Van Nest in San Francisco from 1991 to 1994 and at Kellogg, Huber, Hansen, Todd & Evans in Washington from 1995 to 1996. In 1996 [during Clinton's presidency] Judge Boasberg joined the United States Attorney's Office for the District of Columbia as an Assistant United States Attorney, where he served for 5½ years and specialized in homicide prosecutions.

In September 2002 [during Bush the Second's presidency], Judge Boasberg became an Associate Judge of the District of Columbia Superior Court, where he served in the Civil and Criminal Divisions and the Domestic Violence Branch until his appointment to the federal bench in 2011.

Judge Boasberg also serves on the United States Foreign Intelligence Surveillance Court. Appointed by Chief Justice John Roberts [a Bush the Second appointee] in May 2014 [so he was already implicated in the court's abuse or negligence], he was named Presiding Judge of the FISC on January 1, 2020. He is currently the President of the Edward Bennett Williams Inn of Court and the past Chair of the Governing Board of St. Albans School.
Published in General