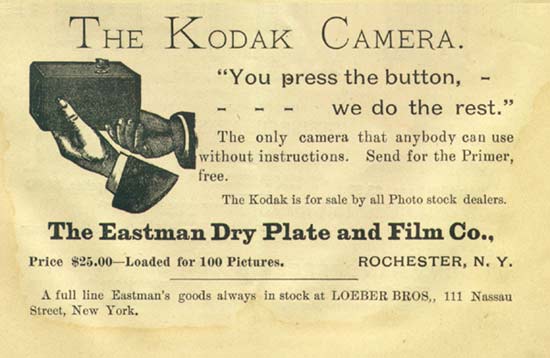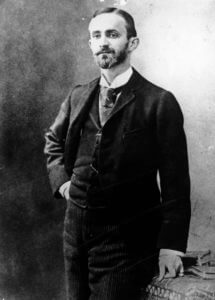 No man did more to bring photography to ordinary people than did George Eastman (1854-1932). Eastman, who had two sisters, was born into a successful family on a small farm in upstate New York. When his father's health began to fail the family moved to Rochester, NY. His father would die in 1862 when young George was eight and his mother was forced to take in boarders in order to make ends meet.
Among those boarders would be the Henry Strong family. Strong would become and remain a life-long friend and business partner of Eastman (he served as president of Eastman Kodak from its inception until his death in 1919). As for George, he would begin working full time at age 14 as an office boy (his workweek was 10 hours per day, six days per week at $3 per week). Eastman was a smart and diligent young man who was steadily advancing in the work world.
At seventeen, he began work for a Rochester insurance company for a salary of $41 per month plus the $8 per month he earned as a volunteer fireman, and by age 20 he was making $700 per year as a clerk at the Rochester Savings Bank. A year later he received a promotion to a position at a salary of $1,000 per year, which would be fine salary at the time for a middle-aged married man with.a family. It must have seemed a princely sum for the 20-year old bachelor.
In 1877, Eastman bought a camera and took up photography as a hobby. Photography at that time was neither an inexpensive nor a quick and easy hobby to take up. His first photography "kit" was of the collodion or wet plate process and cost $50. The kit included a large, heavy camera, a tripod, a plate holder for photographic plates, a tent which would serve as a darkroom, a nitrate bath, and several bottles of various chemicals. In order to take a photograph with his kit, he needed to be in darkroom tent (closed) and perform the following steps; coat a glass plate with a thin solution of egg white, then lay an emulsion of gun cotton and alcohol mixed with bromide salts, when the emulsion was set but still moist dip the plate in a solution of nitrate of silver and shield it from light as he put it in the camera. Eastman thought there had to be an easier way to prepare to take photographs. He then took it upon himself to find that way.
And pursue it he did. Although he had no training in chemistry, he read photography journals, contacted professional photographers and picked their brains, and experimented endlessly in the lab he set up for that purpose (he worked in the lab from the time he got off work each day until breakfast the following morning on a daily basis). Two years later he had invented an emulsion that enabled exposures to be made with a dry plate and had further designed a machine to coat the plates in quantity and had set up a business selling the plates (the Eastman Dry Plate Company) and obtained patents in both the United States and England (which was the photographic capital of the world at the time). Of course Eastman was far from the only one pursuing better photographic methods. Among the others were two brothers, David and Peter Houston of Cambria, Wisconsin who had developed and patented roll film and a roll film holder which was eventually licensed to Eastman's company.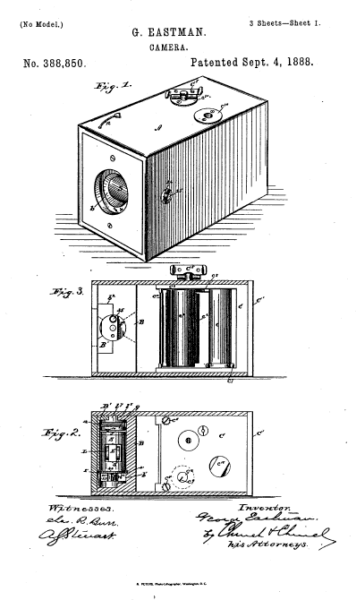 Even with the roll film license, the Eastman company continued to experiment and make improvements with roll film and the roll film process. In 1888, Eastman would bring a product to market that would revolutionize photography. That product was a roll film camera Eastman called the Kodak Model No. 1. How he came up with the name Kodak is not entirely clear. He said he liked the letter K, it sounded strong and he also thought that the word would be pronounced the same in every language (whether that's the case I know not). The small camera fit in a cardboard box(3-1/4″ x 3-3/4″ X 6-1/2″ in length) had an imitation leather finish and nickel fittings. As for the camera itself, the 57 mm lens was centered on one face along the longitudinal axis, there was no viewfinder – a V notched into the case indicated the direction to aim the camera, the lever to rewind and advance the film and a string pull to wind the barrel shutter to tension were located on the top of the box, and the lens was fixed-focus but it had a great depth of field which allowed for focused images from as near as several feet away. The camera came with a pre-loaded 100 exposure roll of film but had no exposure counter for which Kodak provided each camera owner with a Kodak Memorandum which provided a means by which the camera's owner could keep track of the pictures she's taken. When the roll was finished the owner would mail in the camera to Kodak and Kodak would develop the film which produced circular photos 2-1/2 inches in diameter, reload the camera with another 100 exposure roll and return the package within 10 days for 10 dollars.
The Kodak Model 1 was a success and can be said to have created the concept of the amateur photographer. In the first year, 13,000 people bought the Kodak; but, at a price of $25 it was still out of reach for many. Within a year or two the camera would be equipped with a viewfinder, transparent nitrocellulose film (a major breakthrough), an exposure counter and a lens that could be adjusted to several pre-set values. This process of continual refinement and improvement of its' products on an annual basis would become standard operating procedure for the company. Although Eastman had little formal education, he saw the value in having technically trained employees and he hired college-trained chemists and engineers early on both to work on existing products but also to pursue research into technologies that did not yet exist so that Kodak could be the first there. Before discussing the Brownie I should note that the main designer for the Model No. 1 (and the Brownie as well) was Frank Brownell. Brownell, a Canadian by birth, had moved to upstate New York and was working as a cabinet maker when Eastman first contracted with him to make parts for a rollfilm holder.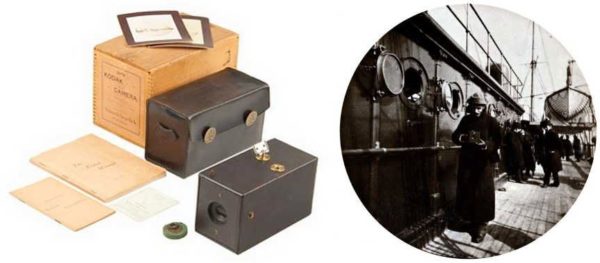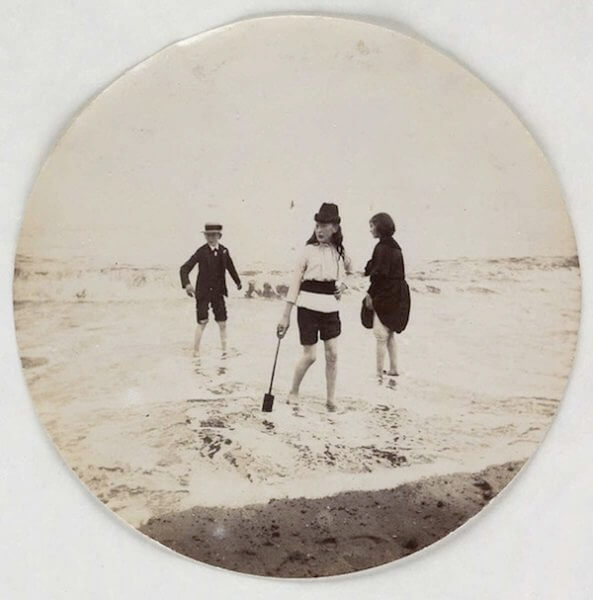 In 1900 Eastman introduced the Kodak Brownie. Rarely in history has a product been both such a success (both immediate and long-term) and so impactful. The Brownie was a small, cheap (it sold for $1) box camera with a fixed-focus lens with a depth of field (f/14 aperture) such that pictures were in focus from several feet to infinity. The roll film for the camera, which produced 2-1/4″ square photos, was sold separately in six exposure rolls for a dime, while that six exposure roll would be developed by Kodak for 15 cents. In the first year, 150,000 Brownies were sold and the Brownie camera in one form or another was part of the Kodak product line for the better part of eight decades. Now anyone could afford a camera!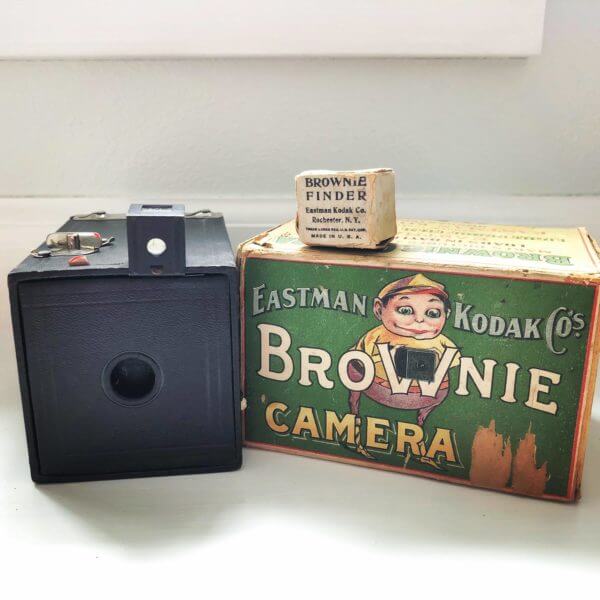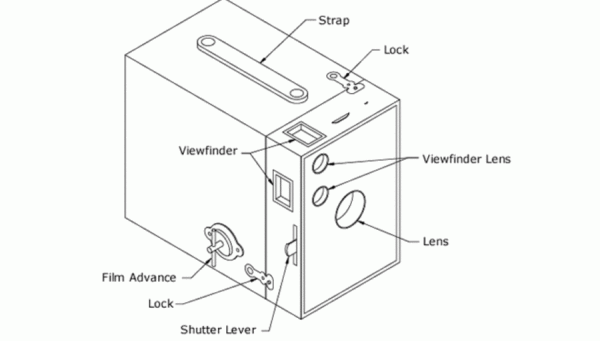 Regarding the Brownie moniker; it referred to the cartoon characters The Brownies created by Palmer Cox, which were popular at the time. And this gets me to the last item about Eastman Kodak I wanted to touch on – advertising. Although I think both the Kodak Model 1 (1888) and (especially) the Brownie would've been commercial successes without the aggressive and innovative marketing by Eastman because of the previously unknown need they satisfied to memorialize events by taking pictures, the Eastman advertising certainly didn't hurt. The marketing for the 1888 Model 1 emphasized the ease of operation of the camera "You press the button – – – – – We do the rest." The marketing also reminded people of the three simple steps involved with the Kodak – 1) turn the key (to wind the film), 2) pull the string (to set the shutter, and 3) press the button (to take the picture. Simple, right? With the Brownie that ease of operation aspect was still a part of the tale. However, the Brownie was also specifically advertised as something young children could easily and safely take part in as picture takers. That was part of the reason behind the Brownie name. And, finally from the beginning Eastman advertising featured women as picture takers. Oh, and other thing they attempted to make the work Kodak into a verb as well as a noun as in "Let the Children Kodak."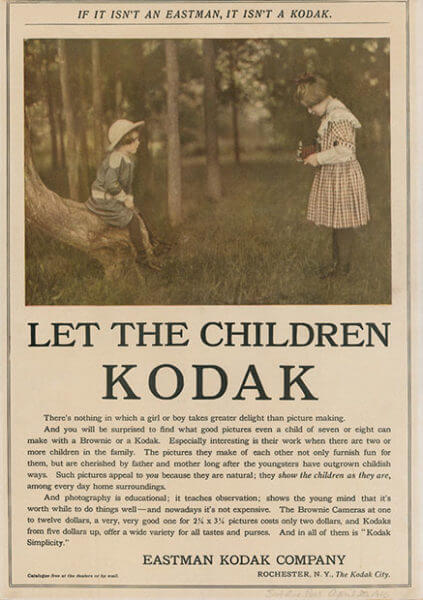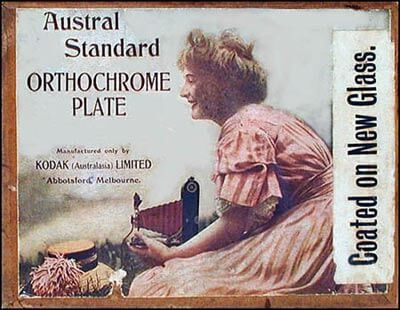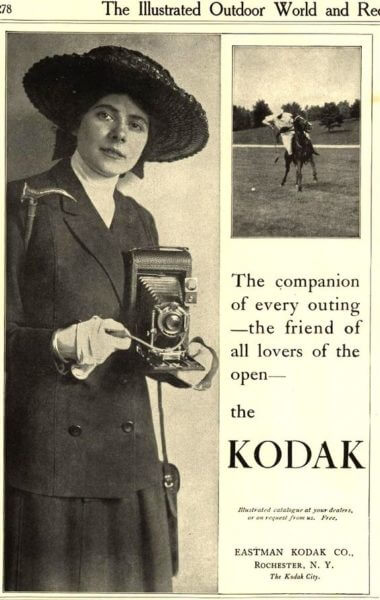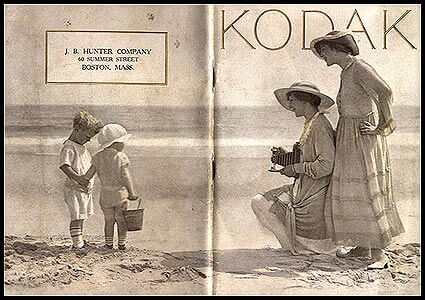 For those who might be interested, pasted below is a short four and a half minute video showing the workings of the Kodak Brownie.
I think this 1969 song by the Kinks – "People Take Pictures of Each Other" is as good a way as any to end this post.
.
Published in General