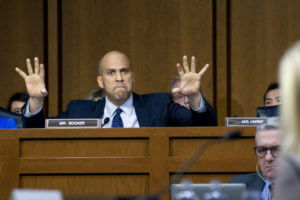 After months of barely hanging on, Sen. Cory Booker (NJ) has finally suspended his campaign to become the Democratic presidential nominee.
"It was a difficult decision to make, but I got in this race to win, and I've always said I wouldn't continue if there was no longer a path to victory," Booker said in an email to supporters.
In a tweet, Booker added: "To my team, supporters, and everyone who gave me a shot—thank you. I am so proud of what we built, and I feel nothing but faith in what we can accomplish together."
The president reacted with his usual magnanimity:
Really Big Breaking News (Kidding): Booker, who was in zero polling territory, just dropped out of the Democrat Presidential Primary Race. Now I can rest easy tonight. I was sooo concerned that I would someday have to go head to head with him!

— Donald J. Trump (@realDonaldTrump) January 13, 2020
The next Democratic primary debate is Tuesday night in Des Moines and will feature just six candidates who have met the party's official threshold:
Joe Biden
Pete Buttigieg
Amy Klobuchar
Bernie Sanders
Tom Steyer
Elizabeth Warren
Booker did not qualify for this debate, leading to his actions Monday. Six active candidates not making the cut were:
Michael Bennet
Mike Bloomberg
John Delaney
Tulsi Gabbard
Deval Patrick
Andrew Yang
And then, there is the long list of candidates who have already dropped out of the primary race:
Steve Bullock
Bill de Blasio
Julián Castro
Kirsten Gillibrand
Mike Gravel
Kamala Harris
John Hickenlooper
Jay Inslee
Wayne Messam
Seth Moulton
Richard Ojeda
Beto O'Rourke
Tim Ryan
Joe Sestak
Eric Swalwell
and Marianne Williamson, who suspended her campaign on Friday.
That's right, there were 28 (!) candidates at the start and now only a dozen remain. The Iowa Caucuses are scheduled for Feb 3, making Tuesday's debate the last before the voters begin to weigh in.
Published in Elections, Politics